Quintessential California punk band NOFX celebrate their monumental 30th anniversary this year by announcing the release of a limited edition LP box set on February 19, 2013. The box contains all 12 studio albums, from 1988's Liberal Animation through 2012's Self Entitled, plus the epic EP The Decline, which we think qualifies as an album anyway, and for the first time ever, the entire 7-inch of the Month Club series from 2005-2006 on a double LP. In addition, all box sets include a life-size version of NOFX's infamous stage banner, and the first 250 copies we have for sale are signed by the band! So what are you waiting for? We've only got 1,000 copies and they're all on colored vinyl (blue is exclusive to the Fat webstore) . Once they're gone, you'll have to troll around on ebay and that is fundamentally no fun. Pre-order now!. Even Fat Mike thinks it's neat:
"I was so proud of this Box Set that I brought one home and put it on the mantle above my fireplace. It broke the mantle and melted. Now I need a new one. Mantle that is. The Box Set is fine!"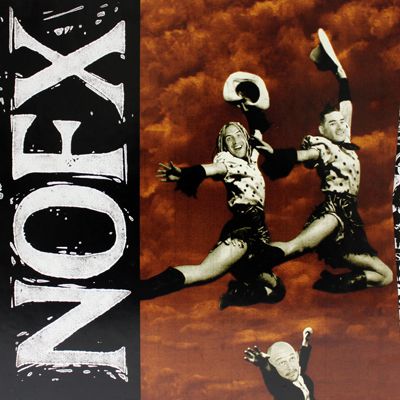 NOFX, FAT MIKE:
1. Rubber Bordello screening party
2. Getting Tattooed by Mike Roach from TSOL
3. Golfing at the Olympic Club
4. Masked Intruder album
5. Trying DMT at Domme Trips in the Dominican Republic
6. The Perks of being a Wallflower
7. Dungeon Party with Teenage Bottle Rocket
8. Playing the whole Ribbed album live
9. Old Man Markley cookies
10. Rocky Horror with Matt Skiba
11. Foreign Cinema in the Mission
12. Less Than Jake back on Fat
13. My daughter's soccer team getting their first goal
14. Hanging with Dropkicks in Europe
15. Playing with Snuff on New Years Heave
16. Meeting John Cameron Mitchell
17. Moving to Noe Valley
18. Dark Knight Rises
19. Shooting the NOFX video for Xmas has been X'ed
20. Uber
Morning Glory, Ezra:
Off the top of my head-
best pop song of 2012- some nights by fun.
best concept album-dos by green day.
best colaboration: fiest/mastadon.
best live alb um: coldplay 2012 in paris.
best rock record- battle born by the killers.
best chorus of a song: prize fighter by the killers.
best delux release: synthetica by metric.
best punk band: screaming females.
best vocalist: emily haines.
best song from the heart: my orphan year (acoustic version!) by nofx.
best band with a washboard and banjo: none. "
LAGWAGON, Joey Cape:
1) This American Life: What Doesn't Kill You,
2) Ted: Israel and Iran: A Love Story?-Ronny Edry
3) Moonrise Kingdom
4) Searching For Sugar Man
5) Louie
WESTERN ADDICTION, Chad:
1. PROPAGANDHI – Failed States LP
2. HIGH ON FIRE – De Vermis Mysteriis LP
3. PAPER BAGS – Paper Bags II 7"
4. PALLBEARER – Sorrow and Extinction LP
5. NOFX – Self Entitled LP
6. OFF! – OFF! LP
7. GYPSYHAWK – Revelry & Resiliance LP
8. WITCHCRAFT – Legend LP
9. BARONESS – Yellow & Green LP
10. FROM ASHES RISE – Rejoice the End 7"
11. TRAGEDY – Darker Days Ahead LP
12. NO PROBLEM – Living in the Void 7"
13. DOWN – Down IV Part I: The Purple EP
14. TEENAGE BOTTLEROCKET – Freak Out! LP
15. BEHOLD! THE MONOLITH – Defender, Redeemist LP
Old Man Markley:
Gay Marriage
Juicing
Peet's Coffee
DeTemple Guitar "Stellacasta"
Cardigans
Gary Busey
Larry & his Flask
Book of Mormon
Home Studios
Best friend rings
LESS THAN JAKE, Vinnie:
Jimmy Cliff "Rebirth"
Japandroids "Celebration Rock"
Hostage Calm "Please Remain Calm"
Baroness "Yellow And Green"
Converge "All We Love We Leave Behind"
The Skints "Part And Parcel"
Fun. "Some Nights"
Pentimento "s/t"
John K Samson "Provincial"
Apologies I Have None "London"
PAINT IT BLACK, Andy:
Long
Blank Realm – Go Easy
Constant Mongrel – Everything Goes Wrong
Daughn Gibson – All Hell
Frank Ocean – channel ORANGE
Julia Holter – Ekstasis
Merchandise – Children Of Desire
Raime – Quarter Turns Over A Living Line
Scott Walker – Bisch Bosh
Shackleton – Music For The Quiet Hour/The Drawbar Organ EPs
Sickoids – self titled
Short
Burial – Kindred
Daughn Gibson – Lite Me Up
Dawn Of Humans – Blurst Of The Birdfish
Fennesz – Fa 2012
Give – Voodoo Leather
Hoax – 3rd EP
The Ropes – Always Nothing
Savages – Husbands
Scott & Charlene's Wedding/Peak Twins split
Total Control – Scene From A Marriage
STRUNG OUT, Jordan:
Rush / Clockwork Angels
Such Gold / Misadventures
Propagandhi / Failed States
La Armada / Self Titled
As I lay Dying / Awakened
Pennywise / All Or Nothing
Van Halen / A Different Kind Of Truth
Stick To Your Guns / Diamond
Goatwhore / Blood For The Master
Menzingers / On The Impossible Past
Halloween / Terrortory
Bruce Springsteen / Wrecking Ball
Every Time I Die / Ex Lives
Canibal Corpse / Torture
UFO / Seven Deadly
Cancer Bats / Dead Set On Living
Tenacious D / Rize Of The Phoenix
Testament / Dark Roots Of Earth
Deftones / Koi No Yokan
Casedy Pope / The Voice
Morning Glory / Poets Were My Hero
USELESS ID, Ishay:
1) Public Image Ltd – This Is PIL
2) Killing Joke – MMX11
3)DICKS- Reissues on A.T.
4)Cloud Nothings – Attack On Memory
5)Cursive – I Am Gemini
6)Teenage Bottlerocket – FREAK OUT!
7)Phobia – Remnants of Filth
8)NOMORE – Live At Fest.
9)Ceremony – Zoo
10)Wolfbrigade – Damned
THE FLATLINERS, Chris:
The Menzingers – Impossible Past
Propagandhi – Failed States
The Snips – Highs of Low
Deftones – Koi No Yon
Title Fight – Floral Green
Ceremony – Zoo
Astpai – Efforts and Means
Cheap Girls – Giant Orange
Japandroids – Celebration Rock
Metz – Metz
THE FLATLINERS, Scott:
Records:
1. The Menzingers – On the Impossible Past
2. Ceremony – Zoo
3. Title Fight – Floral Green
4. Astpai – Efforts and Means
5. Metz – Metz
Flicks:
1. The Master
2. Moonrise Kingdom
3. The Invisible War
4. Raid: Redemption
5. Looper
GOOD RIDDANCE/ONLY CRIME, RUSS:
Propagandhi – Failed States
Lincoln
Moonrise Kingdom
Skyfall
Bob Mould – Silver Age
BANNER PILOT, Nate:
Cloud Nothings – Attack on Memory
Screaming Females – Ugly
Joyce Manor – Of All Things I Will Soon Grow Tired
TBR – Freak Out!
Luther – Let's Get You Somewhere Else
Sidekicks – Awkward Breeds
Menzingers – On the Impossible Past
Toys That Kill – Fambly 42
Green Day – An Aggressively Edited Version of Uno/Dos/Tre
Breaking Bad – Season 5 (TV show)
WESTERN ADDICTION, Jason:
Black Breath – Sentenced to Life
OFF! – OFF!
Baroness – Yellow & Green
Russ Rankin – Farewell Catalonia
Ceremony – Zoo
Turbonegro – Sexual Harassment
Crocodiles – Endless Flowers
Titus Andronicus – Local Business
Drake's Denogginizer Imperial IPA & Ransom WhipperSnapper Whiskey
Flora Grubb & Lone Pine Gardens
COBRA SKULLS, Devin:
In no particular order here are some releases that came out this year that I liked, but there are still A LOT of releases I still need to listen to.
Cloud Nothings -No Future/No Past
Menzingers – On the Impossible Past
Sidekicks – Awkward Breeds
Masked Intruder – Masked Intruder
Teenage Bottlerocket – Freak Out
Propaghandi – Failed States
Classics of Love
Japandroids-Celebration Rock
Hot Water Music – Exister
David Byrne & St. Vincent-Love this Giant
Baroness – Yellow & Green
TEENAGE BOTTLEROCKET, Ray:
1. Toys That Kill- Fambly 42
2. Masked Intruder- Masked Intruder
3. NOFX- Self Entitled
4. Menzingers- On the Impossible Past
5. Punchlines- This Aint Funny Demo
6. Dopamines- Vices
7. Stat Dad- Mominatrix
8. Gaslight Anthem- Handwritten
9. Kurt Baker- Brand New Beat
10. Elway- Delusions
TEENAGE BOTTLEROCKET, Miguel:
Top Movies of 2012:
Goon
Paranorman
Frankenweenie
Cabin In The Woods
Jiro Dreams of Sushi
The Loved Ones (Australian horror movie!)
Looper
The Innkeepers
Ghostlusters (DVD reissue)
Rubber Bordello
MASKED INTRUDER, Blue:
1. Teenage Bottlerocket – Freak Out
2. Tight Bros – Tight Bros LP
3. The Hextalls – Rock You to Sleep
4. Mean Jeans – On Mars
5. Kurt Baker – Brand New Beat
6. Toys That Kill – Fambly 42
7. The Sidekicks – Awkward Breeds
8. Borderlines – Magical Paths to Fortune and Power
9. The Blendours – It Came from the Radio
10. The Dopamines – Vices
Since the world ends tomorrow and all, it really is the last christmas. so NOFX thought they should send us all out on a real positive holiday note with a video for their new single Xmas Has Been X'ed. And the dudes over at Vice Magazine thought that watching this video is definitely a "do". So go watch it and then pre-order the single.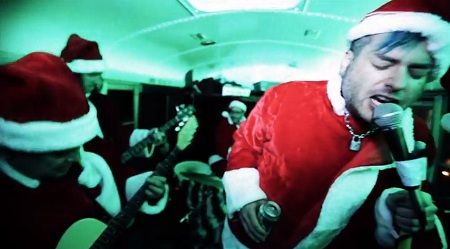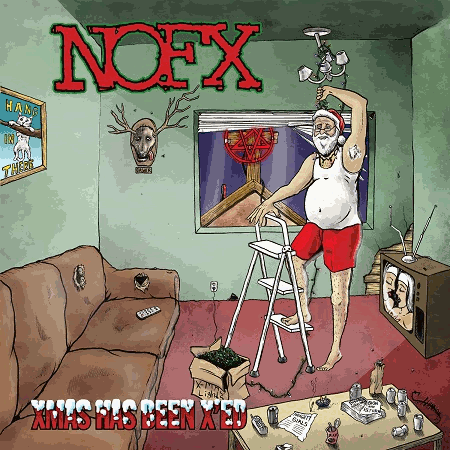 Teenage Bottlerocket are co-headlining a tour with the Queers in February and March of 2013 and will be bringing Masked Intruder along too! Power Pop mayhem! Read what Ray had to say about the tour below:
If someone would have told me we were going on tour with the The Queers in 1995, I probably would have cried (happy tears). Now its 2013, TBR is going on tour with the Queers, and I'm just as stoked! Why? Because not only will we be playing with the Queers in Feb/March, but Masked Intruder will be on all the shows as well. Monsters of Pop Punk Tour! We are looking forward to 2013 and this is a great way to start out the year. Come and party with us.
Ray/TBR
02/21/13 Jacksonville, FL Jack Rabbits w/ The Queers, Masked Intruder
02/22/13 Miami, FL Churchill's w/ The Queers, Masked Intruder
02/23/13 St. Petersburg, FL Local 662 w/ The Queers, Masked Intruder
02/24/13 Orlando, FL Will's Pub w/ The Queers, Masked Intruder
02/26/13 Charlotte, NC The Milestone w/ The Queers, Masked Intruder
02/27/13 Richmond, VA The Camel w/ The Queers, Masked Intruder
02/28/13 Philadelphia, PA The Barbary w/ The Queers, Masked Intruder
03/01/13 Baltimore, MD The Metro Gallery w/ The Queers, Masked Intruder
03/02/13 New York, NY Santo's Party House w/ The Queers, Masked Intruder
03/03/13 Boston, MA Church- Boston w/ The Queers, Masked Intruder
03/05/13 Rochester, NY Bug Jar w/ The Queers, Masked Intruder
03/06/13 Toronto, ON Canada HorseShoe Tavern w/ The Queers, Masked Intruder
03/07/13 Hamtramck, MI Magic Stick w/ The Queers, Masked Intruder
03/08/13 Cleveland, OH Now That's Class w/ The Queers, Masked Intruder
03/09/13 Morgantown, WV 123 Pleasant St. w/ The Queers, Masked Intruder
03/10/13 Newport, KY The Southgate House w/ The Queers, Masked Intruder, The Dopamines
Teenage Bottlerocket have a new video! "Cruising for Chicks" is a real rocker from their latest full length, Freak Out! Head over to The Onion's A.V. Club to watch the premiere. TBR are currently on tour with NOFX and head to Europe with Dropkick Murphys in 2013. Check the dates here!