We're releasing Me First and the Gimme Gimmes' new EP Sing In Japanese on September 13th. Check out this exclusive stream of "Hero" and read how Spike tackled learning to sing in Japanese here! The six song EP will be available on CD, 12" vinyl and digitally. Preorder it now! While you're at it buy a copy of NOFX's Frisbee on colored vinyl. Check out the original video for "Hero" by 甲斐バンド (Kai Band). Take a peek at the Gimmes Japan tour dates below.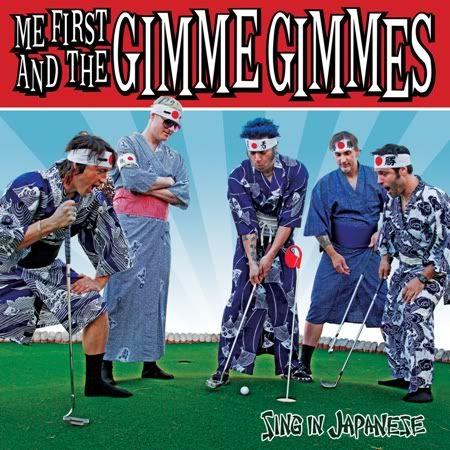 Tour dates:
09/14/11 Tokyo, Japan at Shibuya O-West
09/15/11 Nagoya, Japan at Club Quattro
09/16/11 Osaka , Japan at Muse
09/18/11 Yokohama, Japan at Yokohama Stadium w/ Hi Standard
We've got a sweet sale going so that you can experience the sounds of a real live punk show from the filth and discomfort of your own couch. You just need to flip the record at intermission time and retrieve that 7th beer. Available on CD & LP. Buy them as a bundle or individually!
You've probably spent many sleepless nights wondering what happened to Australia's most popular punks Frenzal Rhomb. Have they gone on walkabout? Were they lost in the Outback? Were they attacked by Russell Crowe? Well, worry no longer. It turns out they've been hard at work in the safe confines of the Blasting Room, under the watchful eye of the legendary Bill Stevenson, churning out their 8th full-length album Smoko at the Pet Food Factory. What's more, Fat and Frenzal have reunited (and it feels so good) to release this epic collection of 16 balls-to-the-wall, tongue in cheek, catchy punk rock songs!
"When will I be able to get Smoko At the Pet Food Factory?", you ask. How about today? Does that work for you? That's right, the album is available on iTunes today!! The physical version on both cd and vinyl will also be available on October 11th , but you can preorder both versions NOW!
Check out the cover art (and try to figure out what on earth the album title means) below, listen to a few tracks and watch (below) a punk rock homage to Alfred Hitchcock from their first single "Bird Attack"! (Tippi Hedren, eat your heart out!)
Old Man Markley are showing no signs of slowing down. With relentless touring and their debut full length on Fat this year, you think they'd be plum tuckered out? Not so, inspired by all the happenings they busted their butts and recorded a brand new single titled "Party Shack". Preorder now and check out what Joey Balls had to say about the inspiration and songs below:
"Party Shack" is an homage to Johnny and Annie's house, the affectionately coined OMM Manor. Inspired by many parties (as you may have guessed), topics like hiding booze in major appliances, trash debris filled beer lakes, and overcrowded sleeping quarters are covered. The B side features a cover of One Man Army's "The Holidays." Enjoy!
OMM have added a slew of new dates, check it out here!
TEENAGE BOTTLEROCKET have booked seven shows throughout Wyoming! In an unprecedented move of loyalty to their state, which would even make their governor blush with pride, we present you with the "Rock Around Wyoming" tour of 2011. That's right folks, it is seven shows peppered throughout their beloved home territory, The Cowboy State. Teenage Bottlerocket is on the prowl to reconnect with their brothers and sisters of Wyoming (who, for the record, have been known to beat up defenseless garbage cans for no good reason). TBR are kinda like the punk rock Louis and Clark, courageously embarking on a mission to discover just who lives in the areas where other bands fear to tread. Does the term "KEEPING IT REAL" ring a bell? So, without further ado, see what Ray had to say about the tour below!
Being from Wyoming is something we've always been proud of. Teenage Bottlerocket has made several friends around the state in the past ten years and we wanted to show our appreciation. Tobias Jeg at Redscare industries suggested that we do a Wyoming tour, and we all thought it was an awesome idea. We are playing some towns on this tour we've never played, and some towns we haven't played for 7 or so years. Last time we played Rock Springs some metal head beat up a trash can in front of the venue. That's the Wyoming we're after. Some bands do tours that ignore Wyoming all together, we are playing 7 shows here. Perhaps other touring bands will take notice and add a show or two in Wyoming on upcoming tours. Our friends from Laramie "Redbush" will be main support for the entire tour. Denver, Colorado's "The Gamits" will be playing the Laramie show.