Scenepointblank is premiering the new USELESS ID video "Symptoms", the title track from their latest full length. They'll be hitting Italy and Russia this summer with plans for Japan and Australia in the Fall. Symptoms was released in July of 2012 and you can download two free songs here. Guy gives us some background on the song:
While at the studio recording Symptoms with one song short to complete the album, Yotam played a few quiet acoustic demos of potential songs to producer Bill Stevenson. Bill said that out of all the demo songs Yotam played, "Symptoms" stands out and that he thinks it's got to be one of the best songs on the album if we will record it. He was surprised we didn't play that one for him till that point. Bill actually liked the song so much that he ended up recording his own lead vocals for the choruses. The video was done by the young and talented Yotam Goren who is a local fan of the band.
Tour Dates:
06/23/13 Calco, Italy Bong Festival
06/24/13 Magenta, Italy Ideal
06/25/13 Genova, Italy Lucrezia
06/26/13 Bologna, Italy Freaked Out Club
06/27/13 Viareggio, Italy Corsaro Rosso
06/28/13 Livorno, Italy Surfer Joe Diner
06/29/13 San Giacomo, Italy Bobby's Bar
06/30/13 Oasi San Martino, Italy Acquaviva Delle Fonti
07/02/13 Moscow, Russia FM Club
07/03/13 St Petersburg, Russia Club Dusche
07/04/13 Dovrav, Russia Club Okolitsa
07/06/13 Belgarad, Russia Club Roxbury
07/07/13 Rostov on Don, Russia Club Podzemka
07/10/13 Ljublana, Slovenia Punk Rock Holiday
On September 17th, we'll be releasing Dead Language, the fourth studio album from our favorite Torontonians, THE FLATLINERS. Dead Language is the follow-up to the band's acclaimed 2010 album Cavalcade. Recorded by long-time producer Steve Rizun, Dead Language is the band's most personal and invigorating record to date. The album features 13 new tracks filled with intelligent songwriting, arena-sized choruses, big guitars and a distinct musical fluidity that comes from playing together as a band for over 10 years. Vocalist Chris Cresswell had this to say, "Dead Language is the culmination of 10 years of hard work – our first album in 3 years and our 4th overall. We were finally able to capture our sound and energy as a touring band on record, having recorded the majority of these songs live off the floor. This was easily the most fun we've ever had recording and I think that comes through in these songs." Known for putting on a killer live show, THE FLATLINERS will bring their "perfect concoction of break-neck guitar rhythms, complementary solos, sing-along lyrics and danceable interludes" to a slew of cities over the next few months. Check the awesome cover art below designed by Richard Minino of Black Axe/Horsebites design.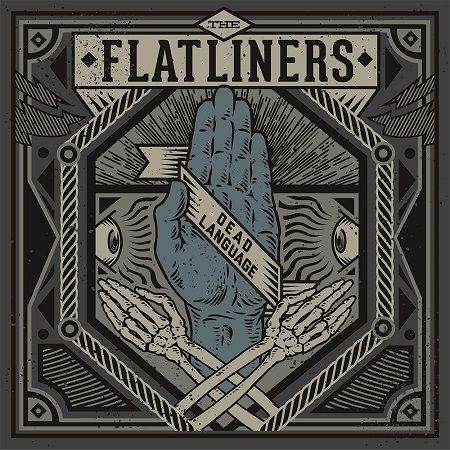 Masked Intruder, our newest pop-punk crimelords, are being put to work. Yep, 6 weeks of hard labor. Masked Intruder headline the Red Scare Across America tour, hitting both coasts! Along with support from Elway and Sam Russo, you might catch special guests like Sundowner, Nothington, or The Copyrights. A very nifty tour, and it'll be the first time Masked Intruder is hitting many of these towns, so be on alert! View the tour dates below.
7/8- Chicago, IL @ Gman Tavern (acoustic tour kickoff party!)
7/10- Minneapolis, MN @ Triple Rock Social Club (w/ The Manix!)
7/11- Moline, IL @ Bier Stube
7/12- Madison, WI @ The Frequency
7/13- Chicago, IL @ Beat Kitchen (w/ Brendan Kelly!)
7/14- Detroit, MI @ Small's
7/15- Cleveland, OH @ Grog Shop
7/16- Harrisburg (Lemoyne), PA @The Champ
7/17- Baltimore, MD @ Sidebar
7/18- Boston, MA @ Middle East
7/19- New York, NY @ Santo's House Party
7/20- Brooklyn, NY @ Suburbia
7/21- Philadelphia, PA @ The Fire (w/ Timeshares!)
7/22- Durham, NC @ Motorco
7/23- Richmond, VA @ Strange Matter
7/24- Pittsburgh, PA @ 222 Ormsby
7/25- Cincinnati, OH @ Southgate House
7/26- St Louis, MO @ Firebird (w/ The Copyrights!)
7/27- Omaha, NE @ Sokol Underground
7/28- Denver, CO @ The Marquis
7/29- Ft. Collins, CO @ Surfside 7
7/30- Salt Lake City, UT @ Shred Shed
7/31- Boise, ID @ Sammy's
8/1- Seattle, WA @ El Corazon
8/2- Longview, WA @ Chinese Gardens (early matinee show!)
8/2- Portland, OR @ Backspace (w/ Sundowner!)
8/3- Berkeley, CA @ 924 Gilman Street (w/ Druglords of the Avenues!)
8/4- Sacramento, CA @ Luigi's
8/5- Modesto, CA @ Hero's
8/6- Santa Cruz, CA @ Blue Lagoon
8/7- San Francisco, CA @ Bottom of the Hill (w/ Nothington!)
8/8- Ventura, CA @ Zoey's Cafe
8/9- Los Angeles, CA @ Five Star Bar (w/ Vultures United!)
8/10- Pomona, CA @ VLHS (w/ The Bombpops!)
8/11- San Diego, CA @ The Void (w/ The Bombpops!)
8/12- Tempe, AZ @ Yucca Tap Room
8/13- Albuquerque, NM @ Gasworks
8/14- Oklahoma City, OK @ The Conservatory
8/15- Kansas City, MO @ Record Bar
8/16- Normal, IL @ Firehouse Pizza
8/17- Milwaukee, WI @ Cactus Club
We released Propagandhi's classic first album How to Clean Everything back in 1993 and are celebrating the 20th anniversary with a new edition on August 20th! Guitarist Chris Hannah explains his reasoning for it, "Maybe it's the bath-salts talking, but I have come believe that there is value in having something that haunts you until you are dead. I give you… How To Clean Everything, the 20th anniversary edition." The reissue includes the full album (duh), the 3 outtakes that Fat Mike cut from the record, and a super rare 4-song HTCE demo. Of course the album was re-mastered from the original analog reels AND, this is the neat part, we are offering an exclusive Tab Book for the entire album! With both guitar and bass transcribed by Chris himself, the book will be available bundled with the reissue. 20 years on and these gents are still hard at work. You can catch them on tour in Europe and once a month you can listen to Chris and Derek Hogue's (from G7) Escape Velocity Radio, a monthly podcast that dips into such subject matter as science, philosophy, history and origins of consciousness. The podcast has nothing to do with this release of course but it reminds us of the journey these guys have taken and continue to be as relevant today, as they were 20 years ago when they released their breakout record How To Clean Everything.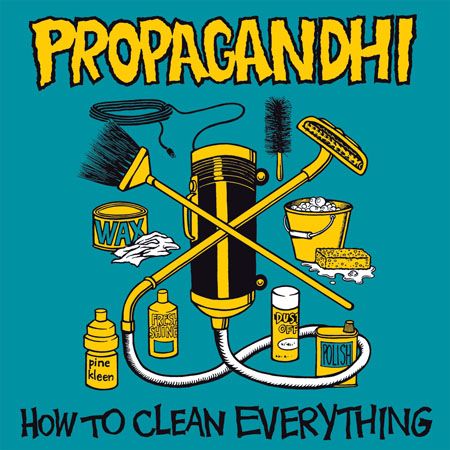 L.A. bluegrass punks Old Man Markley just embarked on a summer tour with the Dropkick Murphys in support of their latest offering, Down Side Up. Just to get you pumped up for the upcoming dates the band put together a ton of footage from their winter tour with DKM. Live shots, backstage antics, snowball fights, ping pong, tour van tomfoolery… it's all in there. And it's set to 6 songs from their latest album! Not that there was any question, but these kids know how to have a good time, on and off stage. Enjoy!