Fat Music For Fest People IV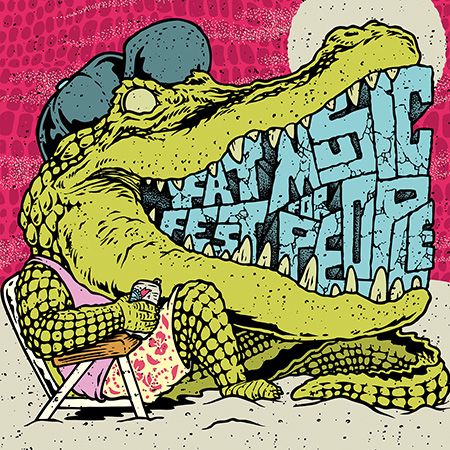 FEST has begun! This year, as always, we have a slew of bands playing both Pre-Fest and Fest! Check out the full schedule on where and when our bands are playing here and below. Then, head here to view where you can meet Pat at Fat who'll be slinging merch both days while you register. Grab a limited Fat/Fest t-shirt and pick up volume four of our annual Fat Music For Fest People 10" compilation, pressed in a lovely variety of colors featuring Bad Cop/Bad Cop, Banner Pilot, CJ Ramone, Get Dead, Lagwagon, Mad Caddies, Masked Intruder, Me First and the Gimme Gimmes, Morning Glory, Swingin' Utters, Uke Hunt and Western Addiction. It's your first shot at hearing a new CJ Ramone song, and both Bad Cop/Bad Cop and Western Addiction songs are brand new and totally exclusive to this release! So, don't dilly dally! This is our lowest pressing ever, only 650 total. 100 each of six different incredible colors, and the most rare, only 50 on gorgeous black vinyl! Get yourself over to our booth while supplies last, or call a friend to pick one up as once they're gone, that's it!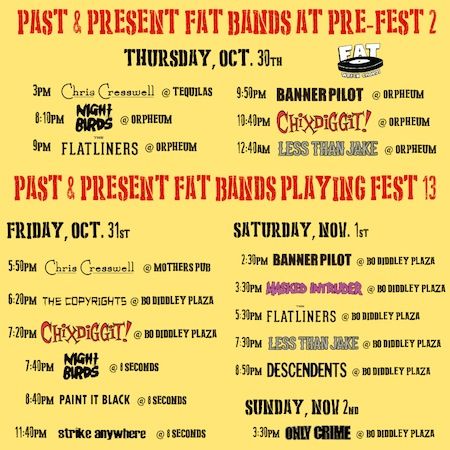 Morning Glory - I Am Machine Gun Video Premiere!
Two things you can always rely on from Morning Glory: compelling, engaging music and innovative, boundary-pushing videos. They've outdone themselves on their latest video, which is more like a short film set to music. Directed by Christopher J. Aran and culled from their latest album War Psalms, "I Am Machine Gun" is premiering at Big Cheese Magazine. Morning Glory is currently bringing their eclectic brand of punk rock around Europe; don't miss them! And if this is your first time watching a Morning Glory video, do yourself a favor and check out their past videos.
New Morning Glory Video!
Morning Glory's brand new video directed by Christopher J. Aran is premiering at Noisey. Culled from the latest album, War Psalms, watch the video for "Punx Not Dead, I Am" here and read what Ezra had to say about filming it below! Canadians, they are heading your way this weekend! Check their dates!
We did this video strictly to have fun. And it was. Anyone who has ever lived in New York City will immediately get it. Our small budget was supposed to be getting spent on the "I Am Machine Gun" video (which we also shot that weekend), but when I told director Christopher Aran the concept for the "Punx" video, in a matter of hours a crew and cast started snowballing. In a complete twist of chance I ran into Jimmy McMillan on the street and he decided he wanted to be in on it too… I thought he'd just come out for an hour, do a quick cameo, and leave. Instead he stuck around the entire day flashing everyone the devil horns. Since we weren't really supposed to been shooting this vid at all we did the whole thing in under 12 hours. It was a spontaneous, true NY moment, and one of the reasons I still love living in

NYC

(despite the insanely bad "accommodations"). Liah Natas!
Morning Glory out today!
Morning Glory's latest full length, War Psalms, is out today and you can order it here! Watch a brand new video for "Standard Issue" over at Verbicide, then read Ezra's top 10 war songs to celebrate War Psalms.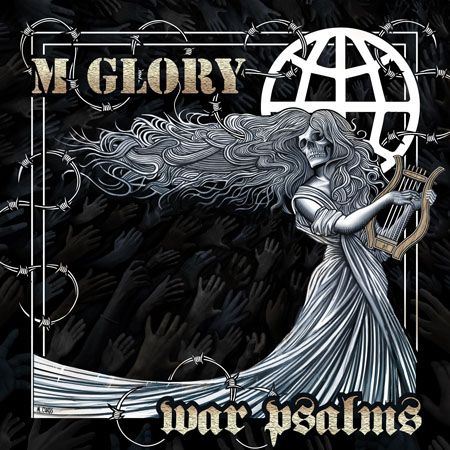 Hear a new Morning Glory song now!
Go to Alternative Press to hear the new Morning Glory song, "Standard Issue," from the new album, War Psalms. The gritty, fast paced 13-song full length is described by vocalist Ezra Kire as, "Grit, fire, heaviness, speed and a few singsongs… I was finally able to write the record I've been hearing all these years." You can listen to another War Psalm, "Nationality Anthem," over at Noisey/Vice. Then, go pre-order the album today. Morning Glory are currently working on tour plans but for now, they've confirmed a record release show on March 29th in Brooklyn, NY at the Acheron, details here! And go read this new interview with Ezra, detailing the making of War Psalms.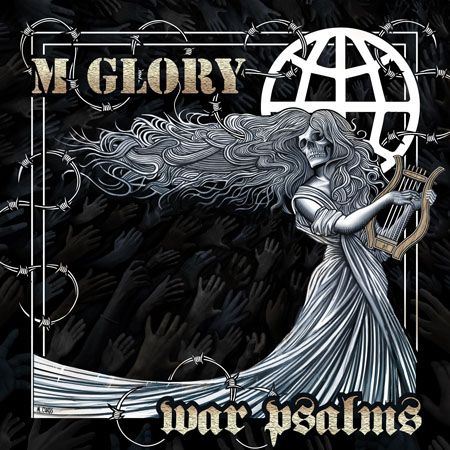 Preorder Morning Glory - War Psalms now!
Preorder Morning Glory's War Psalms now! And if you missed the colored vinyl of the Poets Were My Heroes LP or the Born to December 7", we have a limited few for sale now! Due to manufacturing getting a little behind we had to push the release back to March 4th, but we'll still likely get pre-orders shipped out ahead of that time.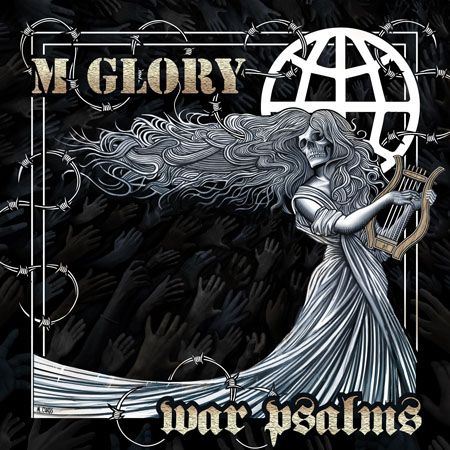 First Vinyl of 2014!
Happy New Year! We should probably start it off by coming clean about the pressing info on the Off With Their Heads/Morning Glory special tour split 7" we released in December. Well, as some of you may know, we pressed two colors, one for each band to sell exclusively on tour. What you didn't know is that we pressed a limited black version to be sold through the Fat webstore. Here's a little tip for you now that 2014 is upon us: color is the new black. Or is it: black is the new black? Shit's confusing, whatever. The point is we've got super rare black vinyl available and we've even got a few copies of the color versions on hand for all you that haven't yet reconciled with the new trending status of black. Don't say we never did anything for ya.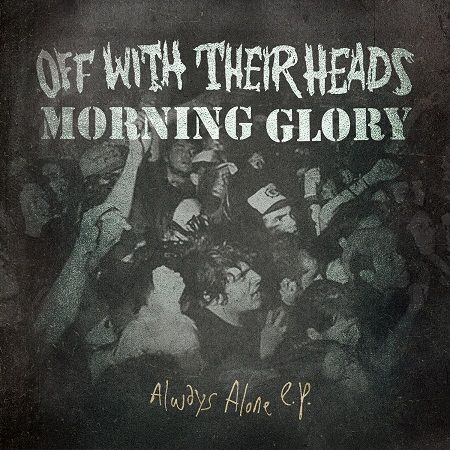 New Morning Glory album!
Morning Glory have completed work on their new album War Psalms. It's packed with 13 memorable songs and will be released on February 18th. Listen to the brand new song, "Nationality Anthem," which appears on both War Psalms and the limited edition split EP currently being sold the band's tour with Off With Their Heads. Read what Ezra Kire, singer of Morning Glory, had to say:

We took the summer off to record this record. We were driving Jesse (Cannon) nuts by camping out in his studio. I was up to writing at all hours of the night, taking brief naps under the piano. In the end we had 27 tracks from which to assemble this album. People who like earlier M-glory are definitely gonna like it. It's faster, heavier, & more raw & stripped down than Poets, but retains that anthemic morning glory message. Brian Viglione (dresden dolls, and now violent femmes) added massive strength to the entire record with his powerhouse drumming style. Music is a forward moving journey & I can't wait for it to be released. Everyone who's heard it agrees that this record rocks.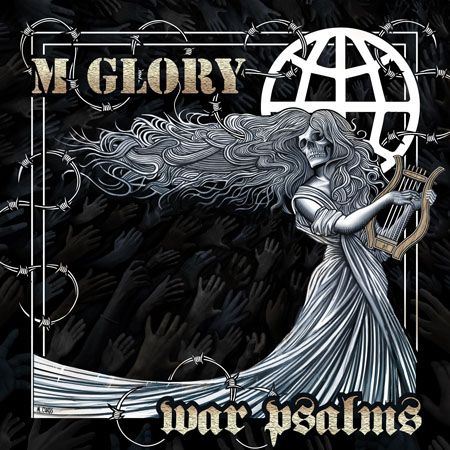 Listen to the Morning Glory / Off With Their Heads split now!
Listen to the brand new split tour 7" from MORNING GLORY and OFF WITH THEIR HEADS at Vice/Noisey! Then, check the dates below and get to a show to pick up a copy or two, as this is a limited pressing with a different color available from each band. So get off the damn couch and go see some good punk rock!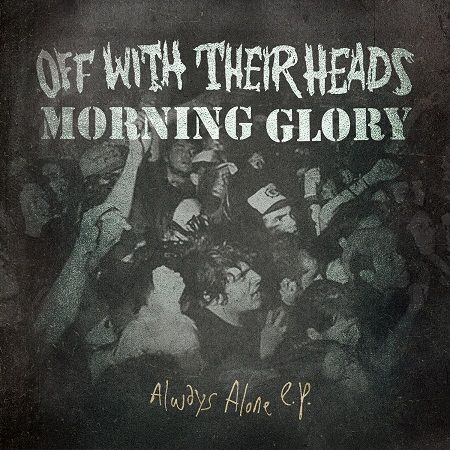 12/08/13 Norfolk, VA at The Iguana
12/09/13 Richmond, VA at Strange Matter
12/10/13 Winchester, VA at Sweet Caroline's
12/11/13 Philadelphia, PA at First Unitarian Church
12/12/13 Pittsburgh, PA at Rex Theater
12/13/13 Brooklyn, NY at Knitting Factory
12/14/13 New Brunswick, NJ at Court Tavern
12/15/13 Cambridge, MA at Middle East Downstairs
12/16/13 Albany, NY at Valentines- Downstairs
Morning Glory & Off With Their Heads split tour 7"!
We're stoked to announce a special split tour 7" with Off With Their Heads and Morning Glory! The 7" features new material from both bands and will be available exclusively at shows on their upcoming tour. Off With Their Heads deliver two songs including a moving cover of Morning Glory's "Care of Me" and a rerecorded version of "Always Alone" originally off their sophomore album, Home on Epitaph. Morning Glory recorded the brand new track "Nationality Anthem" with Jesse Cannon at Cannon Found Soundation Recording Studios. Brian Viglione of Dresden Dolls and now Violent Femmes fame is featured on the drums. Ezra describes the song as "a rocker of a tune" with "a good universal, one world, one web, type message." OWTH and MG kick off their December tour in Norfolk, VA on December 8th. Remember, this is a limited pressing (yes, it's on colored vinyl! 2 colors in fact!!) and not available at stores, so don't miss this tour!
Here's Ezra of MG's take on the whole thing:

I've heard that Off With Their Heads are total jerks who don't know how to play their instruments or drink. And Morning Glory are a bunch of softy wanna-be indie kids who need to stop listening to Barry Manolo and crying. So in the spirit of debunking myths we decided to do a split 7" with some brand new tunes. I for one can't wait to go out, have some fun, and prove that only some of that is half true. Anyone who hears these new tracks will know both bands like to rock, drink and sing along.
Ezra Arrow Kire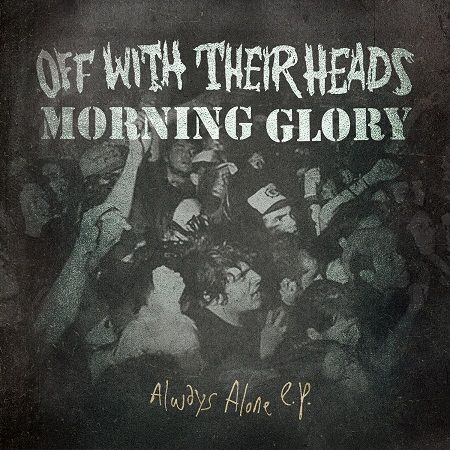 Morning Glory rock Halloween with a new song!
NYC's Morning Glory are definitely into the spirit, or should we say, spirits… Listen to their brand new song "Pet Monster" below!
"Fuck christmas and thanksgiving and all those other phony holidays – everyone knows Halloween is the best holiday of the year, what with all the evil and the candy. So here is very special song to help people celebrate it! My friend Brian from the Dresden Dolls played the drums on this song making it a very special tune indeed." -ezmonster
Abover photo: Brooklyn artist Paul St. Savage and Ezra hanging with some friends at the Fat Wreck's Halloween showcase in NYC. Photo by Alyssa Tanchajja, ghouls by St. Savage.
New York, New York!
New York! Our 2013 CMJ showcase is coming next week! October 18th in Brooklyn at the Music Hall of Williamsburg. GOOD RIDDANCE returns to New York for the first time in over 6 years! You get The Flatliners playing for the first time since their new album came out, Western Addiction playing for the first time in over 7 years, hometown heroes Morning Glory ready to showcase some new songs, and the absolutely shredding Night Birds as our special guests. It does NOT get much better than this! But, if you'd rather tour the New York harbor while watching some old school punk, we'll be stripping our showcase down and heading for the Hudson on the infamous Rocks Off Boat Cruise show, where you'll be treated to (literally) rockin' sets from GOOD RIDDANCE, Night Birds and Western Addiction! Because we're all vinyl nerds, we'll be pressing a special limited edition Fat CMJ 7" which can ONLY be purchased at these two shows! The 7" will have exclusive songs from Good Riddance & Night Birds, plus brand new songs from The Flatliners and Western Addiction. The 7" will be pressed on four different colors and can be procured at the Western Addiction merch booth. Say hi to the fellas and pick up their new 7" Pines too. Don't fucking miss these shows!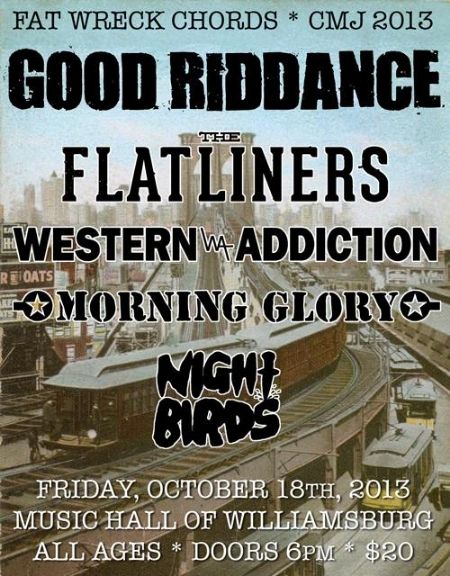 Morning Glory EP out today!
MORNING GLORY's new 7" "Born to December" is out today! The a-side is culled from last year's full length, Poets Were My Heroes and is backed with two songs exclusive to this EP, and you can order it now! Ezra, singer for Morning Glory had this to say, "While Born is a 6 ½ minute epic, the two B-sides are never-before-heard rockers which were tracked during the same sessions in early 2012." Lucky for you we're streaming the entire EP over at New Noise Magazine AND running a contest! If you missed their also-epic video for "Born to December", you can watch it right here. Check out what's been going on in the Morning Glory camp from bassist Metal Chris:
Our first European tour ended a few weeks ago and we saw there was so much fun to be had that we found ourselves poring over maps, making all kinds of plans for more places to play. We realized we were only scratching the surface of some wild touring. Then unexpectedly though perhaps fortuitously, our drummer departed, which has briefly anchored us here in New York City. This is where we take a deep breath, cough out some black stuff and get back to work in the studio to finish up the new material we've been writing. I'm not ashamed to say it's some damn good stuff. Hold tight, we'll be pulling those maps out soon enough.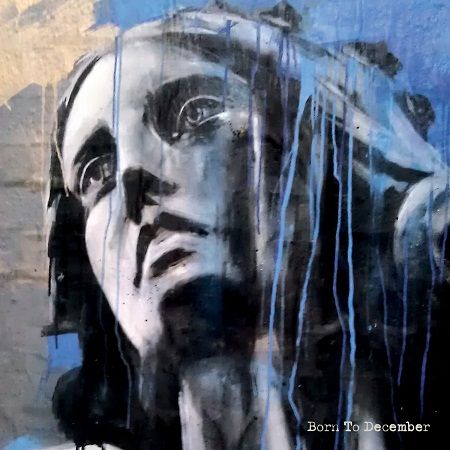 Morning Glory's First Video Ever!
Morning Glory have a new video, and their first attempt at the visual medium doesn't disappoint. Ambitious would be an understatement considering "Born To December" clocks in at over 6 minutes. That's a lot of footage to capture in the dead of a New York winter. Early Gates, drummer of Morning Glory, recounts, "We have never done a video before and decided to do this one just for fun. And except for the cold weather that's exactly what it was. The death shots in which we kill the hipster versions of ourselves were particularly enjoyable as we got to use fake blood, which took up the entirety of our budget. We hope everyone likes it." The track "Born To December" is the title track of their upcoming 7-inch and is culled from their latest full length, Poets Were My Heroes. Head over to Visions Magazine to watch the video, directed by Christopher J Ryan at Dedicated-Lane Productions and stay tuned for the 7" pre-order, coming very soon.
New Morning Glory 7" in May!
We thought it fitting to release a winter themed 7" in the spring since Morning Glory encapsulate so many of the tenets of warmth and cold. They're punks after all, yet they have a sweet uplifting side which you can hear in the heavily piano-laden song Care of Me from 2012's full length, Poets Were My Heroes. This spring we'll release the Born to December single, the a-side also culled from Poets Were My Heroes, backed with two previously unreleased songs. These East Coast punkers are gearing up to jump the pond on an extensive tour of Europe and just completed filming an epic video for "Born to December" which we'll be premiering soon. In the meantime, read what Ezra from MG had to say about the release below:
This [Born To December] happens to be my personal favorite tune off of the Poets record, so I am very excited that it is going to be our first 7" single. Ever. While Born is a 6 1/2 minute epic the two B-sides are never-before-heard rockers which were tracked during the same sessions in early 2012. We're printing this one on camo vinyl- it's going to be very special! And not only that, to help celebrate this release we did a Born video, our first ever. It was a massive production with no budget and involved 40 extras and crew members to be out in the cold New York winter all day for a few days. It made us do some serious reflecting on the title of the tune, and we all agreed our next video must be called Born to July, or Born To The Bahamas, or some such warm fuzzy nonsense. Next month we'll be touring Europe, and since it's our first time, we hope to see all you punks, rockers and karaoke heads alike- out at our UK shows to help us sing every word.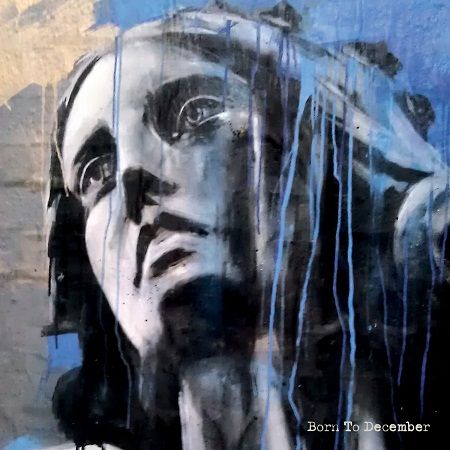 Fat Wreck Best Of 2012!
NOFX, FAT MIKE:
1. Rubber Bordello screening party
2. Getting Tattooed by Mike Roach from TSOL
3. Golfing at the Olympic Club
4. Masked Intruder album
5. Trying DMT at Domme Trips in the Dominican Republic
6. The Perks of being a Wallflower
7. Dungeon Party with Teenage Bottle Rocket
8. Playing the whole Ribbed album live
9. Old Man Markley cookies
10. Rocky Horror with Matt Skiba
11. Foreign Cinema in the Mission
12. Less Than Jake back on Fat
13. My daughter's soccer team getting their first goal
14. Hanging with Dropkicks in Europe
15. Playing with Snuff on New Years Heave
16. Meeting John Cameron Mitchell
17. Moving to Noe Valley
18. Dark Knight Rises
19. Shooting the NOFX video for Xmas has been X'ed
20. Uber
Morning Glory, Ezra:
Off the top of my head-
best pop song of 2012- some nights by fun.
best concept album-dos by green day.
best colaboration: fiest/mastadon.
best live alb um: coldplay 2012 in paris.
best rock record- battle born by the killers.
best chorus of a song: prize fighter by the killers.
best delux release: synthetica by metric.
best punk band: screaming females.
best vocalist: emily haines.
best song from the heart: my orphan year (acoustic version!) by nofx.
best band with a washboard and banjo: none. "
LAGWAGON, Joey Cape:
1) This American Life: What Doesn't Kill You,
2) Ted: Israel and Iran: A Love Story?-Ronny Edry
3) Moonrise Kingdom
4) Searching For Sugar Man
5) Louie
WESTERN ADDICTION, Chad:
1. PROPAGANDHI – Failed States LP
2. HIGH ON FIRE – De Vermis Mysteriis LP
3. PAPER BAGS – Paper Bags II 7"
4. PALLBEARER – Sorrow and Extinction LP
5. NOFX – Self Entitled LP
6. OFF! – OFF! LP
7. GYPSYHAWK – Revelry & Resiliance LP
8. WITCHCRAFT – Legend LP
9. BARONESS – Yellow & Green LP
10. FROM ASHES RISE – Rejoice the End 7"
11. TRAGEDY – Darker Days Ahead LP
12. NO PROBLEM – Living in the Void 7"
13. DOWN – Down IV Part I: The Purple EP
14. TEENAGE BOTTLEROCKET – Freak Out! LP
15. BEHOLD! THE MONOLITH – Defender, Redeemist LP
Old Man Markley:
Gay Marriage
Juicing
Peet's Coffee
DeTemple Guitar "Stellacasta"
Cardigans
Gary Busey
Larry & his Flask
Book of Mormon
Home Studios
Best friend rings
LESS THAN JAKE, Vinnie:
Jimmy Cliff "Rebirth"
Japandroids "Celebration Rock"
Hostage Calm "Please Remain Calm"
Baroness "Yellow And Green"
Converge "All We Love We Leave Behind"
The Skints "Part And Parcel"
Fun. "Some Nights"
Pentimento "s/t"
John K Samson "Provincial"
Apologies I Have None "London"
PAINT IT BLACK, Andy:
Long
Blank Realm – Go Easy
Constant Mongrel – Everything Goes Wrong
Daughn Gibson – All Hell
Frank Ocean – channel ORANGE
Julia Holter – Ekstasis
Merchandise – Children Of Desire
Raime – Quarter Turns Over A Living Line
Scott Walker – Bisch Bosh
Shackleton – Music For The Quiet Hour/The Drawbar Organ EPs
Sickoids – self titled
Short
Burial – Kindred
Daughn Gibson – Lite Me Up
Dawn Of Humans – Blurst Of The Birdfish
Fennesz – Fa 2012
Give – Voodoo Leather
Hoax – 3rd EP
The Ropes – Always Nothing
Savages – Husbands
Scott & Charlene's Wedding/Peak Twins split
Total Control – Scene From A Marriage
STRUNG OUT, Jordan:
Rush / Clockwork Angels
Such Gold / Misadventures
Propagandhi / Failed States
La Armada / Self Titled
As I lay Dying / Awakened
Pennywise / All Or Nothing
Van Halen / A Different Kind Of Truth
Stick To Your Guns / Diamond
Goatwhore / Blood For The Master
Menzingers / On The Impossible Past
Halloween / Terrortory
Bruce Springsteen / Wrecking Ball
Every Time I Die / Ex Lives
Canibal Corpse / Torture
UFO / Seven Deadly
Cancer Bats / Dead Set On Living
Tenacious D / Rize Of The Phoenix
Testament / Dark Roots Of Earth
Deftones / Koi No Yokan
Casedy Pope / The Voice
Morning Glory / Poets Were My Hero
USELESS ID, Ishay:
1) Public Image Ltd – This Is PIL
2) Killing Joke – MMX11
3)DICKS- Reissues on A.T.
4)Cloud Nothings – Attack On Memory
5)Cursive – I Am Gemini
6)Teenage Bottlerocket – FREAK OUT!
7)Phobia – Remnants of Filth
8)NOMORE – Live At Fest.
9)Ceremony – Zoo
10)Wolfbrigade – Damned
THE FLATLINERS, Chris:
The Menzingers – Impossible Past
Propagandhi – Failed States
The Snips – Highs of Low
Deftones – Koi No Yon
Title Fight – Floral Green
Ceremony – Zoo
Astpai – Efforts and Means
Cheap Girls – Giant Orange
Japandroids – Celebration Rock
Metz – Metz
THE FLATLINERS, Scott:
Records:
1. The Menzingers – On the Impossible Past
2. Ceremony – Zoo
3. Title Fight – Floral Green
4. Astpai – Efforts and Means
5. Metz – Metz
Flicks:
1. The Master
2. Moonrise Kingdom
3. The Invisible War
4. Raid: Redemption
5. Looper
GOOD RIDDANCE/ONLY CRIME, RUSS:
Propagandhi – Failed States
Lincoln
Moonrise Kingdom
Skyfall
Bob Mould – Silver Age
BANNER PILOT, Nate:
Cloud Nothings – Attack on Memory
Screaming Females – Ugly
Joyce Manor – Of All Things I Will Soon Grow Tired
TBR – Freak Out!
Luther – Let's Get You Somewhere Else
Sidekicks – Awkward Breeds
Menzingers – On the Impossible Past
Toys That Kill – Fambly 42
Green Day – An Aggressively Edited Version of Uno/Dos/Tre
Breaking Bad – Season 5 (TV show)
WESTERN ADDICTION, Jason:
Black Breath – Sentenced to Life
OFF! – OFF!
Baroness – Yellow & Green
Russ Rankin – Farewell Catalonia
Ceremony – Zoo
Turbonegro – Sexual Harassment
Crocodiles – Endless Flowers
Titus Andronicus – Local Business
Drake's Denogginizer Imperial IPA & Ransom WhipperSnapper Whiskey
Flora Grubb & Lone Pine Gardens
COBRA SKULLS, Devin:
In no particular order here are some releases that came out this year that I liked, but there are still A LOT of releases I still need to listen to.
Cloud Nothings -No Future/No Past
Menzingers – On the Impossible Past
Sidekicks – Awkward Breeds
Masked Intruder – Masked Intruder
Teenage Bottlerocket – Freak Out
Propaghandi – Failed States
Classics of Love
Japandroids-Celebration Rock
Hot Water Music – Exister
David Byrne & St. Vincent-Love this Giant
Baroness – Yellow & Green
TEENAGE BOTTLEROCKET, Ray:
1. Toys That Kill- Fambly 42
2. Masked Intruder- Masked Intruder
3. NOFX- Self Entitled
4. Menzingers- On the Impossible Past
5. Punchlines- This Aint Funny Demo
6. Dopamines- Vices
7. Stat Dad- Mominatrix
8. Gaslight Anthem- Handwritten
9. Kurt Baker- Brand New Beat
10. Elway- Delusions
TEENAGE BOTTLEROCKET, Miguel:
Top Movies of 2012:
Goon
Paranorman
Frankenweenie
Cabin In The Woods
Jiro Dreams of Sushi
The Loved Ones (Australian horror movie!)
Looper
The Innkeepers
Ghostlusters (DVD reissue)
Rubber Bordello
MASKED INTRUDER, Blue:
1. Teenage Bottlerocket – Freak Out
2. Tight Bros – Tight Bros LP
3. The Hextalls – Rock You to Sleep
4. Mean Jeans – On Mars
5. Kurt Baker – Brand New Beat
6. Toys That Kill – Fambly 42
7. The Sidekicks – Awkward Breeds
8. Borderlines – Magical Paths to Fortune and Power
9. The Blendours – It Came from the Radio
10. The Dopamines – Vices
MORNING GLORY - Poets Were My Heroes - out today!
Ten years on from Morning Glory's formation, founder Ezra Kire began writing what would become Poets Were My Heroes. And after spending the past year preparing, recording, mixing and waiting, Morning Glory's first full-band, full-length album is finally out! So how did Morning Glory end up on Fat? Of course we knew of them as Ezra's (from Leftover Crack and Choking Victim) band, but since they didn't regularly record or tour, we were surprised when Fat Mike came in singing the praises of their new record. After he played it for us, we were pensive—not sure what we thought of this punk outfit with piano, strings and softer, emotional songs. But true to form, Fat Mike's knack for recognizing great music panned out again, and we were hooked. The record is a grower, and it stems from the music being a little outside the usual punk rock stomping ground. An easy (but somewhat lazy) comparison is The Clash's Sandinista! record with its expansive sound and instrumentation, though the songwriting on Poets is more focused. And even as a double album, it never veers off course or loses the listener over its 49 minutes. So give it a listen, and order your copy on vinyl, CD or digital here.
Listen to the final (and unlisted) track from the album, "Care of Me". Then read what Ezra had to say about this sweet little number below – it may surprise you what these tough, gritty New York punks are capable of under the tattoos and spikes.
Morning Glory – Care of Me by Fat Wreck Chords
"This was a quickly written song which I played live in the studio one day. It's sort of the "Travel On" of this record (for those who owned No Time To Sleep). I'm pretty sure it was more or less on the strength of this song that Mike agreed to release the entire record, God bless him. This is a song that should be sung mainly during periods of high intoxication. Preferably clustered around a piano with a group of other drunkards, in some dimly lit bar setting."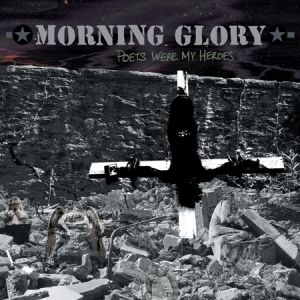 Listen to the new Morning Glory album now!
Morning Glory's new album, Poets Were My Heroes, comes out in just a few days. If you can't wait til then or just need to hear a little more before taking the plunge, now's your chance as the full album is now streaming over at AP! After listening, order your copy of the album and then go to the record release show in Brooklyn on the release date next Tuesday!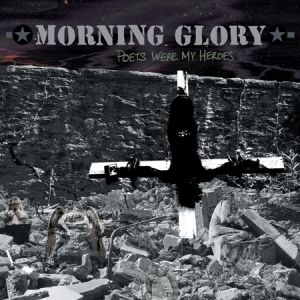 New Morning Glory Song!
Stereokiller is premiering "Life's a Long Revenge", a brand new song from MORNING GLORY's upcoming Fat debut, Poets Were My Heroes, out August 28th. Pre-order your copy and then read what drummer Early Gates had to say about the song:
"This was another really fun song to record! Ezra had mentioned that he wanted to try to use drum sticks (rather than hi hats, or snare rim knocks) to keep the rhythm during the verses, so we tried a few different approaches. First we tried to tape a drum stick to a cymbal stand, but it kept getting lose and falling. Then we tried to attach the stick to a mic stand. It had the same problem. Also, it just didn't have a nice warm sound. Our final solution was Ezra standing there holding one drum stick with both hands. It had the perfect recoil and sound that we were looking for. For live shows I've schemed a way to hold one drum stick out to become part of the drum kit. I also did the rocking whistling solo on this track.Since it's hard to walk and chew gum (and drum and whistle) at the same time, we been having kids do the whistling at shows."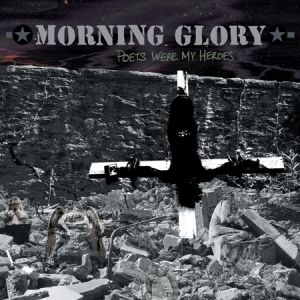 Don't miss their record release show in Brooklyn, NY on August 28th. The first 100 people get their brand new record for free. Tickets here.
New Morning Glory song and Preorder!
Morning Glory's debut Fat full length, Poets Were My Heroes, will be released on August 28th! A cathartic audio voyage from beginning to end. The album contains so many crescendos and opposing moments of reflection that when it came time to decide on which song best represented the album, we debated, hard…everyone had a favorite; but we settled on "Patiently" which does a nice job of representing the album as a whole. The verse is powered by strings (which is definitely different) and then the chorus brings a rollicking anthemic melody. It's almost like a microcosm of the entire album. So, download it here, order your copy and get stoked to see them live! Preorders will receive a digital download link via email a week before release date. Read what Ezra from Morning Glory had to say about the song below:
Patiently… This is a kick ass song with a beautiful string section and it was one of the last songs we tracked for the new record; in part because it took a bit to save up for the string quartet. The words, especially the second verse, were written about an ex-gf who liked to destroy things, especially us. I hope she reads them one day. I really like this song, it's got a beautiful staggered vocal section, a la "row, row, row your boat", at around the 3 minute mark, which thoroughly frustrated Caleb, our violinist during the recording. This must be a great song cuz Fat picked it as the free download. It has a great melody and a lyrical tone which begs hope for everyone who feels like they do everything right even when no one is looking. We'll definitely be playing it on our upcoming tour. In short, the whole record fucking sways and rocks and this is a good example of that cross section.
-Ezra Arrow Kire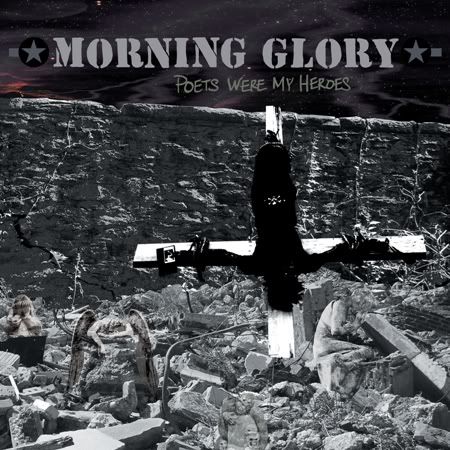 Morning Glory-Poets Were My Heroes out August 28th!
We're excited to announce that Morning Glory's debut Fat full length, Poets Were My Heroes, will be released on August 28th! Picture the sonic kaleidoscope of punk noise meeting strings, horns, choirs, pianos and organs over a web of distorted guitars and marching, single kick pedal drums. These are the sounds that make up Poets Were My Heroes, Morning Glory's first full-length album recorded with a live band. Fat Mike had this to say about the record: "I heard the new album and loved it. It's done so well. Great songs, very eclectic and very well written and thought out. I am very stoked to put it out." Stay tuned for tour dates and read what band founder & songwriter Ezra Kire had to say about the record:
"This is by far the best record to date and is miles above our previous stuff. Every song on this record is a brilliant tune and is sequenced in a manner which gives a rise-fall-rise feel to the whole album. It was undoubtedly made to be listened to in its entirety. We had a lot of fun making it and were thinking about the live shows we'd be playing on the tours. On this album we're beginning to find our own voice and much of the material is very personal. In short these tunes all come from the heart and that's what makes this record inspiring, believable and worth picking up. Personally speaking, this is the best shit we've ever done and we can't wait to get out and tour it."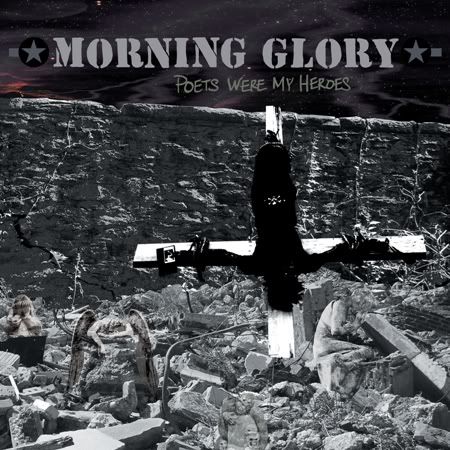 FAT signs Morning Glory!
Fat Wreck Chords is thrilled to welcome Morning Glory from NYC's Lower East Side to the Fat family! Their debut Fat release titled Poets Were My Heroes will be out in early summer. Fat Mike had this to say about Morning Glory:
I wasn't really thinking of signing Morning Glory cuz their earlier stuff didn't kill me. Then I heard the new album and Loved it. It's done so well. Great songs, very eclectic and very well written and thought out. I am very stoked to put it out.

Stay tuned for details and like them via facebook here!