Watch the 3rd preview for Lagwagon Hang coming 10/28/14!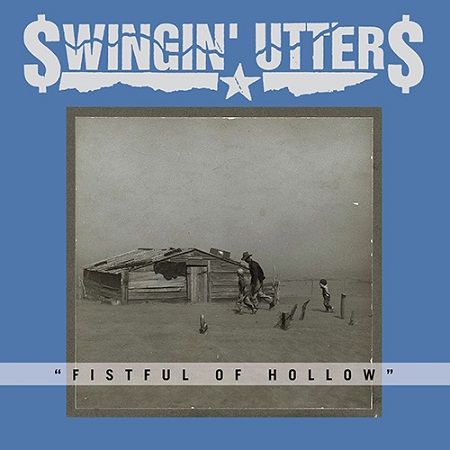 You heard it right! On November 11th, we'll release a brand new Swingin' Utters full-length. Packed with 15 songs and recorded by the talented Chris Dugan at JingleTown, Fistful of Hollow is Swingin' Utters at their very best. The album weaves between classic punk rock and the eclectic mix of sounds that the band has been experimenting and evolving with since Five Lessons Learned, yielding a truly balanced, yet cohesive record. Read what Johnny and Darius had to say about the writing process below:
"For the new record, it just so happened that Miles and Johnny got on a bit of a co-writing tear, which was pretty interesting as Miles has never done any writing for the Utters. Kind of like the Poorly Formed songs that Jack did with Johnny. Jack had never written for us either, but he was a bit more of a known entity to us, if that makes sense. I wouldn't have been able to tell you where Miles was going to come from, from a composition standpoint. The result was pretty fantastic. I think the four songs they wrote together are highlights of the record, and really give it a unique vibe. I think we've made a "different" sounding record for us again, and that's what we've been vying for from day one, so we're going strong right now, full of ideas and just anxious to keep on with it! I can't wait for the next one, and we've already got some new songs…" – Darius Koski
"This is probably the most excited I have been for a Swingin' Utters release. On Poorly Formed it was the first time Jack got involved in the song writing. On Fistful of Hollow we got Miles chipping in for the first time. Collaborating on art has got to be one of the most gratifying things for me. I'm surrounded by truly unique and interesting brains in the Swingin' Utters. Working with Chris Dugan was the glue. He's such an easy-going dude and he gets us. I can't wait for the next one." – Johnny Bonnel
Go to New Noise to hear the new Dirty Nil song, "Guided by Vices." Out today, Cinnamon b/w Guided by Vices can be heard in all its filthy glory by visiting our soundcloud player. Then, check them out live and grab your copy of wax today!


Check out the second preview from Lagwagon's Hang coming out 10/28/14!


That's right, folks! The rumors are true. CJ RAMONE is joining the Fat fold and we are thrilled! September marks the 25th anniversary of CJ's initiation into punk rock's royal "family," and to celebrate, on September 30th, we'll release the single "Understand Me?," a head-bopping melodic garage-punk screed addressed to an unnamed listener who really doesn't seem to understand him.
Backing Ramone on the single (and the upcoming full-length Last Chance To Dance) is the same all-star unit he pulled together for his 2012 solo debut: Dan Root and Steve Soto from The Adolescents and David Hidalgo Jr. of Social Distortion. Packing in even more punk rock star power, the single's non-album b-side is a cover of Black Flag's "Rise Above," featuring guitar and background vocals by Dez Cadena of Black Flag and the Misfits.
Check out the art work AND song premiere of the title track below! Then, pre-order this limited pressing today! Don't miss him on tour, dates here!