SPIN Magazine is premiering the new FLATLINERS single Caskets Full from their upcoming full length, Dead Language. This absolutely killer new song truly encapsulates everything we love about The Flatliners and what they've accomplished with this, their fourth studio album: energetic and aggressive yet thoughtfully restrained, unforgettable hooks in both vocals and lead guitar, an unbelievably solid rhythm section, and thoughtful lyrics, borne out of years on the road, that belie their youth.
Check out a couple preview videos and be sure to catch them on tour. Dates below!
09/06/13 Ottawa, ON Canada at Maverick's Bar w/ The Motorleague
09/07/13 Quebec City, QC Canada at Festival Envol et Macadam w/ NOFX, Pennywise, Face To Face, Randy
09/08/13 Laval, QC Canada at Studio Theatre Salle Andre Mathieu w/ The Motorleague
09/09/13 Kingston, ON Canada at The Mansion w/ The Motorleague
09/10/13 Hamilton, ON Canada at Club Absinthe w/ The Motorleague
09/11/13 Flint, MI at Flint Local 432
09/12/13 Grand Rapids, MI at The Intersection- Showroom
09/13/13 Chicago, IL at RIOT FEST
09/14/13 Chicago, IL at RIOT FEST
09/17/13 Indianapolis, IN at Hoosier Dome
09/19/13 Toronto, ON Canada at The Horseshoe Tavern DEAD LANGUAGE RECORD RELEASE
09/20/13 Guelph, ON Canada at Vinyl w/ The Motorleague
09/21/13 Newmarket, ON Canada at Stellar Hall w/ The Motorleague
10/12/13 Sao Paulo, Brazil at WROS Festival w/ Strung Out, Less Than Jake, Hot Water Music, Reel Big Fish, Pulley
10/16/13 Cambridge, MA at The Sinclair w/ Good Riddance, Western Addiction
10/17/13 Philadelphia, PA at Voltage Lounge w/ Good Riddance, Western Addiction
10/18/13 Brooklyn, NY at TBA
10/18/13 Brooklyn, NY at Music Hall of Williamsburg Fat CMJ Showcase w/ Good Riddance, Western Addiction, Night Birds,
10/19/13 Rochester , NY at The Bug Jar
10/30/13 Ybor City, FL at The Ritz (Main Stage) PRE-FEST w/ The Bouncing Souls, Samiam, The Draft, A Wilhelm Scream, The Menzingers, The Copyrights, Lemuria
11/01/13 Gainesville, FL at Florida Theater Of Gainesville FEST 12 W/ Teenage Bottlerocket, Masked Intruder, Cobra Skulls, Diarrhea Planet, Mean Jeans, The Dopamines, Sundowner
11/02/13 Gainesville, FL at Loosey's Fest Brunch (CHRIS CRESSWELL SOLO) FEST 12 w/ Tim Browne (Elway), Joe McMahon (Smoke Or Fire)
Go to Vice/Noisey and listen to Sundowner's new album, Neon Fiction! Read a review, enter a contest, and order your copy today. Check out what Sundowner has in the works:

Hello September. It's gonna be a great month. Neon Fiction is officially on the digital, and let's not forget brick and mortar, shelves. And I think we're all pretty excited to have this record out. Hell yeah. We're celebrating the release this weekend in SF with a Fat Wreck Store Opening and a show Saturday at Bottom Of The Hill. Couldn't be more stoked for the collection of awesome people that will be in attendance. Got a run of Midwest dates later in the month and we're working on some East Coast dates for this fall as well. Cool stuff ahead. So, hold tight. But really, today, I'm just happy to officially roll this album out and share these songs with you all. Peace, Chris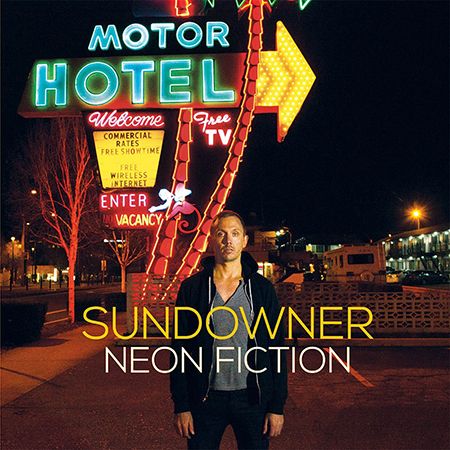 09/06/13 San Francisco, CA Fat Wreck Chords FAT RECORD STORE
09/07/13 San Francisco, CA Bottom of the Hill record release show
09/20/13 Normal, IL at Firehouse Pizza
09/21/13 Chicago, IL at Beat Kitchen NEON FICTION Record Release
09/24/13 Moline (Quad Cities/Iowa), IL at Bier Stube
09/26/13 Cleveland, OH at Now That's Class
09/27/13 Detroit, MI at Small's
"I was born in Chicago. The kind of place that lives in your blood and bones," reflects Chris McCaughan when discussing his new album, Neon Fiction. As we gear up to release Neon Fiction next Tuesday, you can get into the vibe by watching the lyric video for "Life in the Embers" below. SUNDOWNER describes it as "a song of acceptance, of coming to terms with things you can't change, of a past you can't alter." And if you're lucky enough to be in the San Francisco Bay Area next week, come see SUNDOWNER perform at the Fat warehouse on Friday, Sept. 6 and then attend the record release show at Bottom of the Hill on Saturday, Sept. 7.

These Flatliners dudes just do not quit! Preview another blazing song from Dead Language below!

The Onion is premiering the second new song from SUNDOWNER's Neon Fiction. Head here to listen to "Cemetery West" and read about the impetus behind the lyrics from Chris McCaughan below:
I was born in Chicago. The kind of place that lives in your blood and bones. And I did grow up, like the song says, in a northside neighborhood just west of a cemetery. [Daniel] Burnham is buried there. So "Cemetery West" is a song of origins, of half-truths, of histories that live with us as we create new ones. It's about an unalterable past and uncertain future, about choosing to find a way forward with the darkness on your heels. Maybe, more simply, it's about a trigger that finally clicks over after so many years of your index finger poised against it.
Check out his upcoming tour dates and preorder Neon Fiction today!