24Apr, 2014
GET

DEAD

– Bygones Summer 2014!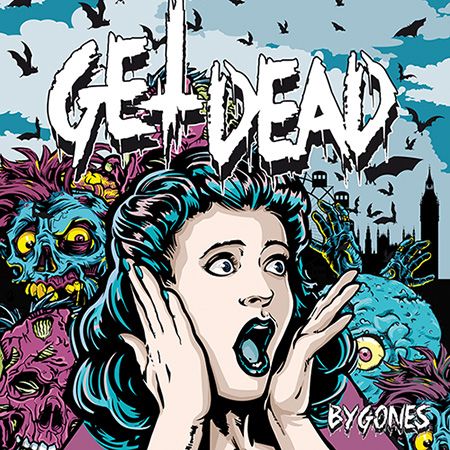 Raise your fist in the air because we have a brand new GET DEAD 7" EP coming out this summer! The release is packed with four songs and some killer art from Stefan Beham. Read what GET DEAD had to say about it below:
While some of you were chomping at the bit to be the first to utter "Get Dead got dead" after news of our van accident on last year's Fat Tour came streaming in, others were waiting for us to do what we know how to do best with such situations: make lemonade. Well, that wait is over! We're proud to announce 'Bygones,' our new 7" coming out soon on Fat. It's a collective sigh of 4 tracks that help us say fuck it and let bygones be. We also included 'Premedicated Murder,' the

NUFAN

song we contributed to the Tony Sly Tribute Album because, well, it rules.

In other news we'll be jumping the pond next week for a five-week jaunt of theEuropean countryside April 29-June 2. Please check the dates on the Fat site and join us on holiday! Lastly, please check our new Merch store and get fitted! Good talk, see you out there!
17Apr, 2014
Preorder Bonanza!
It's Xmas in April! All four of the latest batch of new releases we've announced are up for pre-order now! You've got those hooligans in Masked Intruder with their sophomore record, M.I., Fat's own master crooner Spike Slawson's new ukulele-based Uke-Hunt with their self-titled debut album, Sundowner's live-in-the-studio EP, Little Elephant Sessions, and Warped Tour headliners Less Than Jake's new single Do the Math. Commence with consumerism!
16Apr, 2014
UKE

-

HUNT

out June 10th!

Remember when we mentioned an upcoming full-length album from UKE-HUNT back when we announced their debut 7", The Prettiest Star? Sure you do. Well, as always, we're making good on our word. On June 10th, we'll release Uke-Hunt, ten revitalized renditions of Spike Slawson's favorite songs. The vibe of the album is unique, built on the backbone of Spike's smooth vocals and ukulele strumming, and filled out with a bevy of layered instrumentation (one word: glockenspiel). The track listing reads like the ultimate mix tape. Such classic songs as Depeche Mode's "Enjoy the Silence" or "Rainy Days and Mondays" by the Carpenters are completely reworked with a memorable, lounge/soul vibe that will have you relaxing with your favorite cocktail in hand. It is just the right amount of quirk and talent that makes these covers truly UKE-HUNT's. Stay tuned for tour dates. In the meantime, if you're lucky enough to live in the bay area you can catch them live at Thee Parkside on May 13th!
16Apr, 2014
Brand new Less Than Jake single!

It's called Do the Math and comes out June 10th. The a-side is from last year's exceptional See the Light album while the b-side is a previously unreleased original titled "Connect the Dots" from their See The Light recording sessions. Read what drummer Vinnie Fiorello had to say about this single below:
"The song is an important one to everyone in the band, it encapsulates being through ups and downs in life- not only remembering who was there for you but also who is still around. The notion that you have to carry this heavy weight around on your shoulders becomes null and void when you realize the people, places, and things that matter the most in your life."
15Apr, 2014
Banner Pilot & Strung Out, out today!
Today is release day for Banner Pilot's new album, Souvenir, and Strung Out's Volume One Box Set!
First up, Banner Pilot's latest. Check out the awesome video for the album's leadoff track "Modern Shakes," which embraces the (drinking) history of their native Minneapolis so well. Listen to "Effigy" here and then order this surefire album-of-the-year candidate already! Lastly, Banner Pilot will be heading out on tour this May; don't miss them!
Onwards to our second release of the day, and a colossal release it is: Strung Out's Volume One box set. All three of their '90s albums have been completely remixed for this set and packaged with extensive liner notes. The box set also includes the first-ever Strung Out DVD with a full professionally recorded 2012 concert, plus a ton of footage from the '90s: shows, tour antics, interviews, and more. Watch the trailer, listen to a few songs, and order your copy now! Australia, Strung Out is headed your way on the Hits & Pits Festival! Check their tour dates here.