30Jun, 2014
The Dirty Nil are Guided by Vice(s)
As we mentioned, we're releasing The Dirty Nil's new 7", Cinnamon b/w Guided by Vices, on August 19th. Today, you can hear the a-side over at Vice/Noisey! Then, check them out live and pre-order your copy today!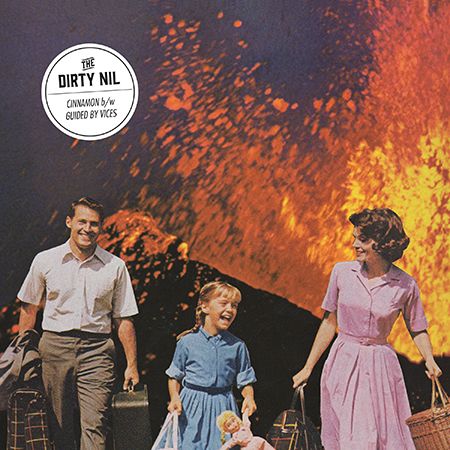 26Jun, 2014
The Dirty Nil 7" on

FAT

!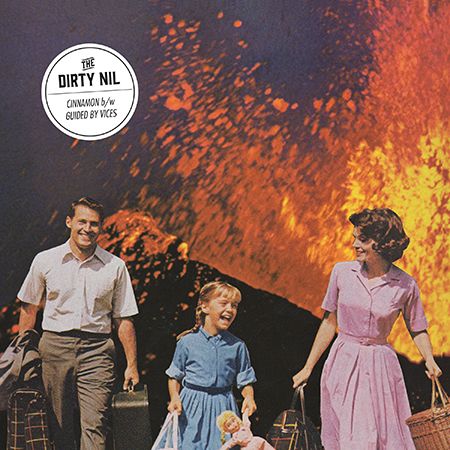 Our love of wax continues! Today we are thrilled to announce we'll be releasing the new Dirty Nil 7". Cinnamon b/w Guided By Vices comes out on August 19th and contains two songs layering feral garage rock with uneasy pop hooks, all assembled and reassembled to make your mind melt into fractured pieces of chaos. If you haven't seen them live, now is your chance, and you'll see just why Fat Mike jumped at the chance to release this single. You'll have to wait until next week to hear one of the new songs, but in the meantime go get a filthy taste of what The Dirty Nil are all about. And then get out to one of their U.S. tour dates in July! Read what the band has to say about their two new songs below:
"Cinnamon" and "Guided by Vices" are about chasing death and fearing the opposite sex. We look foreword to playing them and other songs of smiling discontent to all the girls and boys on our 2014 tour of America. Dates below
7/5 – Toronto ON – Sneaky Dee's
7/8 – Detroit, MI – The Rockery
7/9 – Chicago IL – Schwag City
7/10 – Minneapolis MN – Midway House
7/11 – Lincoln NE – Duffy's Tavern
7/12 – Denver CO – Meadowlark
7/13 – Salt Lake City – Shred Shed
7/15 – Olympia WA – The Northern
7/16 – Seattle WA – Highline
7/17 – Portland OR – Katie O'Briens
7/18 – Sacramento CA – Cafe Colonial
7/20 – San Francisco CA – Honey Hive
7/21 – Oakland CA – The Nightlight
7/22 – San Jose CA – The Rock Shop
7/25 – San Diego CA – Soda Bar
7/26 – Phoenix AZ – Trunk Space
7/29 – Austin TX – Beerland
7/30 – New Orleans – Gasa Gasa
7/31 – Atlanta GA – Wonder Root
8/1 – Nashville TN – East Room
8/3 – Cleveland OH- TBA
19Jun, 2014
Mad Caddies – Brand New Single!
Mad Caddies keep it going, this time on wax and at 45 RPM! Culled from their latest full-length, Dirty Rice, Brand New Scar is the first single from the album and will be out on July 8th. You've heard them play the A-side on their recent tours, and here it is on a DJ and jukebox friendly big-hole 45RPM 7"! The B-side is a real treat for longtime fans as they revisit the classic song "Distress," from their very first album. In line with the band's musical expansion over the years, they reworked the song to incorporate their love of Dixieland and smartly titled the new rendition "Dixtress," get it? Good, now get it! Then, catch them live including Europe, and check the newly announced U.S. East Coast dates.
WAIT! That's not all. For the first and only time EVER you can own Hi-Standard's classic EP, Love is a Battlefield, on super limited edition vinyl!


18Jun, 2014
Masked Intruder – M.I. tour starts tomorrow! New dates!
Summer is here! As promised, The M.I. Tour kicks off tomorrow in Normal, IL with Direct Hit! in support, and weaves around the East Coast, even dipping into Canada. Don't miss it! West Coasters are in for quite a bill with Masked Intruder joining The Dwarves (self-professed "best band in the world") AND pop-punk stalwarts The Queers (!!!), after which they'll be ransacking Europe! If you haven't done so already, grab a copy of their new album, M.I., today.
06/19/14 Normal, IL at Firehouse
06/20/14 Cleveland, OH at Now That's Class
06/21/14 Pittsburgh, PA at Smiling Moose
06/22/14 Philadelphia, PA at The Fire
06/23/14 Baltimore, MD at Sidebar
06/24/14 Asbury Park, NJ at Asbury Lanes
06/25/14 New York, NY UK at Studio at Webster Hall
06/26/14 Boston, MA at TT the Beat's
06/27/14 Montreal, QC Canada at Underworld
06/28/14 Toronto, ON Canada at The Cave at Lee's Palace
06/29/14 Detroit, MI at Small's
06/30/14 Covington, KY UK at CODA
07/01/14 Columbus, OH at Woodland's Tavern
07/02/14 St Louis, MO at Demo
07/03/14 Chicago, IL at Beat Kitchen
07/04/14 Minneapolis, MN at Triple Rock D4th of July
07/05/14 Green Bay, WI at Lyric Room
7/7/2014 – Des Moines, IA @ Gas Lamp
7/10/2014 – Boise, ID @ The Shredder
7/11/2014 – Portland, OR @ Dante's
7/12/2014 – Vancouver, BC @ Rickshaw
7/13/2014 – Seattle, WA @ El Corazon
7/15/2014 – San Francisco, CA @ Bottom of the Hill
7/16/2014 – Long Beach, CA @ Alex's Bar
7/17/2014 – Phoenix, AZ @ Yucca Tap
7/18/2014 – San Diego, CA@ Soda Bar
7/19/2014 – San Diego, CA @ Soda Bar
7/20/2014 – Los Angeles, CA @ The Roxy
7/22/2014 – Albuquerque, NM @ Gasworks
7/23/2014 – Denver, CO @ Moe's
7/24/2014 – Fort Collins, CO @ Surfside 7
7/25/2014 – Kansas City, KS @ Vandals
7/26/2014 – Lombard, IL @ Brauerhouse
8/9/2014 – Madison, WI @ The Frequency
17Jun, 2014
New Less Than Jake video!
All you Fantasia fans are gonna flip out over Less Than Jake's brand new video for "Do the Math". FUSE TV is premiering this animated adventure here! If live action is more your thing then you can check out Less Than Jake all summer headlining the Warped Tour. You can even rub elbows with the band at their booth, as they'll be hanging out there for a few hours every day of tour.