31Jul, 2015
Never Forget Tony Sly
On this, the third anniversary of his passing, we remember our good friend Tony Sly. We miss his unique insight, humor, humility, and especially his crooked smile every day. Thank you for all you've done for our punk rock family. You are deeply missed and will never be forgotten.

30Jul, 2015
Lagwagon are gonna get

TRASHED

on the Fat Tour!
Does the word 'duh' mean anything to you? Lagwagon has announced that they'll perform their classic second album Trashed in its entirety on the upcoming Fat Wrecked for 25 Years Tour which kicks off next week! This is it people, no more yelling at them to play "Lazy" or "Stokin' the Neighbors" because you'll hear the album from start to finish as it was released back in January of 1994. Here's the 'Wagon:
29Jul, 2015
New Flatliners song! Division of Spoils Pre-order!
Today, Noisey is premiering "Broken Men," a song originally recorded back in 2012 during the Dead Language sessions, and appearing on a Flatliners release for the first time on Division of Spoils, a massive b-sides and rarities collection that comes out next Friday! As with all Flatliners outtakes and b-sides, one could easily argue that it should have been included on the album. Quality songs from start to finish, Division of Spoils contains three sides (16 songs) of killer Flats originals, one side (5 songs) of eclectic covers, and two rare bonus oldies just for you super fans. So, what are you waiting for? Pre-order your copy today! Then, check them out next month on the Fat Wrecked for 25 Years Tour! Singer Chris Cresswell details the song:
"Broken Men" is a song for anyone who's had the rug pulled out from under their feet, and from under their heart. I agree with Chicken from Dead To Me that not all good art comes from suffering, but sometimes the struggle gives you something to talk about. And helps unify you with how good the good things are. We recorded this song originally for Dead Language back in 2012, and can't wait for you to finally hear it.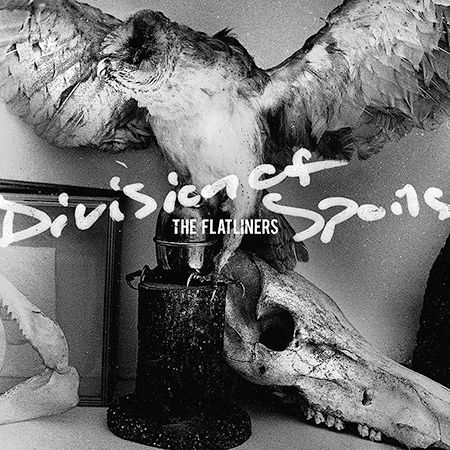 28Jul, 2015
Night Birds – ­Mutiny at Muscle Beach – ­October 2nd!

In 2009, Night Birds resuscitated the surf-inspired 80's hardcore sound and have been cranking it to a new level ever since. We're super stoked to announce Mutiny at Muscle Beach, the band's third full-length and first on Fat. It's an unrepentantly raw blast of punk rock that evokes the spirit of Adolescents, Dead Kennedys, Germs, D.I. and Circle Jerks, while further integrating modern influences and a healthy dose of passionate innovation. Just like Night Birds' live show, Mutiny at Muscle Beach brims with an epileptic energy that defies the listener to sit still. Consume your first dizzying assault of Mutiny at Muscle Beach over at the A.V. Club who premiered "Left in the Middle" last week! Then read what singer Brian Gorsegner had to say about the release:
This Spring we went back to Seaside Lounge Studios in Brooklyn, NY with Mitch Rackin at the helm, and seasoned punk rock recording vet, Chris Pierce, producing. This record is also the debut of our new drummer Darick Sater crushing behind the kit. The 2+ years we worked on this album were coincidentally my most sleep deprived / over caffeinated period of life.. While that's a combination that works like a charm in a pinch, over enough time leaves you feeling anxious, jittery, on edge, and in a general "set-to-destroy" state of being. I feel like those emotions are proudly displayed all over this record.
24Jul, 2015
PEARS

&

USELESS

ID

OUT

TODAY

!
Blast into your weekend with two brand new/not new releases! Out today, PEARS' Go to Prison and Useless ID's The Lost Broken Bones. We couldn't be more excited to get each of these releases to the masses under the Fat banner. Our New Orleans hardcore upstarts, PEARS, do not know what it means to relax. Not only have they been recording their new album which is set to be released in 2016, but they are playing a grip of shows: our Fat Anniversary shows in San Francisco and Los Angeles, Riot Fest, a tour with Teenage Bottlerocket and FEST! So, what are you waiting for? Order a copy of Go to Prison today! Listen on Spotify or Bandcamp.
Useless ID premiered a song via Substream Magazine yesterday titled "Dissolve," a bonus track culled from our brand new reissue of The Lost Broken Bones. This reissue brings it all home with Bill Stevenson and Jason Livermore from The Blasting Room who produced, engineered and mixed the album proper, and also includes seven bonus tracks! Useless ID head to Japan this September with the mighty Gorilla Biscuits and you can view those dates right here! Order a copy of The Lost Broken Bones today! Listen on Spotify or Bandcamp.