23Oct, 2014
New Swingin' Utters song!
Have you ordered your copy of the new Swingin' Utters album, Fistful of Hollow yet? Well, today is the day because not only can you grab it here, but you can listen to another brand new song—"I'm Not Coming Home"—compliments of Under The Gun Review. Don't miss them on tour with LAGWAGON, a run that commences in exactly two weeks and winds its way throughout North America. Don't miss it!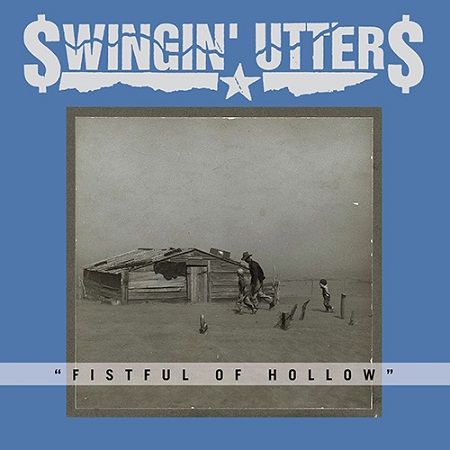 17Oct, 2014
Lagwagon – Hang Listening Party! 10/28/2014
Mark your calendars! On Tuesday, October 28th, we will be hosting a listening party to celebrate the release of Hang, the first new Lagwagon album in nine years! It's from 8pm to 11pm at Above DNA (directly above the DNA pizza joint) at 375 11th St. in San Francisco. There will be a meet & greet from 8 to 9 where you can pick up the new album and get it signed by the band! Then just hang out with all of us, have some beers, and listen to Hang! Space is somewhat limited, so RSVP with your full name to
Lagwagon@fatwreck.com to secure your spot. (And if you don't live in the Bay Area and can't make it, PLEASE don't RSVP!) And don't forget to get your tickets to the Lagwagon tour with Swingin' Utters, November 9th at Slim's in S.F. and 29 more shows throughout North America!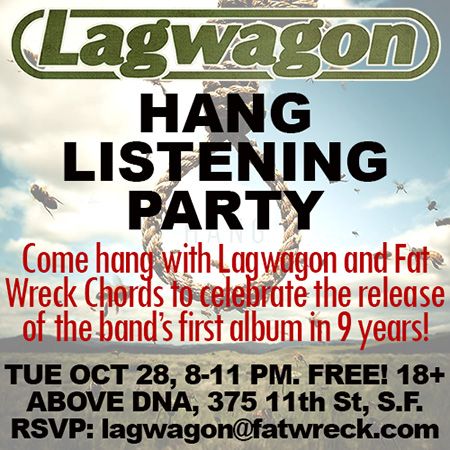 14Oct, 2014
CJ Ramone & Chris Cresswell out today!
We love October! Why? Well that's when we get our summer here in San Francisco, so it's beer-drinkin' weather (though really, what weather isn't?!). Plus, Fest is just around the corner, our scrappy hometown baseball club is overachieving again, we just debuted incredible new Lagwagon and Swingin' Utters songs, and we've released two very different but equally killer records.
First up, CJ Ramone's debut release on Fat, Understand Me? The title track is culled from his upcoming full-length Last Chance to Dance November 25th—and the exclusive b-side is a cover of Black Flag's "Rise Above," featuring guitar and background vocals by Dez Cadena of Black Flack and the Misfits. Thanks to all of you, we've already sold out of the first pressing! So you'll have to wait a bit to get your hands on a copy if you haven't already. For now, you can still listen to Understand Me?
Next, we have the vinyl edition of the first solo effort from Chris Cresswell of The Flatliners that first appeared digitally via One Week Records. These ten acoustic songs showcase an introspective prowess, displaying Chris Cresswell's versatility as a songwriter. Proof, as they say, is in the pudding, so do yourself a favor and listen to Meet Me in the Shade. Then, order your copy today!


13Oct, 2014
New Lagwagon song!
If a brand new song off LAGWAGON's upcoming album, Hang, doesn't get your blood moving on a Monday, nothing will. Today, Revolver Magazine is premiering the album's leadoff tracks, a one-two punch of "Burden of Proof"—the poignant introduction to the entire album—followed by "Reign," an instant Lagwagon classic and a total ripper. All Hang pre-orders come with two BONUS TRACKS and a DVD; head over to grab your copy today! Then, check the dates for their upcoming North American tour with label-mates, the Swingin' Utters. The tour kicks off next month and trust us, you don't want to miss it. Dates and tickets here.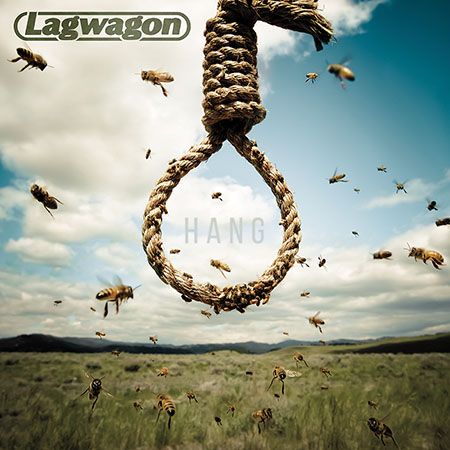 10Oct, 2014
Pre-order the new Swingin' Utters album

NOW

!


The muse has given generously to Koski, Bonnel and company as of late, resulting in a wealth of fantastic new music, with all of us the lucky beneficiaries. Today you have the privilege of pre-ordering the fabulous new Swingin' Utters album, Fistful of Hollow. Listen to the title track below if you need any convincing. Every pre-order will come with a 10-inch Swingin' Utters punk patch! In case you've been sleeping on this great band's recent output, we've also got a very limited number of colored vinyl copies of Poorly Formed and Stuck in a Circle.