18Sep, 2015
NOFX

Return to South America
In March, NOFX had to cancel their South American tour but as promised, the dates have been re-booked and they'll be returning this December! Check out the dates below, including a few shows in Mexico. Get Backstage Passport 2 to witness the insanity of touring South America!
Thursday, December 3, Mexico City, Mexico – Circo Volador
Friday, December 4, Guadalajara, Mexico – C3
Saturday, December 5, Monterrey, Mexico – Escena
Monday, December 7, Lima, Peru – Centro de Convenciones Barranco
Tuesday, December 8, Buenos Aires, Argentina – Microestadio Malvinas Argentinas
Wednesday, December 9, Santiago, Chile – Teatro Cupula
Friday, December 11, Rio de Janeiro, Brasil - Circo Voador
Saturday, December 12, São Paulo, Brasil – Via Marques
Sunday, December 13, Curitiba, Brasil – Vanilla Music Hall
Tuesday, December 15, Porto Alegre, Brasil -Opiniao
17Sep, 2015
Listen to the new

PEARS

7" now!
Ready to do this? You're in luck because PEARS, our New Orleans punk road warriors, kicked off their tour with Teenage Bottlerocket this week! Then Dyingscene posted an exclusive premiere of their new single, Letters to Memaw, which is out tomorrow! You can order your copy today, or snag it directly from the band at one of their shows. Warning, if you are within three feet of the stage, bring a raincoat because it's officially dubbed the "splash zone" due to the high velocity of vocalist Zach Quinn's live performance. If you aren't getting sprayed by his sweat, you just aren't close enough. Seriously, folks walk out of their shows looking like this! Now sit down and write your grandmother a letter while listening to the new PEARS songs. And catch them at FEST!

17Sep, 2015
Get Dead – In the Studio and On the Road
San Francisco's most nefarious residents— Get Dead —have been recording the follow up to their aptly title Fat debut, Bad News. Their new album is being recorded at Motor Studios with Fat Mike producing and will be released early next year. Stay tuned for details! While you wait, go catch their rowdy live show as the band heads out on a 10-date tour with Australia's finest punks, Clowns, which routes them up and down the West Coast. Check out what Get Dead had to say about recording:

For the last few weeks we've been in Motor Studios working on our next full length album. Fat Mike is producing/helping us fine tune our songs and party skills while Josh Garcia is behind the wheel engineering. Meanwhile, we are juggling NA meetings, court dates, tour van insurance fraud allegations, teaching in public school systems, fatherhood, as well us an un-payable bar tab at more than one Bay Area establishment. So just to mellow things out a bit we are hitting the road for some quiet evenings. We are taking a short break from recording to hit the road with the Clowns from Australia for a West Coast tour starting this Thursday in Seattle. The new album is sounding great and we can't wait to get back and finish it up.
16Sep, 2015
Night Birds Video Premiere! Mutiny at Muscle Beach Pre-order!
Time to face your fears because Night Birds new video for "Mutiny at Muscle Beach" is going to horrify you for sure. Or maybe just entertain you, if classic '80s gore is your thing! After watching this video being premiered by Bloody-Disgusting, you may want to think twice about exploring those abandoned buildings like we know you bored suburban punks like to do. The boys in Night Birds have luckily made a full recovery and are hitting the road with Dillinger Four this October and performing at The Fest 14, all in support of their brand new album, Mutiny at Muscle Beach, out October 2nd available for pre-order now! (Details below) You think these dudes like horror flicks? Duh!
"Pro wrestler, Jeff Cannonball, tried recording over that video of him murdering and hacking us up into little pieces with some footage of us performing our brand new SMASH hit gold single, "Mutiny At Muscle Beach", in a basement… but any 30+ year old remembers what would happen when you would record over an old VHS tape. Some of that recorded-over footage was bound to scramble in here and there and resurface in all it's fuzzy gory glory! Yes, we're dorks. Yes, we love slasher flicks. Hi, we're the Night Birds. Enjoy…" – Brian Gorsegner (Vocals)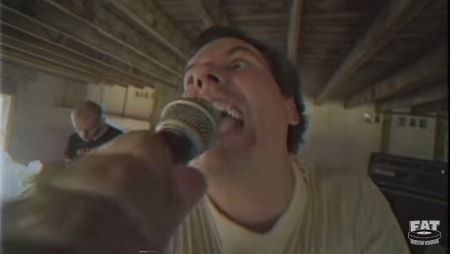 As you collector dorks know,
Night Birds
have never had a slab of colored vinyl, and they aren't starting now! But, they still like to satiate your desire for rare vinyl… SO, we pressed 500 copies of
Mutiny at Muscle Beach
on 180 gram black vinyl, and the band created hand-numbered, hand-assembled, special covers just for these copies. You can
pre-order your copy
from us now, or pick one up from the band in October!
AND
, we're releasing a cassette for the first time this century!
14Sep, 2015
Leftöver Crack – Constructs of the State – 11/27/15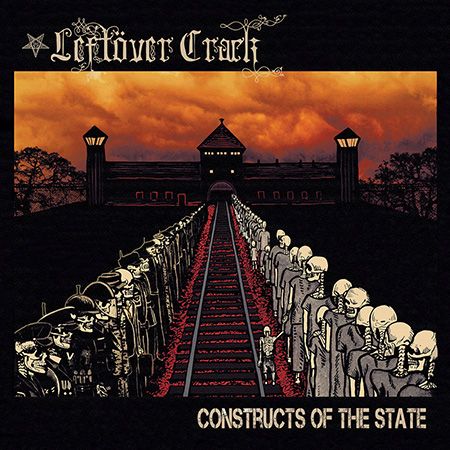 Leftöver Crack
have completed work on their long awaited third album,
Constructs of the State
, out November 27th. It's packed with 13 punk as fuck songs that infuse hardcore, metal, ska, classical, grindcore, folk and all of the fiercely overt political and socio-economic lyrical content the band have become known for. You can get a taste of what's to come by listening to a brand new song,
"The Lie of Luck"
, which appeared on our latest compilation:
Fat Music Vol.8: Going Nowhere Fat.
Constructs of the State also features a mass of contributions from the punk community including members of Operation Ivy, Crass, and Bouncing Souls, just to name a few. You can get your "crack" on next month as they'll be taking
Cracktoberfest on the road.
Don't miss it!

10/15/15 Long Island, NY – Emporium
10/16/15 Albany, NY – Upstate Concert Hall
10/17/15 Lancaster, PA - The Chameleon
10/18/15 Pittsburgh, PA Rex Theatre
10/20/15 Detroit, MI – Loving Touch
10/21/15 Cleveland, OH – Now That's Class
10/23/15 St. Louis, MO – Fubar
10/24/15 Springfield, IL – Black Sheep Cafe
10/25/15 Kansas City, MO – Record Bar
10/26/15 Chicago, IL – Reggie's
10/28/15 Omaha, NE – Lookout Lounge
10/29/15 Des Moines, IA – Lefty's Live Music
10/31/15 Minneapolis, MN – Triple Rock Social Club
11/03/15 Memphis, TN – The Hi Tone
11/04/15 Birmingham, AL – Saturn
11/05/15 Jacksonville, FL – 1904 Music Hall
11/06/15 Orlando, FL – Backbooth
11/07/15 Tampa, FL – Orpheum
11/08/15 Miami, FL – Churchill's