Blast into your weekend with two brand new/not new releases! Out today, PEARS' Go to Prison and Useless ID's The Lost Broken Bones. We couldn't be more excited to get each of these releases to the masses under the Fat banner. Our New Orleans hardcore upstarts, PEARS, do not know what it means to relax. Not only have they been recording their new album which is set to be released in 2016, but they are playing a grip of shows: our Fat Anniversary shows in San Francisco and Los Angeles, Riot Fest, a tour with Teenage Bottlerocket and FEST! So, what are you waiting for? Order a copy of Go to Prison today! Listen on Spotify or Bandcamp.
Useless ID premiered a song via Substream Magazine yesterday titled "Dissolve," a bonus track culled from our brand new reissue of The Lost Broken Bones. This reissue brings it all home with Bill Stevenson and Jason Livermore from The Blasting Room who produced, engineered and mixed the album proper, and also includes seven bonus tracks! Useless ID head to Japan this September with the mighty Gorilla Biscuits and you can view those dates right here! Order a copy of The Lost Broken Bones today! Listen on Spotify or Bandcamp.
Today, Substream Magazine is premiering "Dissolve," a bonus track culled from our brand new reissue of Useless ID's The Lost Broken Bones! The fantastic but overlooked album that preceded their Fat debut, Symptoms, originally consisted of 12 tracks produced and recorded at The Blasting Room by Bill Stevenson and Jason Livermore. Our reissue comes out tomorrow and contains seven bonus tracks from the same era. If you haven't ordered your copy, do so today, then check out a brand new review which garnered the album a 10/10! Curious what "Dissolve" is about? Let's have Yotam Ben Horin from Useless ID break it down for you:
If there is any place in the world which is a religion-infused society it must be Israel. At any given time it's trying to be sold to you whether on the streets, stop signs, airports, etc…The orthodox are constantly trying to take over and force their beliefs on the non-believers. Rules that don't apply. A life spent not living to better an after life. "Dissolve" is just about those amongst us living in a religious coma.
Today, we're thrilled to announce that the mighty Dillinger Four will be playing the Fat Wrecked For 25 Years show in Minneapolis! The show is on August 18th at Myth Live and you can grab your tickets here!
Additionally, we've noticed that the ticketing fees are rather high so we've compiled a list of where you can procure your tickets without those hefty fees for each show below.
Toronto – Echo Beach:
Physical box office at Ontario Place
955 Lake Shore Blvd W, Toronto, ON M6K 3B9, Canada
11am-9pm only on show days
Montreal:
Physical box office @ Metropolis
30 Ste Catherine East
Montreal QC H3C 5H8
M-W 12-6, Thurs-F 12-9, Sat-Sun 12-5
Halifax – Cunard Centre:
Tickets will be available at the Ticket Atlantic box office in Scotiabank Centre, all participating Atlantic Superstores, by phone at (902) 451-1221 and online at sonicconcerts.com
Boston – House of Blues:
15 Lansdowne Street, Boston, MA 02215 (888) 693-2583
Box office @ same location, only opens 1 hour before show
Tickets also sold at Orpheum Theater – 1 Hamilton Pl, Boston, MA 02108
Open Monday- Saturday, 10am-5pm
Asbury Park – Stone Pony Summer Stage:
Box office hours are Wednesday to Monday from noon to 5 and during show hours. Closed Tuesday.
913 Ocean Ave. in Asbury Park, N.J., at the corner of Second and Ocean.
Philly:
Penn's Landing Festival Stage
Sorry, no physical box office
Chicago – Aragon Ballroom:
You can only buy tickets at the box office the day of the event.
Minneapolis/St. Paul:
Myth Live 651.779.6984
3090 Southlawn Drive St. Paul, MN 55109
Physical box office is at same location, 10am-6pm M-F
Box office: 651-779-6984 ext. #1
Denver – Fillmore:
1510 Clarkson Street (303) 837-0360
Box office on Colfax St. side
Open M-F 12pm-6pm Sat. 10am-2pm
Los Angeles:
Palladium
6215 Sunset Blvd, Los Angeles, CA
Box office open Sat 10am-2pm, Side of venue on Argyle
Listen to a brand new Night Birds song being premiered over at the A.V. Club right now! "Left in the Middle" is the first new Night Birds material in two years and is one of the exclusive new songs featured on our upcoming Fat Music Vol. 8: Going Nowhere Fat compilation, out on August 7th. Bassist Joe Keller describes it: "The song condenses all of the breath-taking excitement of a 90 minute Netflix documentary on income inequality in America into a nice, under 3 minute, punk song." The new Night Birds album doesn't come out until the fall, so get your copy of Going Nowhere Fat and crank up Night Birds and 24 other killer Fat bands! Then, check the dates for our Fat Wrecked for 25 Years Tour, which includes Night Birds on our two-day celebration in San Francisco next month.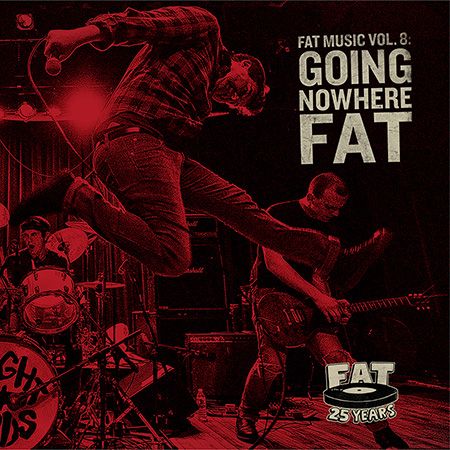 We like our rock and roll the same! We also like a Fat Classic Color pressing of Propagandhi's Today's Empires, Tomorrow's Ashes! Grab a copy now. To go along with our original soviet red pressing, G7's blue pressing, we present you with a very "dirty" white vinyl pressing! We also found and posted some color vinyl of recent releases. Propagandhi are playing Fat Wrecked For 25 Years in San Francisco on Saturday, August 22nd! 2 day passes and Saturday tickets are all sold out so scour Craigslist or find some other way to get a ticket.