20May, 2015
Useless ID's The Lost Broken Bones is Found!
Useless ID, longtime ambassadors of Middle East punk rock, will finally see a unified, worldwide release of The Lost Broken Bones, the fantastic but overlooked album that preceded their Fat debut, Symptoms. Initially made up of 12 tracks produced and recorded at The Blasting Room by Bill Stevenson and Jason Livermore, our reissue of The Lost Broken Bones also contains seven bonus tracks culled from the same era. The resulting collection is a fantastic blaze of front-and-center, immense sounding melodic punk. Read what Ishay Berger from Useless ID has to say about the release and their plans for the rest of the year:
"After releasing our final album for Kung Fu Records in 2005, we had our strongest album ready to go but had a hard time finding a label to put it out internationally. And so we ended up releasing The Lost Broken Bones on no less than 5 different record labels, with a pretty much different label for each territory. Some years passed and it became quite hard to get a copy of the album (a good lesson in quality vs. quantity) and so we cannot be more excited to announce that our amazing friends at Fat Wreck Chords will be re-releasing our 2008 album, with plenty of bonus tracks that did not appear on the original release. We are currently working on a new album and going to Japan with the Gorilla Biscuits this September! Then, we have another great tour in Europe booked which we'll announce soon!
18May, 2015
Greetings From Punk Rock Bowling 10" comp
Where can you simultaneously indulge in bowling, booze, buffets, gambling, and endless punk rock shows? Punk Rock Bowling. Duh! It's why we make the trek to Sin City every year. This year we're bringing our record store with us and for 3 days at the festival you can pick up our new 10" comp, Greetings From Punk Rock Bowling. We made exclusive artwork and color vinyl just for Punk Rock Bowling! Rollin' Dice or Golden Nugget Pool Party color vinyl anyone? Plus, we'll be selling our Fat Wreck Bowling shirts this year. So even if you've never won the whole tournament (like we did), at least you can dress like it. We have a ton of Fat bands playing again this year, so check out the Punk Rock Bowling website for all the details. See ya on the lanes!
Me First and the Gimme Gimmes – Friday @ Bunk House 12:05 am
Get Dead – Sunday @ Festival 4:05 pm
PEARS – Sunday @ Festival 4:40 pm
Darius Koski – Sunday @ Beauty Bar 11:00 pm
Strung Out – Sunday @ Country Saloon 1:15 am
Swingin' Utters – Monday @ Festival 6:05 pm
14May, 2015
PEARS

pair up with

FAT

!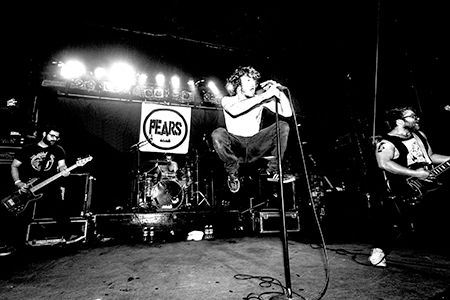 Today, we're thrilled to announce that we've signed New Orleans hardcore punk upstarts PEARS! We gave them a real contract and everything, hand-written by the boss man Fat Mike himself; check it out! We've been listening to their debut album, Go to Prison, ever since our buddy Ryan from Off With Their Heads told us about them and released the LP on his label Anxious and Angry last year. On July 24th Fat will be giving Go to Prison a worldwide re-release (with super fancy new cover art), to be followed by a brand new PEARS album in early 2016. But you won't have to wait quite that long to hear some new tunes from these rowdy NOLA punkers. Stay tuned!
Back to Go to Prison, this killer record twitches back and forth between genuine old-school hardcore punk and catchy melodic sections without ever missing a beat. But check it out for yourself! You can catch them live this month and throughout the rest of the year. "We plan on continuing to tour pretty much non-stop, starting in May with some shows with Strung Out, Red City Radio and La Armada, to and from Punk Rock Bowling, which we are super excited to be playing. We'll be out on the west coast again in August, and we're doing a 3-4 week tour with Teenage Bottlerocket in September," says guitarist Brian Pretus.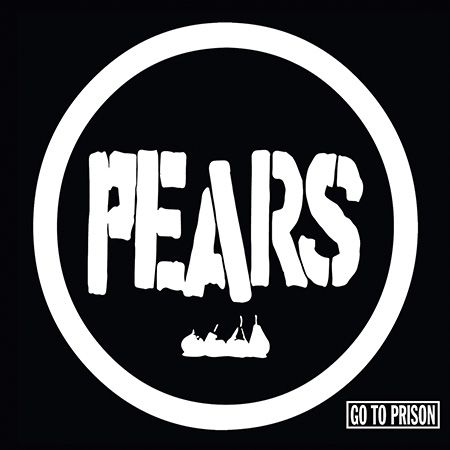 13May, 2015
toyGuitar – In This West- June 2015 tour!
Time to get ready for summer and join toyGuitar on their first headlining tour in support of In This Mess, their awesome new record. Check out the dates below which focus on the West Coast but rest assured, they'll be tackling the rest of the country and Canada this August on the Fat Wrecked for 25 years tour, so get ready!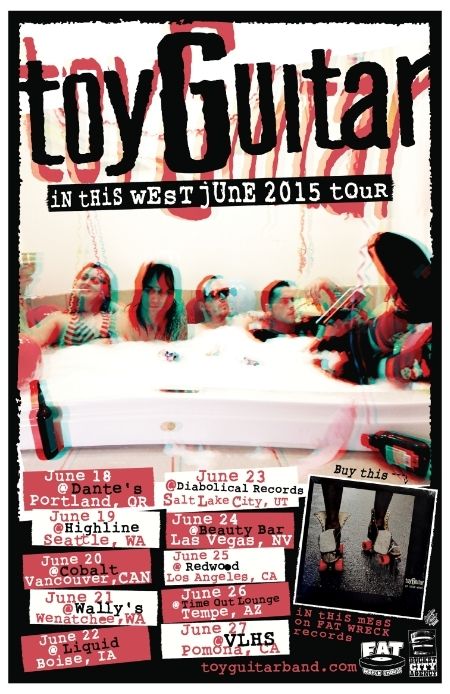 12May, 2015
New Bad Cop/Bad Cop song & pre-order!
Blast off to a brand new song from Bad Cop/Bad Cop: "Nightmare" is streaming at Alternative Press right now. This catchy number is the lead single from their upcoming full length, Not Sorry, out June 16th and available for pre-order right now! The band will be showcasing their new material next month with Good Riddance, then they'll be hitting the road on the hottest tour of the summer: Fat Wrecked for 25 Years! Don't miss it!