11Aug, 2015
DILLINGER

FOUR

21st Birthday Tour!
Dillinger Four are turning 21!!! Holy crap! Yes, it's true, and they'll be hitting the road in October to commemorate this milestone. Come out and buy them some shots now that they're finally legal. Just to make sure it's a proper celebration, Night Birds will be along for the ride , blasting out songs off their upcoming album Mutiny at Muscle Beach. If that lineup doesn't get you pumped, you may not be cut out for this punk-rock thing.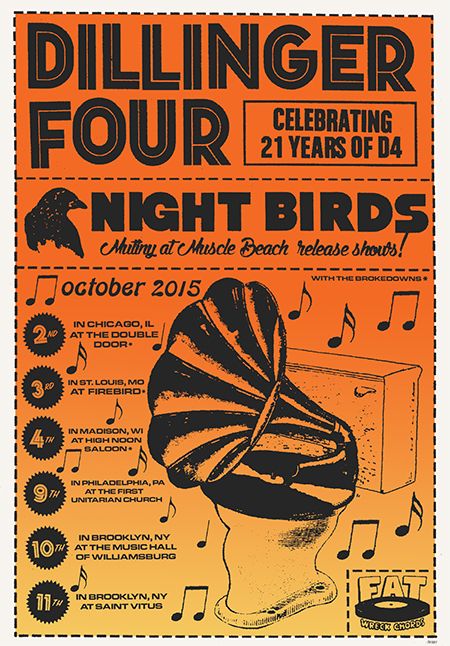 Now that you're 21, you've got a lot to lose
Look back on better times, fuck all 'til 22
07Aug, 2015
New

NOFX

song! Release Day! Flatliners! Fat Music Vol. 8!
Sweet Friday, we're glad you've arrived! We've been doing this non-stop today! And we're about to enjoy some cold Kolsch with the fans at the Fat Record Store, courtesy of Santa Cruz Ale Works!
But before we get too into the weekend, we have two brand new releases for your listening pleasure. Up first, The Flatliners keep things moving with Division of Spoils! A massive collection of b-sides, rarities and previously unreleased songs including "Lifers" and "Broken Men" which we premiered last week. Don't miss them on stage; they're currently tearing it up on the Fat Wrecked for 25 Years Tour happening now! Stream the entire album on Bandcamp and Spotify.
Next, Fat Music Vol.8: Going Nowhere Fat! We're stoked to be releasing this today since we're in the midst of celebrating our 25th anniversary as a label. Nothing seemed more appropriate than bringing back our beloved Fat Music series. With classic comps like Survival of the Fattest, Physical Fatness and Live Fat, Die Young, this is a series that's less about acting as a label sampler as it about compiling killer, listenable punk album from front to back. Curious? Just head over to Alternative Press who are premiering a NOFX demo version of "SF Clits." Then, check out two of the six previously unreleased songs from Night Birds and PEARS! Head over to read a review or two, then grab your copy today! Stream the entire comp on Bandcamp and Spotify.
07Aug, 2015
PROPAGANDHI

forced to cancel Fat 25 show in San Francisco.

SICK

OF IT

ALL

added!
Friends, today we have to announce that our favorite Winnipeggers, Propagandhi, will be unable to play our 25th Anniversary show in San Francisco. Chris Hannah had this to say, "Due to unforeseen circumstances, Propagandhi very regretfully announce their cancellation. We'll see you at the 50th anniversary."
We are incredibly privileged to announce that in Propagandhi's place, relentless New York hardcore heavyweights and Fat alumni, Sick Of It All, will be tearing your face off! Maximum heavy is still in effect. Here's what they had to say about playing our anniversary show:

The scene – what is it? Is it people getting together, celebrating each other, wishing for each other's success? It should be, right? Fat Wreck has always been the epitome of support and generosity in punk and hardcore, because they want their friends to continue doing what they love. They want their friends to succeed. When talking about a scene, Fat Wreck has set a standard for all else to follow. As long as Mike is calling the shots, punk won't ever die.
For those of you who purchased single day tickets and would like a reimbursement (refer to your ticket for instructions), you have 48 hours to do so.
06Aug, 2015
New

PEARS

Song!
Holy smokes! Are you ready for a brand new album from our most recent signees, PEARS? They've been buckled down in the bogs of New Orleans recording it so rest assured, they'll have something new to melt your faces off in early 2016. In the meantime, you can satiate your thirst by heading to Revolver, who's premiering "Snowflake" off our Fat Music Vol. 8: Going Nowhere Fat comp! Out tomorrow, you can pre-order it today or grab a copy at one of the Fat Wrecked for 25 Years shows starting today in Toronto! Don't miss PEARS live! They're playing a grip of shows: our Fat Anniversary shows in San Francisco and Los Angeles, Riot Fest, a tour with Teenage Bottlerocket and FEST!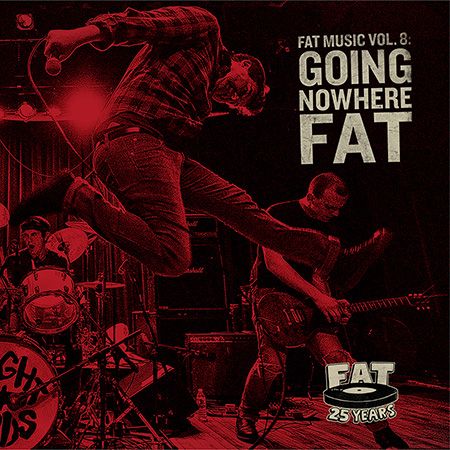 04Aug, 2015
GET

DEAD

WEST

COAST

TOUR

!
Get Dead is currently tearing it up in Europe and will be returning stateside to tackle the west coast with Clowns from Australia this September! Get all the dates and info here!