10Nov, 2015
Leftöver Crack Song Premiere! Constructs of the State Pre-order!
Ready for the ultimate hardcore duet? Head over to Brooklynvegan to listen to a brand new song from Leftöver Crack! Sturgeon and Kate Coysh from REIVERS scream it out in "Bedbugs & Beyond, a fast paced ripper off their upcoming full-length, Constructs of the State. If you haven't pre-ordered the album, what are you waiting for? You can do that right here! Then, check out their upcoming tour dates, which include a record release show at 924 Gilman Street and a tour with Anti-Flag in 2016!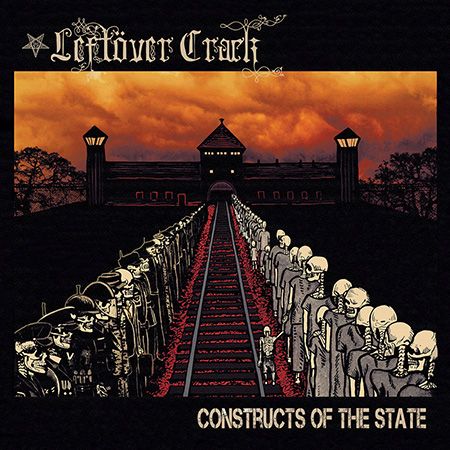 08Nov, 2015
Brandon Carlisle (1978-2015)
Once again our FAT family has been devastated by the loss of one of our own. We have been hoping, praying, grasping at the possibility that Brandon would recover from his coma; but as of last night, we know that he's gone. It is with great difficulty that we even attempt to condense our sorrow over this loss into words. We are completely distraught to know that we will never hug, see, or collaborate with him again. Teenage Bottlerocket is family. We love all of them like brothers.
Brandon was a unique individual, a rarity. It is obvious by the outpouring of love and support he's generated over the last few days just how deeply he touched so many lives. He was always generous with his time, curious to know each person he met, and quickly made lasting friendships wherever he went. A true music lover, Brandon was always stoked to shoot the shit about great new bands and killer punk records. He dedicated his life to punk rock, spreading that infectious joy around the world every single time he got behind the kit at a Teenage Bottlerocket show. The world is undoubtedly a darker, sadder, shittier place without Brandon's smiling face to brighten it up.
Brendan Kelly of The Lawrence Arms summed up Brandon's personality best with this anecdote describing how he once heard Brandon utter the words, "this is the greatest day of my life," when all they were doing was hanging out in Laramie drinking beer and eating enchiladas: "It's my distinct feeling that Brandon said that phrase 'it's the greatest day of my life' and meant it more than the rest of us combined. I'm jealous of that enthusiasm. We should all be so lucky to go through this world with a style like Brandon did."
We are all completely devastated. What we'll miss most is seeing Brandon do what he loved and what he devoted his life to: playing drums and rocking the fuck out. That is his legacy and that is how we'll remember him. We'll miss you always Brandon; may you rest in peace.
If you want to help the Carlisle family with expenses, you can do so here.
04Nov, 2015
We love you Brandon!!!
As some of you may have heard, our dear friend Brandon Carlisle from Teenage Bottlerocket is in a coma, and fighting for his life. He needs our love and support more than ever right now. We at FAT are sending positive thoughts, prayers, and energy his way and encourage all of you to do the same. The next 24 hours are critical to his recovery. Stay strong Brandon. We love you.

03Nov, 2015
Swingin' Utters tour starts today!
Swingin' Utters start their West Coast tour today! To get a preview of their frenetic and impassioned live show, you can watch them perform ''Tell Them Told You So'' on Last Call With Carson Daly. If you still haven't checked out their latest album, Fistful of Hollow, go listen to it now on Spotify or Bandcamp! Dates below. Don't miss them!
11/03/15 Seattle , WA Funhouse at El Corazon
11/04/15 Tacoma, WA Jazzbones
11/05/15 Portland, OR Hawthorne Theatre
11/06/15 San Francisco, CA DNA Lounge
11/07/15 Sparks, NV PB & J's
11/08/15 Sacramento, CA Blue Lamp
11/10/15 Fresno, CA Strummer's
11/11/15 Los Angeles, CA The Roxy
11/12/15 Ventura, CA The Garage
11/13/15 San Diego, CA The Hideout
11/14/15 Fullerton, CA The Slidebar
11/15/15 Tempe, AZ Yucca Tap Room
11/16/15 Flagstaff , AZ The Green Room
11/17/15 Las Vegas, NV Beauty Bar
11/18/15 San Luis Obispo, CA SLO Brew
11/19/15 Santa Cruz, CA The Atrium at Catalyst
29Oct, 2015
Mean Jeans sign to

FAT

!
Portland's Mean Jeans have long been a favorite of ours at the FAT office, and now we get to put their next record out! Known for their blistering live shows, Mean Jeans will be celebrating properly with us this weekend at FEST! That's right, they'll be performing this Sunday at Cowboys at 7:30PM with The Copyrights in Gainesville, FL! We couldn't be more excited to welcome their high octane sing-along anthems to the FAT catalog. We'll be releasing their third proper full-length in 2016, so stay tuned for those details. In the meantime, head over to their bandcamp page, take a listen and scope out their remaining tour dates for the year. Best of all, read what drummer/vocalist Andrew (aka Jeans Wilder) had to say about FAT below.
The very first show I ever went to was in 96 in Vienna, Austria to see

NOFX

, Weezer, and Lagwagon. I remember purchasing a Lagwagon ringer tee and putting it on immediately, because wearing a shirt of the band you are seeing is the cool thing to do. Especially since I hadn't even heard Lagwagon before. A year later I bumped into Chris Flippin outside of a show at that same venue and he brought me and my friends on the Lagwagon tour bus. We talked about how Blink-182 had dropped off the tour because they had to film the video for Dammit and about how the new album Double Plaidinum was somewhat of a departure from Hoss. Later that year I shit my pants* on the way home from a Good Riddance show. Many many years later I acquired Tré Cool's cell phone number and tried to trade it to someone for Fat Mike's cell phone number. I was denied. Needless to say, myself and the Mean Jeans are very excited to be joining the

FAT

family. It is 5:30am on our way to

FEST

so excuse the boring story, it's the best we got at this time of day.

* I had borrowed my friend's pants that day so I guess technically I shit

HIS

pants…