19Jun, 2015
Japan! More bands announced for Fat Wrecked for 25 Years!
November just got a whole lot hotter! Along with NOFX and Lagwagon, joining the fray at the Fat Wrecked for 25 Years In Japan show, will be Strung Out, Good Riddance, Snuff, Swingin' Utters, Western Addiction, Masked Intruder, and toyGuitar! The celebration will commence on November 23rd just outside of Tokyo at Makuhari Messe and you can grab a ticket here! We can't wait to party with you Japan, and we're not done yet!
16Jun, 2015
Bad Cop/ Bad Cop out today!
Bad Cop/Bad Cop's debut album Not Sorry is out today! You can blast their new record over at Scene Point Blank. When you're done and can't get their songs out of your head, order the record already and then enter this contest! Not Sorry is already collecting great reviews—just read this one over at Alternative Press and another at Punknews which gives them 9 out of 10 stars! Best to see what all the fuss is about in person so be sure to catch them at one of their record release shows this month OR on an upcoming Fat Wrecked for 25 Years tour date this August!
15Jun, 2015
Good Riddance & Dead To Me added to San Francisco Fat Wrecked For 25 Years!
Happy Monday! Today we're stoked to announce that Good Riddance and Dead To Me will be joining our Fat Wrecked for 25 Years blow out weekend in San Francisco! We also added the perk of being able to purchase a two-day pass for the Saturday and Sunday shows, instead of having to buy each day individually. Get your pass here. To celebrate our anniversary, New Noise Magazine put us on the cover of their new issue! Additionally, if you snag a copy early, you can enjoy a special one-off Fat comp called Fat Gets Heavier, featuring AVAIL, Sick of it All, Night Birds and lots more, so don't delay, get your heavy on here!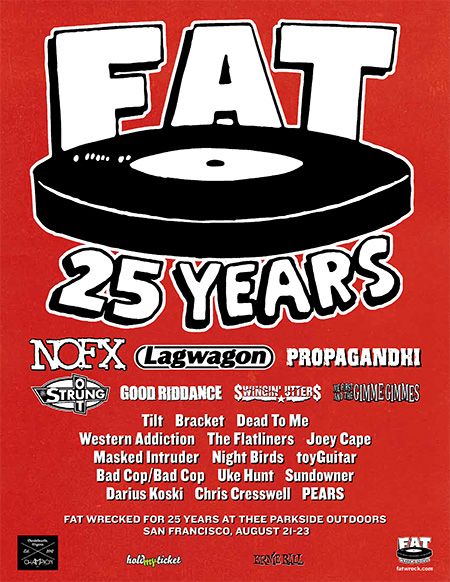 12Jun, 2015
Listen to the new Bad Cop/ Bad Cop album now!
Bad Cop/ Bad Cop's new album, Not Sorry, comes out in just a few days. If you can't wait til then or need a little something to get you through Friday, we've got you covered as Scene Point Blank is streaming their debut album in its entirety! After listening, order your copy and then be sure to catch them live at one of their upcoming record release shows happening this month!
12Jun, 2015
PEARS

U.S.

TOUR

!
Have you seen PEARS live yet?! Either way, lucky for you they're hitting the road again in August by themselves and in September with Teenage Bottlerocket! After watching them destroy at Punk Rock Bowling, we can safely say that if Darby Crash and a young GG Allin got together and produced an offspring, PEARS singer Zach just might be their child. Yes, he and the whole band are wild men on stage! We'll be re-releasing Go To Prison on July 24th so keep an eye out for our pre-order. In the meantime, if you don't want to wait until September to see them live, come hang out with us in San Francisco as they'll be playing our Fat Wrecked for 25 Years party and tickets for both days are still available (but going fast).