06Mar, 2015
Listen to a new Western Addiction song!
Sprechen Deutsch? No? It's ok you can still head to Visions Magazine to listen to a rippin new song from Western Addiction​! They are off to Europe next week with Lagwagon and The Flatliners! And then have a show in San Francisco with Bad Religion and OFF!
03/13/15 Madrid, Spain Sala La Riviera
03/14/15 Bilbao, Spain Sala Santana 27
03/15/15 Barcelona, Spain Sala Apollo
03/17/15 Tolouse, France Connexion
03/18/15 Lyon, France Jack,Jack
03/19/15 Cognac, France West Rock
03/21/15 La Harve, France Le Tetris
03/22/15 Paris, France Petit Bain
03/23/15 London, UK O2 Academy Islington
03/24/15 Bristol, UK Bierkeller
03/25/15 Manchester, UK Club Academy
03/26/15 Portsmouth, UK Wedgewood Arms
03/27/15 Amsterdam, Netherlands Melkweg
03/28/15 Dortmund, Germany FZW
03/29/15 Hanover , Germany Bei Chez Heinz
03/30/15 Berlin, Germany SO36
03/31/15 Leipzig, Germany Connie Island
04/01/15 Ljubljana, Slovenia Kinko Siska
04/02/15 Milan, Italy Fabrigue area 1
04/03/15 Livorno, Italy Cage Thearte
04/04/15 Pinarella, Italy Rock Planet
04/05/15 Lindau, Germany Club Vauderville
04/20/15 San Francisco, CA Regency Ballroom w/ Bad Religion and OFF!
05Mar, 2015
RIP

David Jones (Enemy You)
As some of you may know, David Jones of Enemy You has passed away. He was our good friend and we are totally devastated. David, Enemy You and Fat go back a long way. Chicken and Ken (Dead To Me and Western Addiction) both played in Enemy You, Ken as a founding member with David. Enemy You contributed an amazing record to our Fat Club 7" Series in 2001, a record which contains one of the great Enemy You songs: "Kind Hearts." David was truly a kind heart and one of the raddest people you could ever hope to know, hang out with, play video games with, talk Middle Earth with, and endlessly debate the merits of post-Brett Bad Religion with. We will always miss David in his red hoodie, singing along at DTM, TBR and WA shows. Rest in peace, brother.
Our friend Toby Jeg of Red Scare Industries posted this nice write up about David.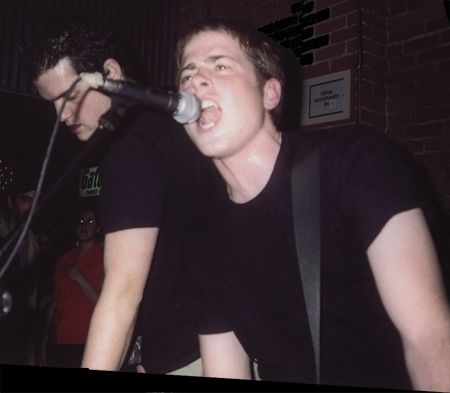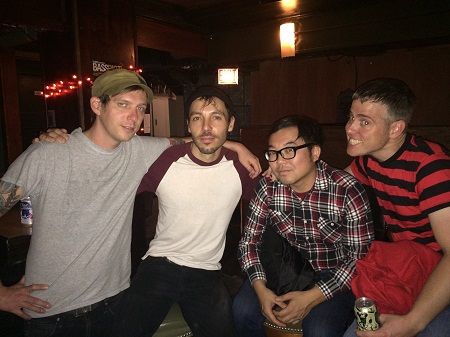 27Feb, 2015
Darius Koski Solo Album! Listen!
We've loved the Swingin' Utters since we first heard them tearing up the streets of our beloved San Francisco, and part of the reason why we loved them was the inspired and unique songwriting of Darius Koski and Johnny Bonnel. So when the Utters slowed down in 2004, we were more than happy to ride it out with Filthy Thieving Bastards, the wonderfully folky outfit that included both Darius and Johnny, each still writing incredible tunes. When they returned with a creative burst in 2011, we were let in on a little secret from Darius Koski: he had been sitting on a stockpile of solo songs for over a decade! Granted, a proper album hadn't been recorded yet, but the songs were there and, would we want to hear it? Well, obviously! And wow, this record is something else entirely. To be released on April 7th and comprised of 15 tracks, Sisu, the debut solo album from our friend Darius, is a veritable grab bag of acoustic-based genres, with wide ranging instrumentation: guitar, piano, banjo, accordion, violin, glockenspiel, vibraphone, melodica, ukulele, and percussion! Swaying from the haunting honky-tonk piano on "Paper Tigers" to the galloping rhythm and surf guitar accents on "Howls From the Gale," Sisu weaves its way through country, blues, acoustic, indie, bluegrass and both American and Irish folk. We've done our best to explain it but let's hammer it home by letting you "Listen!" to one of these wonderful songs over at The Big Takeover. One will deduce that his musical career has a trajectory, one that is constantly pushing forward, never pausing, always offering something original, always giving us new songs. How fortunate we are! On top of our song premiere, we also have a tour announcement: he'll be hitting the road this April with multi-instrumentalist Ryan Davidson, who generously contributed his playing talents to Sisu. Don't miss it! Read what Darius Koski had to say about his first solo album:
"The release of this record has got to be one of the highlights of my life so far. I've always written songs like this (in a genre other than punk rock), but the only outlet I've had for them has always been maybe a song or two on Utters, or Filthy Thieving Bastards records. I have a lot of material that's just been sitting around for 25 years, with no outlet, and it's been frustrating. None of the songs on "Sisu" are quite that old, but there are a few that I know I wrote around '99. I've wanted to do this my whole life—I've always wanted to be a solo artist, so this really is a lifelong dream of mine. There are so many good vibes and strange positive energy in the last few sentences that now I think I've given myself a headache and need to drink some beers, to get back in my own head…"
27Feb, 2015
Pre-order The Flatliners & Western Addiction 7"s Now!
Pre-order Friday! Snatch up your copy of The Flatliners' brand new 7", Resuscitation of the Year, with an exclusive and killer b-side song. Western Addiction is offering a brand new 3-song EP with what is essentially the companion record to 2013's Pines. AND, since their original Cognicide colored vinyl LP was so rare, we decided to press up an even more limited color run, as the next entry in the Fat Classic on Color series! Only 176 pressed, get yours now! If you live in San Francisco, come out to The Hemlock for Western Addiction's I'm Not the Man I Thought I'd Be record release show tonight!
26Feb, 2015
Good Riddance- Peace In Our Time -record release shows!
Last week, we announced Good Riddance's hotly anticipated full-length, Peace in Our Time. Today, the band announced a grip of record release shows in California (sorry rest of the world, you'll have to wait to get your dates!), culminating in their hometown of Santa Cruz! Our very own Bad Cop/Bad Cop will be joining them. Stay tuned as we'll be premiering a new song very soon!