26Jun, 2015
The Flatliners – Division of Spoils: A Collection of B-Sides & Rarities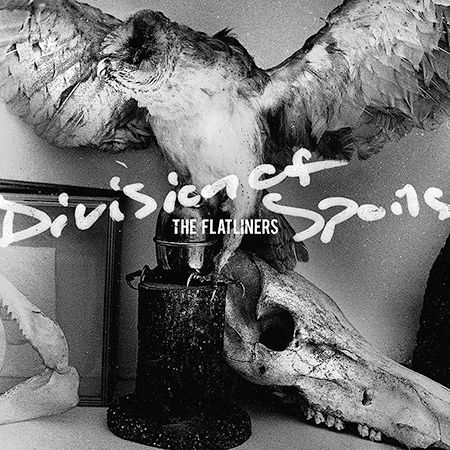 The Flatliners have been quite the prolific band in their 10 years together. Four full length albums and a mass of 7"s, many of which Fat has had the privilege of releasing. Now it turns out that all those non-album songs, when compiled, create a strikingly great double album: Division of Spoils, out August 7th on CD & Digital, with the double vinyl edition coming a month later. Quality songs from start to finish, you get three sides (16 songs) of killer Flats originals, one side (5 songs) of eclectic covers, and 2 super rare bonus oldies just for you super fans. But let's give singer Chris Cresswell the chance to tell you what went into this collection:
"Every time we get together to write another album, we kind of fly off the handle. For our last 3 we've ended up with so many extra songs that we now have another album's worth.
Now some of you might be saying "I have all these songs on several 7"s, on every single colour ever released" and all that. Which rules. And also means you're a big geek, just like us.
Now, it sounds like we may have already fooled you once, but we're not trying to fool you twice here, folks. As a perk for being our biggest fan with the grandest Flats vinyl collection on earth, we've included 3 unreleased tracks from the Dead Language sessions, and a song that was originally demoed for The Great Awake, but was never properly re-recorded. Sweet redemption!
Division of Spoils is less a snapshot and more a time-lapse of our "career" to date. And I use that word loosely. Figuring out what songs should make a record and what songs shouldn't has always been the most difficult part of the process, but to have this collection of songs today is something we're extremely proud of. We hope you dig the potentially weirder vibes of Division of Spoils"
25Jun, 2015
Bad Cop/Bad Cop's new video is a total nightmare!
Get ready to date the dead because Bad Cop/Bad Cop's new video for "Nightmare" breaks all the rules. Into zombies? Covered. Love a man with a shiny axe? No problem. Maybe you're into werewolves? Whatever you fancy, your dreamboat is out there. Just head over to Vice/Noisey and watch the dating pool expand! Then, bring your own Nightmare to their next show. You can catch them this month and then again in August on the Fat Wrecked for 25 Years Tour where they'll be supporting their new full-length, Not Sorry. If you haven't done so, you can grab your copy today!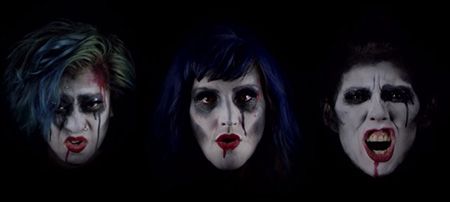 24Jun, 2015
Preorder Fat Music Vol. 8: Going Nowhere Fat
Preorder Fat Music Vol. 8: Going Nowhere Fat! You can order right now from our webstore or our Band Camp page. To celebrate our 25th anniversary we packed this sucker with 25 kick ass tracks. There's a bunch of unreleased cuts from PEARS, NOFX, Night Birds, Western Addiction, Swingin' Utters, Leftover Crack and a ton of other cool tracks from our favorite recent releases! Make sure to catch the Fat Wrecked For 25 Years tour coming your way in August!
Please note: VINYL WILL SHIP IN LATE AUGUST.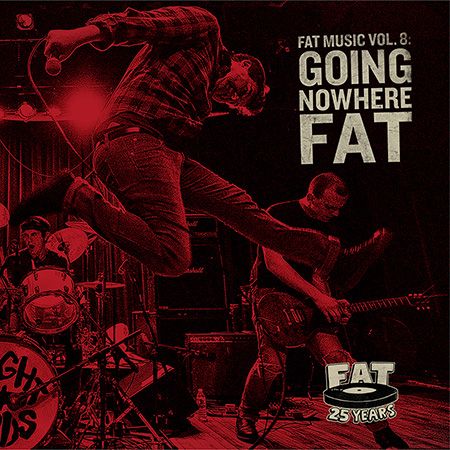 19Jun, 2015
Japan! More bands announced for Fat Wrecked for 25 Years!
November just got a whole lot hotter! Along with NOFX and Lagwagon, joining the fray at the Fat Wrecked for 25 Years In Japan show, will be Strung Out, Good Riddance, Snuff, Swingin' Utters, Western Addiction, Masked Intruder, and toyGuitar! The celebration will commence on November 23rd just outside of Tokyo at Makuhari Messe and you can grab a ticket here! We can't wait to party with you Japan, and we're not done yet!
16Jun, 2015
Bad Cop/ Bad Cop out today!
Bad Cop/Bad Cop's debut album Not Sorry is out today! You can blast their new record over at Scene Point Blank. When you're done and can't get their songs out of your head, order the record already and then enter this contest! Not Sorry is already collecting great reviews—just read this one over at Alternative Press and another at Punknews which gives them 9 out of 10 stars! Best to see what all the fuss is about in person so be sure to catch them at one of their record release shows this month OR on an upcoming Fat Wrecked for 25 Years tour date this August!