04Aug, 2014
Lagwagon – Hang
Hang with the Wagon in Europe
31Jul, 2014
Never Forget Tony Sly
On this day – July 31st – the second anniversary of his passing, we remember our friend Tony Sly, and honor his tributes to the family he loved so much.
For Brigitte, Fiona, and Keira.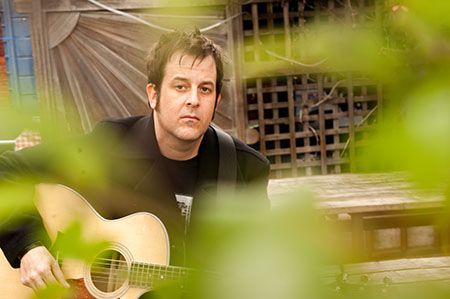 29Jul, 2014
LESS

THAN

JAKE

head to the Great White North!
You heard us right. Less Than Jake is taking over the Canadian Rockies, will be eating Poutine in Montreal and looking for orcas off the coast of Vancouver this October! Less Than Jake have not toured Canada properly in four years but that's all about to change. The ten day tour weaves into almost every province and they're bringing the thunder with Big D And The Kids Table and The Interrupters as support. Less Than Jake are wrapping up Warped Tour and JUST celebrated their 365th WARPED SHOW! Wowza, right? Take a look at what that celebration looked like here! If you haven't watched their latest video for "Do the Math", you should do so now as it's a real homage to Fantasia. It is a perfect depiction of what separates Less Than Jake from the herd. We released the Do the Math 7" on June 10th; the a-side of which is from last year's exceptional See the Light album while the b-side, "Connect the Dots," is a previously unreleased song from their See The Light recording sessions. So, we've definitely given you a Tuesday doozy of great news, Canaduh!

October 9th – Vancouver – Nightclub
October 10th – Calgary – Republik
October 11th – Edmonton – The Starlite Room
October 12th – Saskatoon – Louis' Pub
October 14th – Winnipeg – Pyramid Cabaret
October 16th- Thunder Bay – Crocks
October 18th – Toronto – The Opera House
October 19th – London – London Music Hall
October 22 – Ottawa – Ritual Night Club
October 23 – Montreal – Club Soda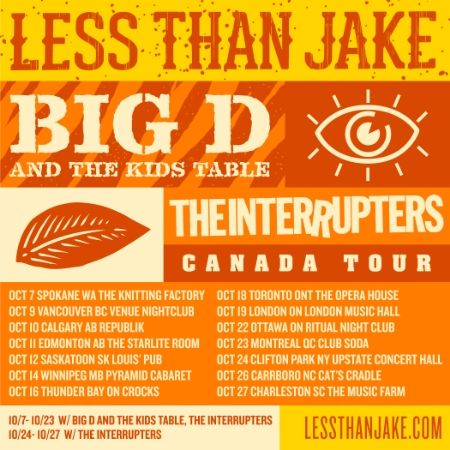 22Jul, 2014
Anti-Flag and Copyrights out today!
Two for TUESDAY! First up: Anti-Flag's career-spanning collection—A Document of Dissent: 1993-2013—is out today! Comprised of 26 tracks, culled from nine full-length albums and spanning six labels, it is THE essential Anti-Flag release. Curious to hear a track? Well, today Esquire is presenting the re-mastered classic, "Underground Network," and you can hear it here! After you've listened, check out a new interview with bassist Chris #2, view their tour dates and order your copy today!
Up next we have the brand new 7" from the boys of the heartland, The Copyrights! It's pop-punk at its finest; with instant hooks and catchy melodies, No Knocks is a must have. Don't believe us? Well, watch the video for the title track and then grab your copy of wax here. Don't forget to catch them on tour as they'll be tearing up the States all summer!
21Jul, 2014
Old Man Markley premiere Train Of Thought Video!
Old Man Markley is taking a well-deserved break after touring nearly non-stop following the release of last year's sophomore album, Down Side Up. While on their travels, they stopped at the infamous annual Punk Rock Bowling festival in Las Vegas and filmed a video for "Train of Thought." A contemplative song whose sentiment really captures the life of a road worn and weary touring band, you can watch the video at Vice/Noisey right now. Make sure to follow Old Man Markley on Instagram and Twitter as they'll be keeping everyone updated on what they have in store for 2015! Read what Old Man Markley had to say about their video below:
The song "Train of Thought" seemed appropriate to film at PRB… With so many activities to pull you in any direction – bowling, shows, pool parties and things we shouldn't mention here. In this video we captured anyone that crossed our "trains" path and included them in the filming! This song was written by Joey Garibaldi and Todd Fenton, who aptly describes the song: "Control is an illusion, except when you're out of it. Same could be said for perception. The mistakes of the past and pressures from the future are what make us the same, not different." We hope the video reflects the chaos and serendipitous nature of crossing paths with people and being open to the experiences that follow such interactions.