03Apr, 2014
MASKED

INTRUDER

­ M.I. out May 27th!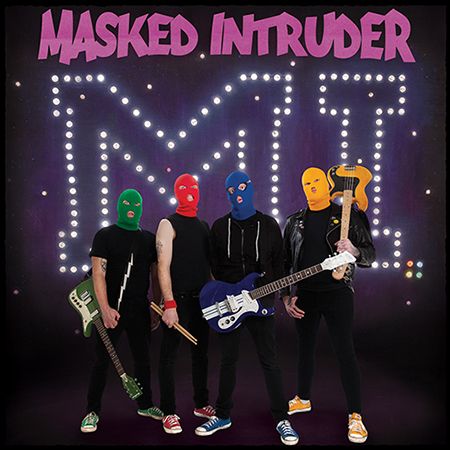 In case you missed the APB, Masked Intruder broke into the punk scene with their highly acclaimed 2012 self-titled album and have been building up quite a rap sheet ever since. These thugs have been on tour for the past two years with the likes of NOFX, Less Than Jake, and Teenage Bottlerocket, stealing the hearts of unwitting fans all along the way. Finally, the law caught up to these rascals and they were sent to the "big house" to think about their crimes. While meditating on how to be upright citizens, they killed time by writing new songs and digging their way to freedom. Once again, they managed to dodge the law long enough to hole up at Atlas Studios in Chicago with Matt Allison as their accomplice, laying down 13 tracks of polished, hook-laden power pop that's so catchy, it's criminal. Of course Masked Intruder will continue their life on the lam throughout 2014 in support of M.I., pilfering their way through the U.S., Europe, and Australia. Consider yourself warned.
And ladies, be vigilant around these romeos as we intercepted this message from Intruder Blue: "We are extremely stoked on this record! We had a great time working with Matt Allison again and we couldn't be happier with how the record came out! We can't wait for everybody to hear it, especially all of the ladies out there! We really feel like we poured our hearts into this one, and we expect that the ladies are gonna pick up on that and maybe wanna make out with us. That's the idea, anyway. Cool!!!"
02Apr, 2014
Old Man Markley – Stupid Today out May 6th!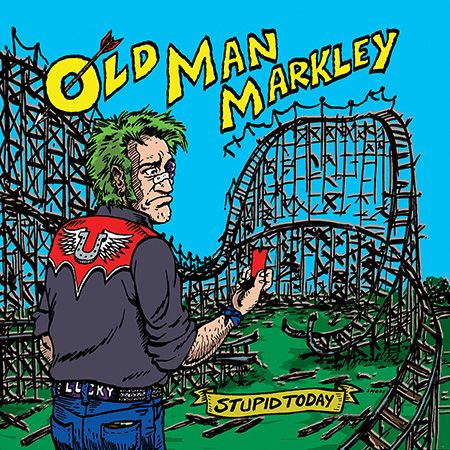 Old Man Markley has a brand new 7" called Stupid Today, and it's coming out May 6th! The title track is described by bassist Joey Balls as "a song about reluctantly riding the relationship roller coaster. Fat Mike coined it our 'Burt Bacharach song'. I think it's a compliment?" Continuing the band's tradition of covers on the flipside of their singles, they tackle NOFX this time. Joey says, "'Reeko'" is our latest punk rock cover. In the original version, NOFX plays the first half slow and punks up the second half of the tune. We added an intro (very 'Herojauna'-esque), did the verses fast and end the song slow and folky. There's another NOFX song paid tribute to within this cover (a cover within a cover), just so NOFX fans really get how much we love NOFX." Artwork for the 7" was created by the talented Chris Shary (Descendents, Snuff) and you can pre-order this nice little record right here and now! Old Man Markley will be on tour in the U.S. this April and May, including Punk Rock Bowling. Check out those dates, and their upcoming Canadian and European runs all right here!
02Apr, 2014
New Banner Pilot Video!
FUSE is premiering a brand new Banner Pilot video: "Modern Shakes." Plucked from their new album Souvenir, out April 15th, the video weaves around old timey Minneapolis with vintage footage exploring back alleys, pubs and cityscapes. If the video hasn't inspired you to open a beer, then catching the band live at one of their upcoming shows will certainly do the trick. Head here to pre-order your copy today!


02Apr, 2014
Mad Caddies on tour!
In eager anticipation of their first album in seven years, Dirty Rice, the Mad Caddies hit the road tomorrow! They'll be playing their brand new song, Brand New Scar, among a handful of new tunes sprinkled in with the classics they know you're itching to hear again. Tour dates below with ticket links here. Pre-order Dirty Rice now!
4/02 Reno, NV – Knitting Factory
4/03 Salt Lake City, UT – Bar Deluxe
4/04 Fort Collins, CO – Aggie Theatre
4/05 Denver, CO – The Summit Music Hall
4/06 Boulder, CO – Fox Theatre
4/08 Dallas, TX – Gas Monkey
4/09 San Antonio, TX – Korova
4/10 Corpus Christi, TX – House of Rock
4/11 Austin, TX – Red 7
4/12 El Paso, TX – Ticky Falls
4/13 Tempe , AZ – Club Red
5/07 Madison, WI – The Frequency
5/08 Chicago, IL – Concord Music Hall
5/09 Grand Rapids, MI – Pyramid Scheme
5/10 Cleveland, OH – Grog Shop
5/11 Pittsburgh, PA – The Altar Bar
5/13 Philadelphia, PA – The Barbary
5/14 Asbury Park, NJ – Asbury Lanes
5/15 Virginia Beach, VA – Jewish Mother
5/16 New York City, NY – The Gramercy Theatre
01Apr, 2014
Bad Cop/Bad Cop release day + new song!
Bad Cop/ Bad Cop's brand new 7" Boss Lady is out today and you can listen to a new song "My Life" over at New Noise Magazine! The 7" features four brand new songs and you can order it here. Read a few new reviews from Germany, Spain and the U.S.A, then go check out their upcoming tour dates.