13Jul, 2016
NEW

GET

DEAD

SONG

!

PRE

-

ORDER

NOW

!
We are only two weeks away from the July 29th release of GET DEAD's killer new full-length, Honesty Lives Elsewhere! Today, however, we have something to tide you over. Head to Brooklynvegan and listen to the premiere of the second single, "Dyin' is Thirsty Work." But don't just take our word for it, check out what GET DEAD had to say about the song:
"'Dyin' came together in kind of a weird way. Initially I thought it wouldn't make the album since it's kind of nebulous and funky, but it's slowly become one of our favorites. Ultimately, it's about being a product of your environment, but not letting that fact dominate you and, instead, using it to your advantage."
You'll be able to see their raucous live show soon, as they'll be tearing it up in Japan, North America, and Europe. Don't miss it! Now that you're sufficiently pumped up, pre-order your copy today. While you're at it, we've got a sweet color repress of SWINGIN' UTTERS' classic Five Lessons Learned available as well.
07Jul, 2016
Joey Cape Handcrafted Video Session on LR Baggs
If you're anything like us, you'd rather sit at work and watch YouTube, than do your daily routine. Well, you're in luck, because for the next 10-15 minutes you can do just that by watching an LR Baggs handcrafted video session with Joey Cape. Check out the interview below, and then head to their website to watch the live studio footage!
06Jul, 2016
PEARS

/ Direct Hit! West Coast Summer Vacation 2016
Thinking about the end of Summer got us all like this. But today, people, we are going berserk, because we just got word that PEARS and Direct Hit will be joining forces on their West Coast Summer Vacation tour! If there was ever a way to extend the magic of Summer, these two bands know damn sure how to get it done. Get out to these frenetic shows and you'll actually have a "What I Did This Summer" story worth telling.
02Jul, 2016
Useless ID – State Is Burning & Mild in the Streets –

OUT

NOW

!

Useless ID's ripping new album, State Is Burning, is out now! Listen on Bandcamp (also below) and Spotify. Order your copy today; colored vinyl still available! Also out now is our new comp, Mild in the Streets: Fat Music Unplugged. Listen on Bandcamp (also below) or Spotify. Order your copy and go mild!
30Jun, 2016
Chixdiggit! New Album and Tour!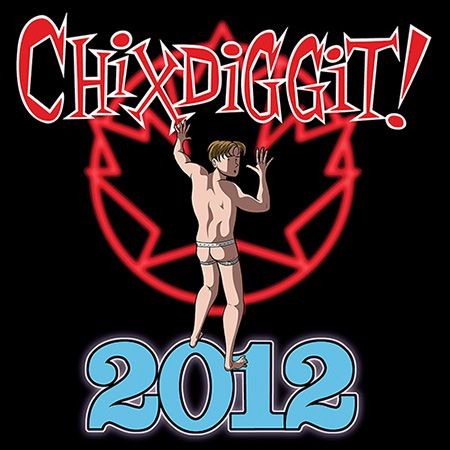 Let's hear it for Chixdiggit! Celebrating 25 years as a band, Canadian pop-punk legends Chixdiggit! are showing no signs of slowing down. Their new album, entitled 2012, is an epic album with an equally epic cover (and a not-so-subtle homage to a trio of fellow Canadians). 2012 is no ordinary Chixdiggit! album; in fact, it's comprised of the longest punk song ever recorded, clocking in at just under 25 minutes. Highlighting a full year of the band on tour, it's as if you, the listener, are Chixdiggit's roadie. You are right there with them, around the world and back again, except without all the heavy lifting. With some of the catchiest songs in punk rock, played by one of the funniest bands to come out of the scene, these friendly Canadians sure know how to entertain. We dare you to listen to one of their records without a smile on your face. With the release of 2012, Chixdiggit! continue to triumph and add to their essential catalog of pop- punk gems. Don't miss your chance to celebrate 25 years of Chixdiggit!, as they bring the party across Canada this Fall.

Tour dates :
July 23 – Bengough, SK at The Gateway Music Festival
September 9 – Edmonton, AB at Brixx
September 22 – Ottawa, ON at House Of Targ
September 21 – Montreal, QC, at Petit Campus
September 23 -Toronto, ON at The Bovine Sex Club
September 24 – Toronto. ON at The Bovine Sex Club
September 25 – London, ON at Call The Office
October 14 – Victoria BC at Sugar
October 15 – Vancouver, BC at The Cobalt
November 10 – Regina, SK at The Exchange
November 11 – Winnipeg, MB at The Windsor Hotel
November 12 – Saskatoon, SK at Amigo's