09Jul, 2015
Joey Cape-Stitch Puppy-out Sep. 4th, 2015

Joey Cape will be the first to tell you that the past few years haven't exactly been the easiest on him. Of course, there's the problems that affect many an aging punk—Joey is closing in on 50, and it's not like there's a pension plan for punk rock—but then there are the permanent departures that continue to mount as a scene that was built on the "live fast, die young" mantra is now losing some of its finest members. It's a huge reason why Lagwagon's most recent album, 2014's incredible Hang, was, well, pretty fuckin' dark, from the lyrical content to the noose on the cover art. So when you first fire up Joey's new solo album, Stitch Puppy, you might think you'll be in for a downer—and, yeah, you'll get that, at times. But it's really so much more. But you'll need to wait until Stitch Puppy's release—September 4th–to sink your teeth into it and discover the beauty and the darkness for yourself. Oh, and just what is a stitch puppy? Let's let Joey explain:
I'm excited to be announcing the release of my new solo album Stitch Puppy. It's been almost 5 years since the last solo full length was released so it feels long overdue. Stitch Puppy was inspired by a doll my daughter made me a few years back. It's a sort of Victorian mourning doll. Stitch is my most prized possession. Put it this way, if my house were to burn down, after my family and the animals, Stitch would be top priority. My idea to wear his costume stems from years of thinking of him as some representation of purity, loss and the strength that follows. Stitch Puppy seems to be alone, which is the way it feels to mourn the loss someone you love or to be abandoned, stood up. We are all disappointed by life's disloyalties and losses but somehow the wiser for them. We transform from victim to guide. We are witness to these things and the beauty in between. That's it. That's how I see Stitch Puppy. Not defeated. Simply the wise witness I aim to be.
Don't miss Joey Cape on his upcoming One Week Records tour which kicks off this September!
07Jul, 2015
Good Riddance North American Tour!
Get ready North America, because Good Riddance is trekking around the continent this Fall on their first headlining tour in support of Peace in Our Time, their incredible new record. They'll be joined on the entire tour by Off With Their Heads and you can view the dates below! Australia and New Zealand, get ready because they're heading your way this August!
01Jul, 2015
Pre-order

PEARS

and Useless ID now!
Pre-order your Fat copies of these two recent almost-hit records! PEARS' Go to Prison now has a black record cover! Useless ID's The Lost Broken Bones has 7 bonus tracks! CD's ship later this month. Vinyl ships at the end of August!

29Jun, 2015
No Use and Friends at Fat Wrecked for 25 Years in SF!

We at FAT have been so excited putting together our 25 year anniversary tour. It really is an epic year, and a stellar celebration… still, something is missing. It just doesn't seem right for us to party without one of our founding FAT bands. We've managed to wrangle Propagandhi, Tilt, and Bracket, but we are left with a hole in our heart when it comes to No Use For a Name. FAT's history is so closely intertwined with No Use For a Name, we knew we had to come up with some way to include them in our celebration. Of course, no one can replace our dear departed friend Tony Sly, but why not gather NUFAN alumni, Matt Riddle, Rory Koff, Dave Nassie (and more) and invite an amazing cast of FAT band members to sing lead vocals? We're calling it No Use and Friends, and it's a way to celebrate all that No Use For a Name has meant and still does mean to our label. Let's make sure that No Use knows how much we love them, and how important they are in FAT's history. Check them out Sunday, August 23rd, in San Francisco… it's probably your last chance. Get your Sunday ticket here or your 2-Day Pass here (you have to click on GET YOUR TICKETS HERE from the Day 1 page in order to access the 2-Day Pass).
26Jun, 2015
The Flatliners – Division of Spoils: A Collection of B-Sides & Rarities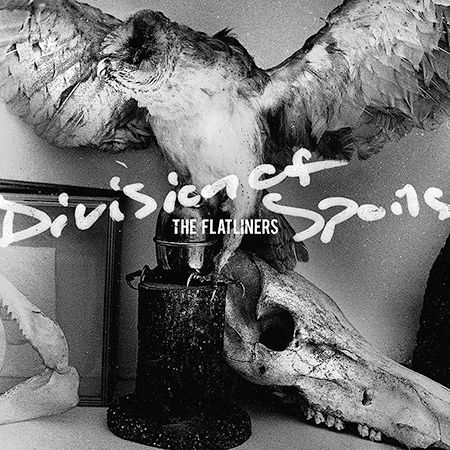 The Flatliners have been quite the prolific band in their 10 years together. Four full length albums and a mass of 7"s, many of which Fat has had the privilege of releasing. Now it turns out that all those non-album songs, when compiled, create a strikingly great double album: Division of Spoils, out August 7th on CD & Digital, with the double vinyl edition coming a month later. Quality songs from start to finish, you get three sides (16 songs) of killer Flats originals, one side (5 songs) of eclectic covers, and 2 super rare bonus oldies just for you super fans. But let's give singer Chris Cresswell the chance to tell you what went into this collection:
"Every time we get together to write another album, we kind of fly off the handle. For our last 3 we've ended up with so many extra songs that we now have another album's worth.
Now some of you might be saying "I have all these songs on several 7"s, on every single colour ever released" and all that. Which rules. And also means you're a big geek, just like us.
Now, it sounds like we may have already fooled you once, but we're not trying to fool you twice here, folks. As a perk for being our biggest fan with the grandest Flats vinyl collection on earth, we've included 3 unreleased tracks from the Dead Language sessions, and a song that was originally demoed for The Great Awake, but was never properly re-recorded. Sweet redemption!
Division of Spoils is less a snapshot and more a time-lapse of our "career" to date. And I use that word loosely. Figuring out what songs should make a record and what songs shouldn't has always been the most difficult part of the process, but to have this collection of songs today is something we're extremely proud of. We hope you dig the potentially weirder vibes of Division of Spoils"