15Jun, 2015
Good Riddance & Dead To Me added to San Francisco Fat Wrecked For 25 Years!
Happy Monday! Today we're stoked to announce that Good Riddance and Dead To Me will be joining our Fat Wrecked for 25 Years blow out weekend in San Francisco! We also added the perk of being able to purchase a two-day pass for the Saturday and Sunday shows, instead of having to buy each day individually. Get your pass here. To celebrate our anniversary, New Noise Magazine put us on the cover of their new issue! Additionally, if you snag a copy early, you can enjoy a special one-off Fat comp called Fat Gets Heavier, featuring AVAIL, Sick of it All, Night Birds and lots more, so don't delay, get your heavy on here!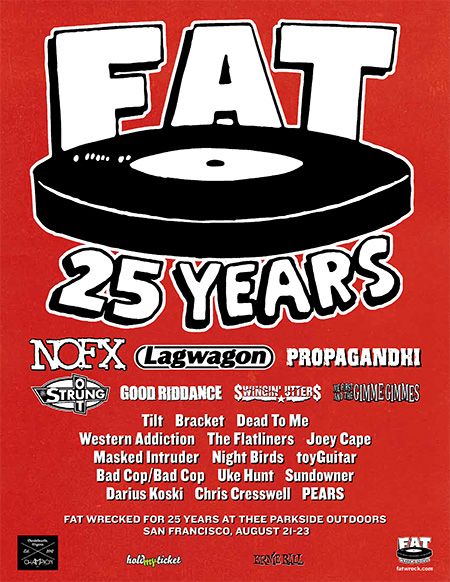 12Jun, 2015
Listen to the new Bad Cop/ Bad Cop album now!
Bad Cop/ Bad Cop's new album, Not Sorry, comes out in just a few days. If you can't wait til then or need a little something to get you through Friday, we've got you covered as Scene Point Blank is streaming their debut album in its entirety! After listening, order your copy and then be sure to catch them live at one of their upcoming record release shows happening this month!
12Jun, 2015
PEARS

U.S.

TOUR

!
Have you seen PEARS live yet?! Either way, lucky for you they're hitting the road again in August by themselves and in September with Teenage Bottlerocket! After watching them destroy at Punk Rock Bowling, we can safely say that if Darby Crash and a young GG Allin got together and produced an offspring, PEARS singer Zach just might be their child. Yes, he and the whole band are wild men on stage! We'll be re-releasing Go To Prison on July 24th so keep an eye out for our pre-order. In the meantime, if you don't want to wait until September to see them live, come hang out with us in San Francisco as they'll be playing our Fat Wrecked for 25 Years party and tickets for both days are still available (but going fast).
11Jun, 2015
Greetings From Amnesia Rockfest 10" comp!
Hey hosers! Hang up those ice skates, we're heading to America's Hat! That's right we're coming to Canada for Amnesia Rockfest in Montebello, Quebec June 18th, 19th and 20th! We'll be slinging merch at the Fat booth all weekend including our final installment of our 10" festival series, Greetings From Rockfest. We love vinyl, and Canada so when we were trying to decide which colors we should press the office was divided but we finally settled on five! Drum roll please: GREAT WHITE NORTH, POUTINE, CANADIAN FLAG, CANADIAN BACON & MAPLE SYRUP and HOCKEY PUCK BLACK! So, grab a copy while supplies last! See ya there knobs!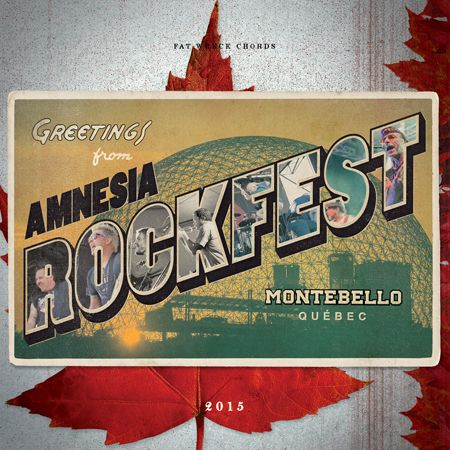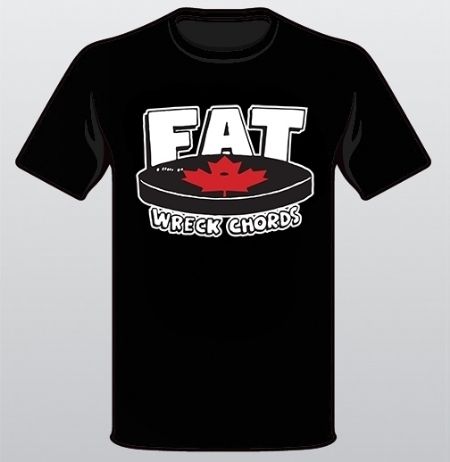 11Jun, 2015
New Real McKenzies video!
The Real McKenzies latest full length, Rats in the Burlap, is out and you can order it here! Watch a brand new video for "YES" a song inspired by the 2014 referendum that asked Scottish voters whether Scotland should be an independent country. As Paul McKenzie states "It's painfully apparent the skulduggery and cheap tricks that once again played out. We as the REAL MCKENZIES wish to let our fans and the world know how we stand on this. Scotland belongs to the Scottish….period." They're currently touring the U.S. and have about a week to go, so don't miss them!