25Nov, 2014
CJ

RAMONE

– Last Chance to Dance

OUT

NOW

!
The new CJ Ramone full-length is finally out! If you haven't listened to the title track you can not only do that here but you can also download it for free! I guess we're in a giving mood. Then, hop over and order your copy today. There's still a limited amount of the colored vinyl left so grab them while you can. Have a burning question for CJ? He'll be doing a We'll Do It Live tonight at 8PM EST! Check out what CJ has in the works for 2015:
"HEY KIDS, CJ RAMONE HERE. Today is the release date for my new record LAST CHANCE TO DANCE so I want to take the opportunity to let you guys know what you can expect from me in 2015. TOURING. That's all I'll be doing! I've got many messages from fans asking me to come to some of the places that I have not been to for a long time. So, my priority is to get to as many countries as I can including my own! I'll have Steve Soto and Dan Root from the ADOLESCENTS with me on guitars and vocals and Pete Sosa from the STREET DOGS on drums. We'll be doing songs from LAST CHANCE TO DANCE as well as songs from my last one RECONQUISTA and, of course, a few of your favorite Ramones songs. You can keep up with everything I'm doing by checking out my Facebook page and you can contact me there directly! Also, you can check out all of my live stuff on YouTube! See y'all on the big road!!!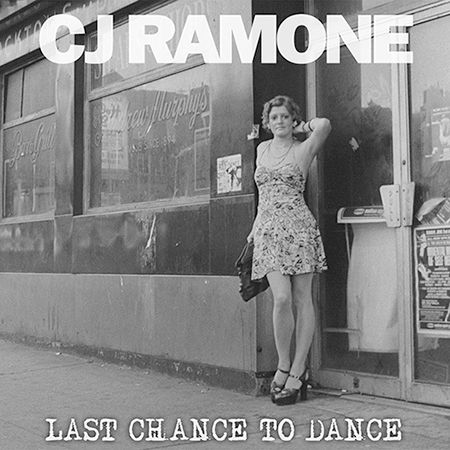 20Nov, 2014
The Decline turns 15! Pre-order

NOFX

now!
Holy Shit! Time flies! This Sunday, November 23rd, is the 15-year anniversary of NOFX's The Decline, one of the longest songs in punk rock history, just edging out the classic "From the Cradle to the Grave" from the legendary Subhumans. To celebrate 15 years of decline, we've made a limited edition picture disc with the original studio recording on Side A and and a live version on Side B! Now you never have to ask Fat Mike on Twitter to play "The Decline" live! We've also made a classic Decline T-Shirt to go with the picture disc. Oh, and you can also pre-order the Backstage Passport Soundtrack CD (LP will be on sale in January) now too! All orders will start shipping in early December!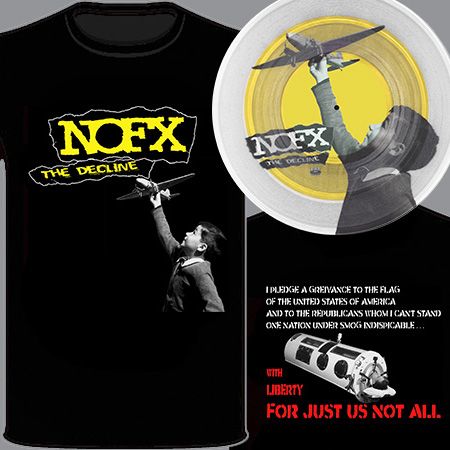 19Nov, 2014
R.I.P.

BRUISER

It is with heavy hearts that we announce the loss of a beloved member of the Fat Wreck family. On Friday our office dog and official Fat mascot, Bruiser, passed away. You may know her from the cover of NOFX's 13 Stitches 7" or from pictures with bands on our site. We knew her as a loving, playful member of the office who was always a welcome distraction from work. We'll miss her cute little face trotting around our desks, her penchant for always making a bed out of yet to be delivered Fat Wreck t-shirts (if you've ever found dog hair on a shirt you bought from us, now you know why), her unwavering protection from each and every deliveryman, and, most of all, her loving spirit. Bruiser, we love you, and we know you've gone on to join Jim Cherry, Derrick Plourde and Tony Sly in the punk rock beyond.
14Nov, 2014
toyGuitar – In This Mess – 1/27/15

Looks like 2015 will arrive with a bang as we'll be releasing toyGuitar's debut full-length, In This Mess, on January 27th! On this set of twelve songs, toyGuitar churns out an elevated level of driving, high-energy rock 'n' roll. Based on the raw fuzz of 70's proto-punk and complemented by intricate guitar leads, hook-laden melodies, and captivating lead and backing vocals, toyGuitar's ultra-stylized sound even incorporates elements of surf, '60s soul and power pop. Trust us, this is one infectious record. But if you can't wait for new music, head here to get a taste of what they're all about. Not only is toyGuitar releasing their first album but they'll be hitting the road too! First up is Europe in late Winter where toyGuitar will be joining label mates, Swingin' Utters, and you can check those dates, right here! Don't fret North America, a proper tour is in the works right now, so be sure to check back for those dates and a brand new song, very soon! What does the band think of their debut album?
"We're super excited about it! The whole process was amazing to be a part of. We got to work with our buddy again over at Jingletown – Chris "The Wizard" Dugan – who slays! We ate a lot of cheeseburgers, downed gallons of coffee, tuned very little, and came out with a record we're stoked on. Drink the kool-aid and check it out. CmmmmmOn!!"
11Nov, 2014
Swingin' Utters – Fistful of Hollow out today!
Swingin' Utters' brand new record, Fistful of Hollow, is the eighth full-length release from this Bay Area, CA five-piece and the follow up to 2013's Poorly Formed. If you haven't heard the album's two singles, head over to listen to ''Fistful of Hollow'' and ''I'm Not Coming Home'' right now. Then order your copy today as these two songs are just a taste of a truly eclectic mix of musical styles and writing, all fitting comfortably under the established Swingin' Utters banner, as this review details. Don't miss these rockers on tour who are currently tearing up North America with labelmates Lagwagon. Dates here!