21Jun, 2016
Fat Wrecked In Québec! Rockfest 2016!

Bonjour Québec! Hide your biere, because we're coming to Amnesia Rockfest this weekend. NOFX is playing the entire Punk In Drublic album, Lagwagon is playing Hoss front to back, and Cokie The Clown is making his second ever public performance… possibly handing out shots! Plus, there's a slew of past and present Fat Wreck Chords bands playing this year. If that's not enough, we'll be hanging out in our booth slinging some new threads and our new Rockfest comp: Fat Music For Wrecked People – Wreckfest 2016! Check them out and we'll see you out there.
Friday:
The Dirty Nil – 11:55
Against Me! – 14:15
NOFX – 17:15
Lagwagon – 22:20
Saturday:
The Sainte Catherines – 19:30
Strung Out – 20:35
WIZO – 21:10
Rise Against – 00:00
Leftöver Crack – 00:35
Cokie The Clown – 01:20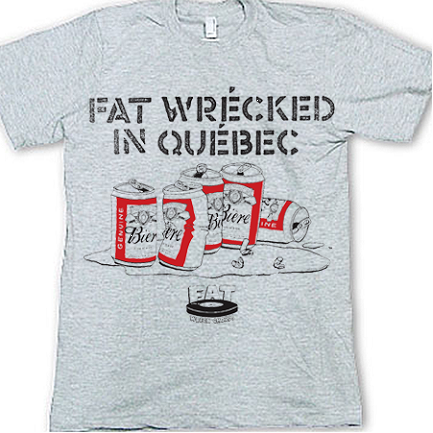 20Jun, 2016
Listen to Direct Hit's new album

NOW

!
Wasted Mind, Direct Hit's third album and first for FAT, is coming out this Friday! We know you can't wait to hear it, and we can't wait for you to hear it. So, go listen to the album premiere on Uproxx today! After you've allowed these razor sharp, pop-punk anthems to sink in, you'll want to read the accompanying interview, which delves into songwriter Nick Woods' brain. Tomorrow, the Milwaukee-based band will perform live on WMSE at 6PM CST and you can tune in here. Tickets are slipping away for their upcoming summer run; get yours while they last.
16Jun, 2016
Mean Jeans – Guilty of Being Tight Tour
This summer, Europe is jam packed with our bands! Since Mean Jeans are never ones to miss a party, they'll be there this July on a full blown tour supporting their FAT debut, Tight New Dimension. If you haven't seen their latest video yet, go watch "Croozin" NOW! Then, strap on your rollerblades and get to one of their upcoming shows!
13Jun, 2016
GET

DEAD

head to Japan!
Attention, Japan!! Something massive is headed your way this summer and no one is safe. No, it's not Godzilla. It's Get Dead! They'll be toppling buildings with their raucous live show in support of the brand new full-length, Honesty Lives Elsewhere, out July 29th. Check out the dates, and info here.
09Jun, 2016
New Useless ID song! Pre-order now!
We're stoked to announce the premiere of the second single off the upcoming Useless ID full length, State is Burning. The track is called "Land of Idiocracy" and you can find it over at New Noise Magazine. State is Burning is out July 1st and you can pre-order it now! Don't miss them on tour in Europe, where they'll be joining Lagwagon this summer. Dates and info here.
In case you missed the news, we have a new comp coming out the same day as Useless ID. Snatch Mild in the Streets: Fat Music Unplugged and get the most bang, for your shipping buck!