04May, 2016
New Direct Hit song & video!
Wasted Mind, the stunning new Direct Hit album, doesn't come out until June 24th, but today we're amped to present the video for "Artificial Confidence," premiering over at Noisey! Directed by Dan Riesser, the video is an audio/visual roller coaster. Like all good rides, the anticipation of where the journey is heading is as intoxicating as the journey itself. As Nick Woods, guitarist/vocalist relays "This song's about the fleeting, but powerful euphoria of a first high, and the confusion and elation that comes with it. I wanted to write something fast, that sounded like a pop-punk version of The Who with the same kind of big chorus our band likes to go after. Don't really know if we achieved all of that. Maybe you should be the judge." Direct Hit hits the road in July. Don't miss them! Dates below!


6/24 – Madison, WI – The Majestic Theatre
6/25 – Milwaukee, WI – The Metal Grill
7/1 – Chicago, IL – Double Door
7/7 – Cincinnati, OH – Northside Yacht Club
7/8 – Philadelphia, PA – The Pharmacy
7/9 – Boston, MA – Cambridge Elks
7/10 – Brooklyn, NY – Shea Stadium
7/11 – Trenton, NJ Mill – Hill Basement
7/12 – Richmond, VA – Strange Matter
7/13 – Baltimore, MD – Sidebar
7/14 – New York, NY – Black Bear Bar
7/15 – Buffalo, NY – Leopard Lounge
7/16 – Toronto, ON Canada – Bovine Sex Club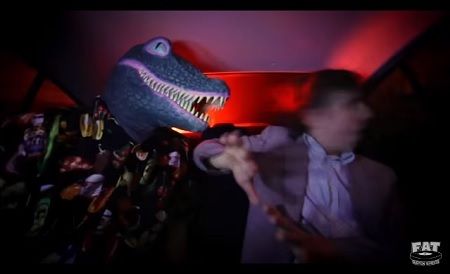 28Apr, 2016
New

PEARS

video is a blast!
Watch an explosive new PEARS video today! The title track, "Green Star," is premiering in two places. Deutschland, go to Visions. For the rest of the world, Substream has you covered. If you haven't grabbed a copy of their latest collection of punk rock fury, you can do so here! Then, check out their tour dates which include a number of festivals, a run with the legendary Subhumans, and a just-announced tour with Valient Thorr! Vocalist, Zach Quinn stated the following: "This is a song that touches on compromising parts of who you are for the sake of survival; becoming your lie so that you may survive. I suppose this video ends with a ceremony of kissing the old you goodbye."
26Apr, 2016
Rise Against – The Unraveling 15 Year Anniversary!
The Unraveling, Rise Against's very first album, came out exactly 15 years ago! We love this album and figured this was a perfect time to press it on colored vinyl for the first time ever! You can pre-order it now, along with a re-print of the very first Rise Against Fat t-shirt! In case there's any doubt about how well this album has held up over time, go listen on Bandcamp or Spotify, and don't miss out on this one-time color re-press of only 500 copies!
22Apr, 2016
Mean Jeans – Tight New Dimension – Out Today!
There's a couple things we've learned while partying with Mean Jeans. First, if you hang out for too long, you'll end up like this. Second, these guys are every bit as eccentric as their album covers indicate. No wonder they crank out such inspired, kick-ass, genre-defying music. Their latest masterpiece, Tight New Dimension, is out today, so you can finally snag your very own copy and get the party turnt! Then, if you think you can handle it, catch their insane live show and find out what the hell we're talking about.
20Apr, 2016
Listen to Mean Jeans new album

NOW

!
We know half of you are already completely baked with it being 4/20 and all, but we've got something that'll get you even more lifted. Head over to Brooklynvegan and get high on the full-album stream of Mean Jeans' new record Tight New Dimension. Then, check them out live and pre-order your copy today! Tight new dimension, indeed.