05Feb, 2015
The Real McKenzies – Rats in the Burlap out April 7th!
What's that glaikit look on your face? Snap out of it because TODAY we are thrilled to announce that we'll be releasing a brand new Real McKenzies full-length— Rats in the Burlap—on April 7th! These vagabonds have already lined up extensive tours of North America and Europe! Canadians: Stomp Records will be your source of this finely distilled recording on CD & Digital. We'll be announcing our pre-order soon AND dishing out a new song or two but in the meantime, read what Paul McKenzie has to say about his clan's latest offering:
Ahoy there. On behalf of The Real McKenzies and myself (Paul McKenzie) we are pleased as punch & haggis to announce the release of our latest album Rats in the Burlap. This album is chocked full of new songs that we just know will appeal to all. The lads and I are proud to have completed this latest endeavour along with the help of Little Joe and Fat Mike. With Josh Garcia at the helm and great cover art, we are confident and enthralled to have had the opportunity to have had released another masterpiece. Let the tours begin!!!
Sincerely,
Paul
04Feb, 2015
Home Street Home: Original Songs from the (S)hit Musical album premiere!
Ready for a sneak preview of Fat Mike's new musical? Listen to a full album stream of Home Street Home: Original Songs from the (S)hit Musical over at Stereogum before it hits the streets next week! Home Street Home will be performed live in San Francisco's Z-Space starting February 20th. Head here to procure tickets which are going fast! Then, pre-order your copy of the album today!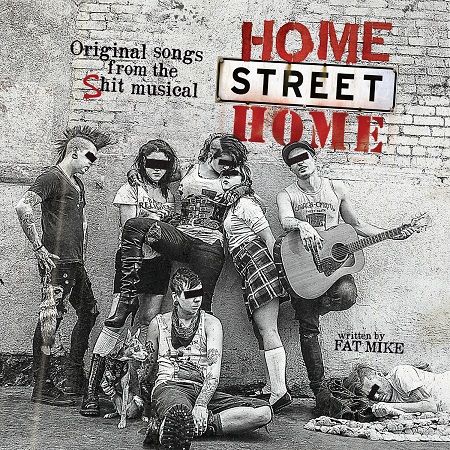 04Feb, 2015
Preorder Home Street Home LP and Gimmes – Are A Drag on Classic Color!
Are some of your Favorite Things musicals, show tunes and vinyl? We knew it! That's why we've got a Double Feature preorder today. You can preorder Home Street Home: Original Songs From The Shit Musical vinyl and Me First and the Gimme Gimmes – Are a Drag on classic color vinyl for the first time now!

03Feb, 2015
New Swingin' Utters video!
You may want to sit down before you watch the new Swingin' Utters video for "Fistful of Hollow." It's a doozy, and directed by the talented folks at Drunk Pals. Are you sitting down? Great. Now, head over to New Noise to watch the chaos unfold! Then, get ready to buy these lads a round as they're heading to the UK and Europe this month! If you haven't picked up their latest full-length, Fistful of Hollow, you can do so here!

02/26/15 Dresden, Germany at Groovestation
02/27/15 Berlin, Germany at Cassiopaia
02/28/15 Nurnberg, Germany at Zentralcafe K4
03/01/15 Praha, Czech Republic at Klub 007
03/02/15 Hannover, Germany at Bei Chez Heinz
03/03/15 Utrecht, Netherlands at Ekko
03/04/15 Brussels, Belgium at Magasin 4
03/05/15 Tours, France at LE TEMPS MACHINE
03/06/15 Romans Sur Isere, France at La Coordonnerie
03/07/15 Savigny le Temple, France at L'Empreinte
03/08/15 Portsmouth, UK at Edge of the Wedge
03/09/15 Norwich, UK at Owl Sanctuary
03/10/15 Derby, UK at Hairy Dog
03/11/15 Glasgow, UK at Audio
03/12/15 Bristol, UK at Fleece
03/13/15 London, UK at Pipeline
03/14/15 Dusseldorf, Germany at Pitcher
03/15/15 Schaffhausen , Switzerland at Taptab
03/16/15 Langenau , Germany at Kaos Keller
03/17/15 Köln, Germany at MTC
03/18/15 Kiel, Germany at Schaubude
03/19/15 Hamburg, Germany at Hafenklang
03/20/15 Frankfurt, Germany at Au
03/21/15 Saarwellingen, Germany at Antattack Warm Up
02Feb, 2015
The Flatliners & Western Addiction 7"s out March 10th!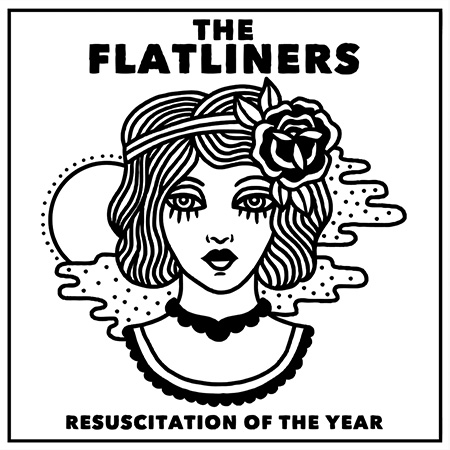 Rumble into Monday with new releases from The Flatliners and Western Addiction! First up, the double A-side single, Resuscitation of the Year, is given the proper run down by singer Chris Cresswell of The Flatliners:
"Take it from me, there's nothing better to kick off your 2015 like a song from 2013! But just to spice it up a bit, we're including an unreleased song from the Dead Language sessions called "Fangs". It took us almost 2 weeks to decide the fate of "Fangs" back in 2013. Should we keep it on the record? Should we save it for something else? It was without a doubt the toughest call to make overall surrounding Dead Language. And now for your listening pleasure, it's yours. Loud and gnarly, so crank it up and bang your head. We were also able to work with our good buddy Grey Days who produced some incredible artwork for this double-record-cover 7". To us, this release is equal parts "Resuscitation of the Year" and "Fangs," so we wanted to showcase that through the art. Feast your eyes. Feast your ears. Feast your brain."
Next stop, we have a brand new three song 7" from San Francisco's own Western Addiction! I'm Not the Man That I Thought I'd Be. The title track originally appeared on our limited edition 10" at FEST in 2014 and was premiered by Revolver! If you've been gnashing your teeth to hear more, the wait is over, because the release hosts two more brand new songs, one of which—"Clatter and Hiss"—is a demo of a song that will appear on their forthcoming album and which also marks the first appearance of bassist Tony Teixeira on a WA recording. Check out an extensive interview with singer Jason Hall about touring, writing lyrics and more, by Ryan Young (Off With Their Heads) on his podcast, Anxious & Angry.
These two bands will be tackling Europe together with Lagwagon this March and April!