12Sep, 2016
Listen to the new Chixdiggit! EP,

NOW

!
We are only days away from the September 16th release of Chixdiggit's killer new EP, 2012! However, today you can jump on the road (virtually) with these northerners and experience the hilarity of van life, as only Chixdiggit! can sing about. Head over to Exclaim and listen to their new EP, which highlights a full year of the band on the road. If you haven't pre-ordered your copy of 2012, do so today! Then, be sure to celebrate 25 years of Chixdiggit!, as they'll be touring across Canada this month and next. Don't miss it!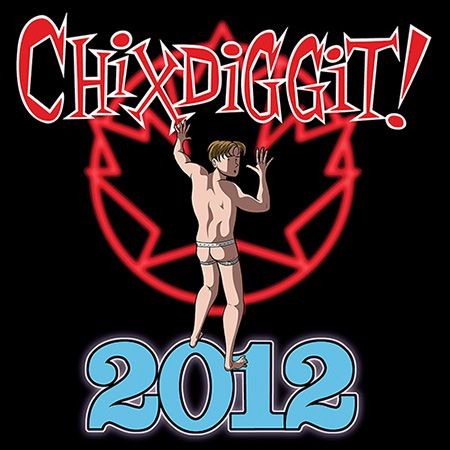 09Sep, 2016
NOFX

made a video with Funny or Die!

Holy TGIF!!! Today marks the release of "Oxy Moronic," the third track and lead single from the upcoming NOFX album First Ditch Effort. As if that's not enough, the comedic geniuses at Funny or Die made the video for the song! Here's Fat Mike to explain:
"I thought it was a long shot, but I sent our new song "Oxy Moronic" to my friend at Funny or Die to see if they wanted to use it for something. He played it for some people and next thing I know, they asked if they could make a video for it! Funny or Die made a fucking video for NOFX! How cool is that?!?!?! Plus, they recruited a bunch of their comedian friends to be in it too!!! There's even that guy from "Sons of Anarchy' in it'"
First Ditch Effort drops on October 7 and is available now for pre-order! Grab it from iTunes, Amazon, or Google Play and you'll get an immediate download of "Oxy Moronic," as well as "Six Years on Dope" and "I Don't Like Me Anymore." Think you can handle more good news? NOFX have announced a tour behind First Ditch Effort with New Orleans maniacs, PEARS, and Israel punkers, Useless ID. Tickets for the tour are on sale now! Use presale code: FIRSTDITCHEFFORT
02Sep, 2016
toyGuitar – Move Like a Ghost – out

TODAY

!

toyGuitar's brand new EP is officially out today! Listen to Move Like a Ghost in its entirety on Noisey, Bandcamp, Spotify, or Youtube (above). Order your copy here. Read a review or two. Then, catch them in the flesh this weekend, as they'll be performing a trio of record release shows before heading out with CJ Ramone in October!
30Aug, 2016
Riot Fest Flexi Pack Vol.3

Come see us at Riot Fest, starting this weekend in Denver (September 2nd) and in Chicago September 16th! We'll be there slinging a bunch of music and merch, including our new "Fat Jerks" T-Shirt. We'll also have our third annual Riot Fest Flexi Pack available, containing 6 songs on 3 flexis, including a couple previously unreleased tunes! A special bonus "hybrid" flexi will be available to purchase with the packs for the first 250 people, so be sure to get to our tent in the "moments" after doors open!
29Aug, 2016
Hear what toyGuitar's Move Like a Ghost sounds like!
Go to Noisey to hear the new toyGuitar EP, Move Like a Ghost. It's a canorous follow up to their infectious full-length, In This Mess. The 6-song EP explodes with tuneful hooks, punk attitude, and soulful lyrics, to be released this Friday! Check their fall dates, including record release shows, a CJ Ramone run, and FEST. Then, if you haven't pre-ordered your copy, snag yours today!