06Jul, 2016
PEARS

/ Direct Hit! West Coast Summer Vacation 2016
Thinking about the end of Summer got us all like this. But today, people, we are going berserk, because we just got word that PEARS and Direct Hit will be joining forces on their West Coast Summer Vacation tour! If there was ever a way to extend the magic of Summer, these two bands know damn sure how to get it done. Get out to these frenetic shows and you'll actually have a "What I Did This Summer" story worth telling.
02Jul, 2016
Useless ID – State Is Burning & Mild in the Streets –

OUT

NOW

!

Useless ID's ripping new album, State Is Burning, is out now! Listen on Bandcamp (also below) and Spotify. Order your copy today; colored vinyl still available! Also out now is our new comp, Mild in the Streets: Fat Music Unplugged. Listen on Bandcamp (also below) or Spotify. Order your copy and go mild!
30Jun, 2016
Chixdiggit! New Album and Tour!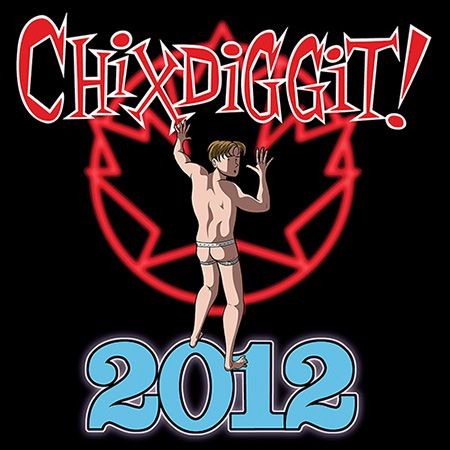 Let's hear it for Chixdiggit! Celebrating 25 years as a band, Canadian pop-punk legends Chixdiggit! are showing no signs of slowing down. Their new album, entitled 2012, is an epic album with an equally epic cover (and a not-so-subtle homage to a trio of fellow Canadians). 2012 is no ordinary Chixdiggit! album; in fact, it's comprised of the longest punk song ever recorded, clocking in at just under 25 minutes. Highlighting a full year of the band on tour, it's as if you, the listener, are Chixdiggit's roadie. You are right there with them, around the world and back again, except without all the heavy lifting. With some of the catchiest songs in punk rock, played by one of the funniest bands to come out of the scene, these friendly Canadians sure know how to entertain. We dare you to listen to one of their records without a smile on your face. With the release of 2012, Chixdiggit! continue to triumph and add to their essential catalog of pop- punk gems. Don't miss your chance to celebrate 25 years of Chixdiggit!, as they bring the party across Canada this Fall.

Tour dates :
July 23 – Bengough, SK at The Gateway Music Festival
September 9 – Edmonton, AB at Brixx
September 22 – Ottawa, ON at House Of Targ
September 21 – Montreal, QC, at Petit Campus
September 23 -Toronto, ON at The Bovine Sex Club
September 24 – Toronto. ON at The Bovine Sex Club
September 25 – London, ON at Call The Office
October 14 – Victoria BC at Sugar
October 15 – Vancouver, BC at The Cobalt
November 10 – Regina, SK at The Exchange
November 11 – Winnipeg, MB at The Windsor Hotel
November 12 – Saskatoon, SK at Amigo's
29Jun, 2016
Listen to the new Useless ID album,

NOW

!
Feeling antsy for the holiday weekend to arrive? Not to worry, we have something to tide you over. Today, we are premiering the brand new Useless ID album, State is Burning, in two locations. If you are in North America, head to Fortheloveofpunk. If in Germany, Visions has you covered. State Is Burning is out this Friday, so go listen to this barn burner now! Then, get back here to pre-order your copy. Useless ID will be touring hard this year. To kick things off, they'll join Lagwagon on a massive European tour next month. The rest of the world, stay tuned, as we'll be rolling out loads of dates in the coming weeks! So, what are you waiting for? Go do this!
24Jun, 2016
Direct Hit – Wasted Mind – Out Today!

Direct Hit's debut FAT album is officially out today! Listen to Wasted Mind on Uproxx, Bandcamp, Spotify, or Youtube (above). Read a review or two. Then catch them live this weekend as they'll be performing a trio of record release shows before kicking off a tour next month. Lastly, if you enjoy listening to music like this, then you're going to need the Deluxe Head Shop Package, limited to 300 and including a colored vinyl pressing unique to this set! Watch the unboxing video (below) to see what this is all about.