11May, 2016
Lagwagon announced Europe Tour with Useless ID!
Lagwagon returns to Europe this summer with label-mates, Useless ID! Check the dates, and ticket info here. For those residing int he U.S., you'll have to make your way to Virginia as Lagwagon will be playing at the annual GWAR-B-Q!
09May, 2016
CJ Ramone heading to Europe
CJ Ramone is heading to Europe this summer (dates here), and it's your last chance to catch him supporting his latest record, the stellar Last Chance to Dance. Why? Because CJ is in the studio with his incredible backing band—including Steve Soto and Dan Root of the legendary Adolescents—recording a brand new album! Details and all of that fun stuff to be revealed soon. In the meantime, if you live in the U.S. be sure to catch CJ Ramone on tour this month with Broken Gold.
06May, 2016
Useless ID – New EP out today! New album out July 1st!
Useless ID's brand new, back-to-their-roots album, State Is Burning, will be out on July 1st! State Is Burning marks Useless ID's return to fast, energetic, galloping, youthful punk rock—hardcore punk rock—the music they originally fell in love with and what formed the basis for starting the band in the first place. About the new album, guitarist/vocalist Ishay Berger says, "With our new album, we wanted to share our world as we see it: four punks who have been through it all together, coming from such an unusual place as us, State Is Burning is a love letter to punk rock. It's our 'Fuck Off' to the closed minded, racist, orthodox state of mind. It's also our statement against greedy, hateful, harmful and criminal politicians that still walk proud and in power." Armed with fifteen blistering tracks, Useless ID returned to the legendary Blasting Room with producers Bill Stevenson and Jason Livermore (Descendents, Rise Against, NOFX). The result is a welcome blast of melodic hardcore punk rock, faster and more to-the-point than the band's more recent, introspective output. Fans of Bad Religion and Good Riddance, you'll want to pay attention to this record! Stay tuned for a brand new song premiere and pre-order soon!
Useless ID's brand new EP, We Don't Want the Airwaves, is out today! This EP's title track band's tribute to the Ramones—is about as catchy as a Ramones-influenced punk rock song can be, and a real standout on their kicking new album. All three additional EP songs are exclusive to this release, and since the 7" is limited to only 500 copies, get yours while you still can! Listen on Bandcamp or Spotify now.
Then, check out their upcoming dates (lots more to be announced next week) including a record release show in their home town of Tel Aviv, Israel!
04May, 2016
New Direct Hit song & video!
Wasted Mind, the stunning new Direct Hit album, doesn't come out until June 24th, but today we're amped to present the video for "Artificial Confidence," premiering over at Noisey! Directed by Dan Riesser, the video is an audio/visual roller coaster. Like all good rides, the anticipation of where the journey is heading is as intoxicating as the journey itself. As Nick Woods, guitarist/vocalist relays "This song's about the fleeting, but powerful euphoria of a first high, and the confusion and elation that comes with it. I wanted to write something fast, that sounded like a pop-punk version of The Who with the same kind of big chorus our band likes to go after. Don't really know if we achieved all of that. Maybe you should be the judge." Direct Hit hits the road in July. Don't miss them! Dates below!


6/24 – Madison, WI – The Majestic Theatre
6/25 – Milwaukee, WI – The Metal Grill
7/1 – Chicago, IL – Double Door
7/7 – Cincinnati, OH – Northside Yacht Club
7/8 – Philadelphia, PA – The Pharmacy
7/9 – Boston, MA – Cambridge Elks
7/10 – Brooklyn, NY – Shea Stadium
7/11 – Trenton, NJ Mill – Hill Basement
7/12 – Richmond, VA – Strange Matter
7/13 – Baltimore, MD – Sidebar
7/14 – New York, NY – Black Bear Bar
7/15 – Buffalo, NY – Leopard Lounge
7/16 – Toronto, ON Canada – Bovine Sex Club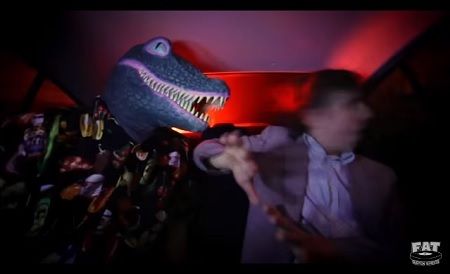 28Apr, 2016
New

PEARS

video is a blast!
Watch an explosive new PEARS video today! The title track, "Green Star," is premiering in two places. Deutschland, go to Visions. For the rest of the world, Substream has you covered. If you haven't grabbed a copy of their latest collection of punk rock fury, you can do so here! Then, check out their tour dates which include a number of festivals, a run with the legendary Subhumans, and a just-announced tour with Valient Thorr! Vocalist, Zach Quinn stated the following: "This is a song that touches on compromising parts of who you are for the sake of survival; becoming your lie so that you may survive. I suppose this video ends with a ceremony of kissing the old you goodbye."