12Aug, 2011
DEAD

TO ME Moscow Penny Ante out Oct 25th!
DEAD TO ME's new full length, Moscow Penny Ante, will be released on October 25th! We're stoked to show you the cover art designed by Ian from DTM (extra points if you can name the building) and you can view the track listing here. DEAD TO ME recently announced tour plans this fall including CMJ and Fest, check the dates here. Moscow Penny Ante was recorded in Chicago by Matt Allison at Atlas Studios. Stay tuned, as we'll release a brand new MP3 soon. Read what Chicken had to say about the lineup change and release below:

Our new record Moscow Penny Ante marks a new page in the story of Dead To Me, and I honestly couldn't be more proud of it. It's a privilege to get to make a new full length record with the new members of our band, and their addition to the song writing process has helped for sure. After spreading our wings a little bit on the last album, African Elephants, we ended up writing a much more cohesive, focused batch of songs this time around. I will always love experimenting musically with Dead To Me, and I am very proud that we remain a band that can't be summed up or pigeon holed with a few " they sound like…" references. However this new record marks a bit of a return sonically to the songs I was writing when I first started the band years ago. The title "Moscow Penny Ante" is a double meaning of sorts. Malcolm X used to refer to small time hustlers and criminals that were scraping out an existence in the Harlem of his early adulthood as "Penny Ante" crooks. Not really big time enough to be taken seriously by the big time gangsters and organized crime members of the era. We felt this term had a proper analogy to our place in the music "industry". We scrape by and do what we can, but we think we run a pretty good hustle as it were. Hell, it got me all the way from the tiny dirt road I grew up on to Moscow. Who would have thought?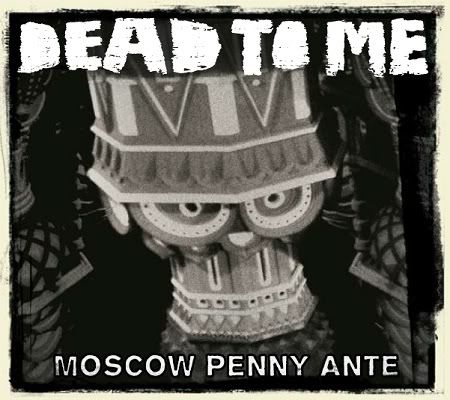 10Aug, 2011
Banner Pilot – Heart Beats Pacific out October 25th!
You heard it right, we'll release Banner Pilot's third full length Heart Beats Pacific on October 25th! Check the cover art below and view the track listing here. Banner Pilot will perform at Riot Fest this October and head to CMJ and Fest with Dead To Me! View their tour dates here. Read what Nate from Banner Pilot had to say about the release below.
When we started working on the followup to Collapser, we thought, "How can we expand our musical horizons? How can we take simple three chord punk rock and elevate it to a more daring level, adding new atmospherics and embracing additional instruments and styles in a way that makes a bold statement about the possibilities that exist in our collective musical language?"

Then we thought, "Wow, we sound like idiots. How about we not do that?" Instead, we stuck to what we know and came up with 11 songs of melodic punk rock. Sometimes fast, sometimes a little more mid-tempo, hopefully always catchy. We did try some new things, but never in a way that'll make you grimace and say, "Oh man, really?" We're not reinventing the wheel on this album. We're just adding some new touches to the wheel—-say, putting spinners on it—-to make it extra awesome.

Is it safe to say that our new album Heart Beats Pacific is like Collapser on steroids, in the sense that we beefed up the songs and suffered absolutely no adverse side effects in the course of doing so? Yeah, I think it's safe to say that. We're all really excited about the songs on this record, and how the record ended up sounding, and we hope you like it too.

-Nate
09Aug, 2011
Flatliners Count Your Bruises preorder!!
04Aug, 2011
STAR

FUCKING

HIPSTERS

From the Dumpster To the Grave out October 11th!
On October 11th we're releasing the Star Fucking Hipsters' From the Dumpster To the Grave. Their 3rd full length sees the existing line-up (including members of LOC, Ensign, and World Inferno Friendship Society) expand with the addition of Mikey Erg (The Ergs!) on drums and Kelsey (Chump Change) on co-lead vocals. Check out the cover art below and stay tuned as we'll premiere a brand new track soon! Check out their website here.
02Aug, 2011
So this is out today:
ADD

PICTURE

DISC

TO

CART
ADD

BLACK

7" TO

CART
ADD

BLACK

10" TO

CART
Read a review
Go see 'em on tour!
FAT WRECK CHORDS | 2196 Palou Ave. | San Francisco, CA 94124
Copyright © Fat Wreck Chords. All rights reserved.