13Jul, 2011
COBRA

SKULLS

release Agitations on September 27th!
On September 27th we're releasing a new full length from the Cobra Skulls titled Agitations. Comprised of 13 tracks that clock in under 30 minutes it will be their quintessential album to date. Check out the cover art for Agitations and head over to their brand new website! Follow the Cobra Skulls on twitter as we'll be announcing a full U.S. tour soon.
Here's what singer/songwriter Devin Peralta has to say:
In the past I've always written songs sporadically and when it seemed as though a song wanted to write itself, but for our new album, Agitations, the process was a little different because time was a bit of a constraint.
We finished a short tour in February and then I had less than a month to write an entire album. Solitude was definitely a necessity for me to write, even more so than usual, so I moved into a cheap, dirty, weekly motel in Reno (in a room I was told was used for an upcoming film based on the book "The Motel Life") where I could concentrate, undisturbed.
The result is 13 songs, most of which are amalgams of a score of ideas for songs that had amassed in my mind over the past couple years that I somehow managed to store in my ever-increasingly faulty memory. After three weeks of motel life, I checked out and got together with Adam and Luke. We rehearsed for 8 days before driving to Motor Studios in San Francisco where we had three weeks to record – more than we've ever had before.
A couple of days into recording, Fat Mike came by for a few hours. I played him some of the songs on acoustic guitar. He liked a couple, but said that he thought we weren't ready to record. Discouraging for some, I think it was actually a good motivation for us to make the best Cobra Skulls album to date…and wouldn't you know it? I just heard from him yesterday after he listened to the mixes and he said it's our "best album". I'm not really sure he's heard both of our other ones, though, so that has to be taken with a grain of salt, but still, it's a good sign, eh? I for one have never heard of a band to come out of the studio and not think they just made their best album, so it might not mean much that I, too, think this is our best album yet, but I do! The album is called Agitations, because most of the songs are lyrically concerned with, well, things that agitate and bother me. Things like prisons that are operated like businesses in an ever increasingly xenophobic and paranoid post 9/11 society, U.S.
11Jul, 2011
Me First and the Gimme Gimmes Sing in Japanese out September 13th!
Me First and the Gimme Gimmes Sing in Japanese will be released on September 13th. The EP marks the Gimmes first foray into singing in a foreign language (Japanese, if you hadn't figured that out from the title), as they put their trademark twist on 6 hits from the land of the rising sun. The EP will be available on CD, 12" vinyl and digitally. To find out how Spike tackled the process of recording and learning Japanese, read this! Check out the cover art and new show date below. Stay tuned as the Gimmes will be adding more Japanese tour dates soon.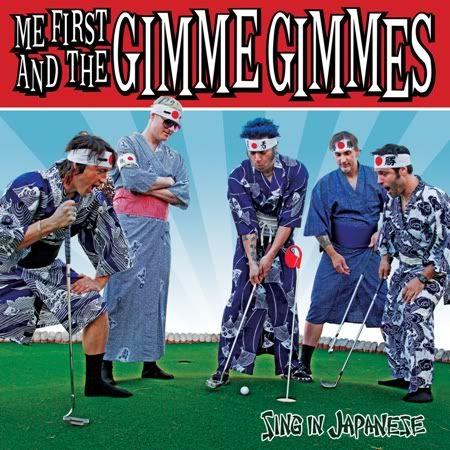 09/18/11 Yokohama, Japan Yokohama Stadium w/ Hi Standard, Sublime with Rome
06Jul, 2011
NOFX

PREORDER

NOW

+

DIY

NOFX

T-

SHIRT

!
The NOFX hardcore covers release comes out 8/2/2011. Preorder has begun and will ship late July. In addition to the 10" we also have available a limited color and black 7", awesome limited 12" picture disc with the back image assembled by Eric Melvin. We're also selling a super limited NOFX DIY T-shirt and giving away a free sticker with any format purchased. Get it all now (and don't forget to buy us a beer when you checkout)!
05Jul, 2011
The Flatliners Count Your Bruises 7" out August 16th! Free download!
On August 16th we're releasing a new 7" from The Flatliners entitled Count Your Bruises. This three song single will be available digitally and on vinyl (including exclusive colors for the Fat webstore and the band on tour). The a-side "Count Your Bruises" is the 3rd single from the Cavalcade album and you can download it for free right here! The two songs on the b-side are from the same recording session and recently received the finishing touches. The cover art is designed by Richard Minino of The Black Axe and you can view it below.


1: Count Your Bruises
2: Sticky Bastards
3: This Guy Reads From a Card

Flatliners are heading to Europe, check the dates here!
21Jun, 2011
Ellwood Lost In Transition out now!
Dig your feet into the sand and bust out those cold beers because Ellwood's Lost In Transition is out today! Filled with hooky punches of reggae infused with ska these pot smoking lads know how to celebrate and it's no coincidence that their debut full length dropped on summer solstice (the longest day of the year). Click here to download "Mag Girl" for free! listen to the full album and read a new review. Read what Chuck has to say about each track here.
ADD

TO

CART
FAT WRECK CHORDS | 2196 Palou Ave. | San Francisco, CA 94124
Copyright © Fat Wreck Chords. All rights reserved.