Me First and the Gimme Gimmes Sing in Japanese will be released on September 13th. The EP marks the Gimmes first foray into singing in a foreign language (Japanese, if you hadn't figured that out from the title), as they put their trademark twist on 6 hits from the land of the rising sun. The EP will be available on CD, 12" vinyl and digitally. To find out how Spike tackled the process of recording and learning Japanese, read this! Check out the cover art and new show date below. Stay tuned as the Gimmes will be adding more Japanese tour dates soon.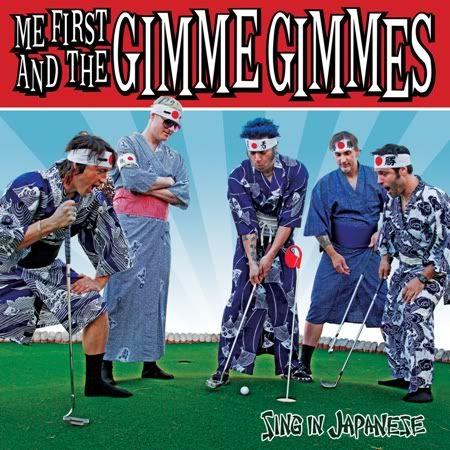 09/18/11 Yokohama, Japan Yokohama Stadium w/ Hi Standard, Sublime with Rome
The NOFX hardcore covers release comes out 8/2/2011. Preorder has begun and will ship late July. In addition to the 10" we also have available a limited color and black 7", awesome limited 12" picture disc with the back image assembled by Eric Melvin. We're also selling a super limited NOFX DIY T-shirt and giving away a free sticker with any format purchased. Get it all now (and don't forget to buy us a beer when you checkout)!
On August 16th we're releasing a new 7" from The Flatliners entitled Count Your Bruises. This three song single will be available digitally and on vinyl (including exclusive colors for the Fat webstore and the band on tour). The a-side "Count Your Bruises" is the 3rd single from the Cavalcade album and you can download it for free right here! The two songs on the b-side are from the same recording session and recently received the finishing touches. The cover art is designed by Richard Minino of The Black Axe and you can view it below.


1: Count Your Bruises
2: Sticky Bastards
3: This Guy Reads From a Card

Flatliners are heading to Europe, check the dates here!
Dig your feet into the sand and bust out those cold beers because Ellwood's Lost In Transition is out today! Filled with hooky punches of reggae infused with ska these pot smoking lads know how to celebrate and it's no coincidence that their debut full length dropped on summer solstice (the longest day of the year). Click here to download "Mag Girl" for free! listen to the full album and read a new review. Read what Chuck has to say about each track here.
ADD

TO

CART
NOFX have announced a northeast tour this October with Anti-Flag and fellow label mates Old Man Markley. Additionally, there are two make up shows with The Bouncing Souls which were cancelled earlier this year in Charlotte, NC and Norfolk, VA. Check out the dates below!
10/06/11 Boston, MA House of Blues w/ Anti-Flag, Old Man Markley
10/07/11 New York, NY Fillmore at Irving Plaza w/ Anti-Flag, Old Man Markley
10/08/11 New York, NY Fillmore at Irving Plaza w/ Anti-Flag, Old Man Markley
10/10/11 Sayreville, NJ Starland Ballroom w/ Anti-Flag, Old Man Markley
10/11/11 Allentown, PA Crocodile Cafe w/ Anti-Flag, Old Man Markley
10/12/11 Cleveland, OH House of Blues w/ Anti-Flag, Old Man Markley
10/14/11 Chicago, IL House of Blues w/ Anti-Flag, Old Man Markley
10/15/11 Chicago, IL House of Blues w/ Anti-Flag, Old Man Markley
10/16/11 Detroit, MI Fillmore w/ Anti-Flag, Old Man Markley
10/18/11 Philadelphia, PA UK Theater of Living Arts w/ Anti-Flag, Old Man Markley
10/19/11 Philadelphia, PA Theater of Living Arts w/ Anti-Flag, Old Man Markley
10/21/11 Charlotte, NC Fillmore w/ Bouncing Souls, Anti-Flag, Old Man Markley
10/22/11 Norfolk, VA Norva w/ Bouncing Souls, Anti-Flag, Old Man Markley