22Jun, 2012
New Teenage Bottlerocket song!
Get your FREAK on because Teenage Bottlerocket's Freak Out! comes out on July 3rd! Alternative Press is premiering a brand new track titled "Maverick" and you can listen to it here. If you were an 80's kid, your love for Top Gun was real, and TBR are no different. Read what Ray from Teenage Bottlerocket had to say about what inspired the song below! The Freak Out! tour begins July 18th in Fort Collins and you can view the rest of their tour dates here. Order your copy of Freak Out! now.
Time to buzz the tower… First off, Top Gun is a horrible movie. So why the heck did we write a song about it? Well, if you are anywhere from 10-100 years old, and you've lived in the US for at least a few months, you have involuntarily watched the crummy thing 55 times. Despite the film's flaws, we've always had a tendency to quote it here and there amongst the band. The first line from the song, "You say its not my flying, it's my attitude" is taken from Val Kilmer's character Ice man. While we are on the road together, we use that line quite a bit while giving each other a hard time. "it's not this traffic, it's your attitude" "It's not your social skills, it's your attitude" "It's not your crabs, it's your attitude" You get it.
Anyway, how did this "Maverick" song come about?
Brandon came up to me, and said "that movie 'Overboard' with Kurt Russell cracks me up, we should write a song about it!" I said, "you're right that show's hilarious, but we should write a song about Top Gun, we quote it enough." He liked the idea, so we started compiling what quotes in the movie we thought were funny. The result? Well, maybe we should have written a tune about a good movie… like Time Bandits.
20Jun, 2012
NOFX

!
September looks to be a doozy. Not only is the new NOFX full length coming out but they've been added to RIOT FEST with fellow labelmates Descendents and Teenage Bottlerocket. Check the full listing of bands below and click here to get your tickets. And to boot, NOFX has booked additional tour dates with Teenage Bottlerocket supporting.
And for those constantly on the prowl to catch Dillinger Four live (we're looking at you Todd & Floyd), now is your chance! They're playing with NOFX in Minneapolis! Seeing Double at the Triple Rock anyone? Hello hangover. Stay tuned as we'll be adding more NOFX dates soon.
19Jun, 2012
Tony Sly & Joey Cape – Acoustic Volume 2 out today!
Tony Sly & Joey Cape Acoustic Volume 2 is out today and available digitally, on vinyl and CD by clicking here. Joey's side features five acoustic Lagwagon songs and a new tune while Tony performs five stripped down NUFAN numbers and his own song. Since it's release day, we're making two tracks off this release available for free! You can download Joey Cape's "I Must Be Hateful", an acoustic rendition of the much loved deep cut from Lagwagon's Blaze album here. And, download Tony Sly's acoustic version of "Chasing Rainbows," the classic NUFAN song from the 1999 album More Betterness. Read a review and click here to enter a contest for your chance to win Acoustic Volumes 1 & 2! Don't miss this talented duo, we've announced summer dates!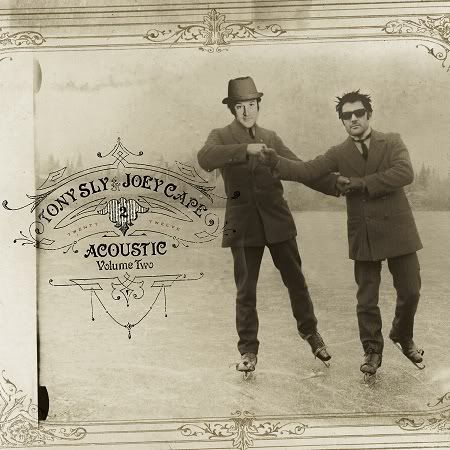 15Jun, 2012
FAT

RECORD

STORE

–

BLAND

OPENING

!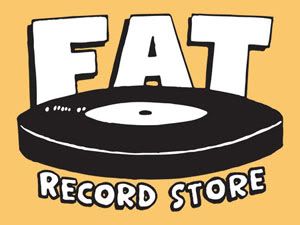 Who says brick & mortar stores are dead? Most people, that's who. And they're pretty smart people. Apparently we're not: it's 2012, and Fat is opening a record store. Sort of. Once in a while. Starting next Friday, June 22nd from 1pm to 5pm (PDT, duh) and about twice a month from then on, or whenever we feel like it, we'll be opening our doors to you lot. Bad decision? Probably. Unmitigated disaster? Possibly. A nice buzz? Definitely. We'll have the entire Fat catalog of course, some colored vinyl you may have missed, some rare old stuff, some fancy new merchandise, and all without giving any money to the postal service! Plus, we'll be drinkin' beer while you shop. We might even let you have a sip if you're nice…
And I can't believe we're about to do this, but here goes, our address is… 2196 Palou Ave in San Francisco. We'd give you directions but we're lazy. Google map that shit and come on by next Friday between 1 and 5 with cash or card. And by the way, if you show up ANY time other than that, you will be banned! No Tuesday drop-in's, no Friday at 10AM bullshit. Friday between 1 and 5 ONLY! Please respect our neighbors and our block.

13Jun, 2012
New Tony Sly song!
Head over to Absolutepunk to hear Tony Sly's brand new acoustic version of "Chasing Rainbows," the classic No Use For A Name song from the 1999 album More Betterness. The track appears on the upcoming Tony Sly/Joey Cape split release Acoustic Volume 2, out June 19th.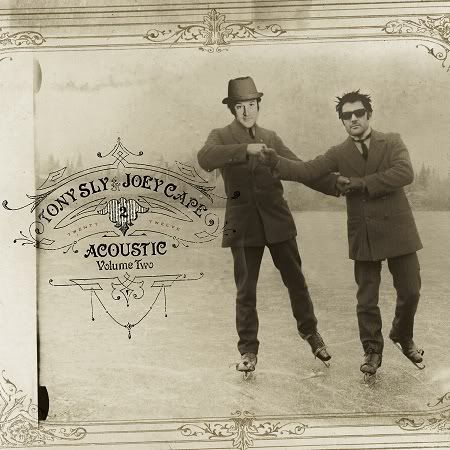 Read this in-depth interview with the gents and stay tuned for tour dates!