17Jul, 2012
Swingin' Utters in the studio!
Since the early 90's, hell man, the Swingin' Utters have been the shit. Beyond cool, a little scary, and dripping with talent. After the Dead Flowers record in 2003, the band took time to have families, pursue different bands and while always being somewhat active, there was definitely a lull. 2010 saw the band returning with two new 7"s and a ton of touring, with a full length released in 2011 titled Here, Under Protest. And now, the band is currently in the studio recording ANOTHER album! It is safe to say the band has returned with more than a little gusto. We're talking about Darius Koski, who's been writing like a madman, a permanent new bass player, Miles Peck, singer Johnny Bonnel, who has his own design and silk screening business, drummer Greg McEntee, and then there's the addition of Jack Dalrymple! Remember him from One Man Army, Dead To Me? Yeah, well he's been in the band for years now, but writing for the band for the first time! Swingin' Utters, if you have any coolness in you, should be one of your favorite bands. If not, pick up their records here and get ready for a new 7" this Fall and a new full length early next year. Read this in-studio interview with Darius, and watch the in studio video below!
12Jul, 2012
New Morning Glory song and Preorder!
Morning Glory's debut Fat full length, Poets Were My Heroes, will be released on August 28th! A cathartic audio voyage from beginning to end. The album contains so many crescendos and opposing moments of reflection that when it came time to decide on which song best represented the album, we debated, hard…everyone had a favorite; but we settled on "Patiently" which does a nice job of representing the album as a whole. The verse is powered by strings (which is definitely different) and then the chorus brings a rollicking anthemic melody. It's almost like a microcosm of the entire album. So, download it here, order your copy and get stoked to see them live! Preorders will receive a digital download link via email a week before release date. Read what Ezra from Morning Glory had to say about the song below:
Patiently… This is a kick ass song with a beautiful string section and it was one of the last songs we tracked for the new record; in part because it took a bit to save up for the string quartet. The words, especially the second verse, were written about an ex-gf who liked to destroy things, especially us. I hope she reads them one day. I really like this song, it's got a beautiful staggered vocal section, a la "row, row, row your boat", at around the 3 minute mark, which thoroughly frustrated Caleb, our violinist during the recording. This must be a great song cuz Fat picked it as the free download. It has a great melody and a lyrical tone which begs hope for everyone who feels like they do everything right even when no one is looking. We'll definitely be playing it on our upcoming tour. In short, the whole record fucking sways and rocks and this is a good example of that cross section.
-Ezra Arrow Kire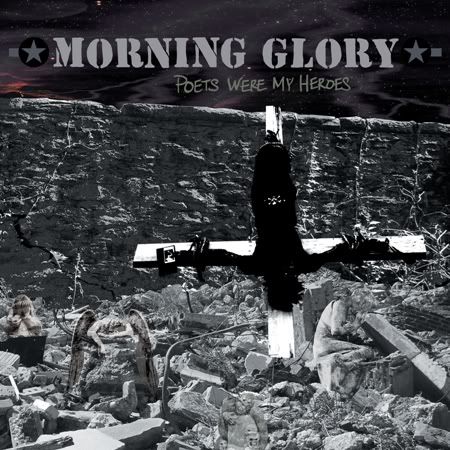 05Jul, 2012
NOFX

7" out August 14th!
On August 14, 1986, errr, 2012, we'll be releasing a brand new NOFX single called Ronnie & Mags. The 7" features two brand new songs, one from the upcoming full-length and one exclusive to this limited edition 7". And it's available for pre-order now! Check out the art of Ronnie grabbing Maggie's cheek below and you'll get an idea of the context of the a-side, Ronnie & Mags, a real throwback to 80's punk. The b-side features a demo version of a new song NOFX have been playing live, I Believe in Goddess. This 7" is limited to 5000 copies total, including a limited color pressing available while supplies last. And from the Fat webstore, you'll receive a digital download a week prior to release date with your 7" order. If you just want the music but don't care about the plastic, you can pre-order the digital version for only $2.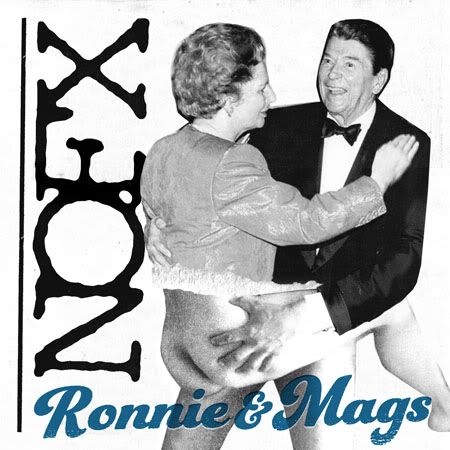 NOFX tour dates!
03Jul, 2012
Teenage Bottlerocket – Freak Out Today!
Teenage Bottlerocket's FREAK OUT! is available digitally, on vinyl and CD today! Listen to a full album stream, download Done With Love and read a new interview. The Freak Out! tour begins July 17th in Steamboat Springs, CO. Then, the next day's record release show in Fort Collins is free! So yeah, FREAK OUT! And check their tour dates here.
Read a new review and click here to enter a contest.
29Jun, 2012
Teenage Bottlerocket – "Done With Love" Song Premiere!
Rolling Stone is premiering a brand new track "Done With Love" off Teenage Bottlerocket's upcoming full length, Freak Out! TBR's fifth studio album will be released on July 3rd and you can order your copy here!
Check out Teenage Bottlerocket's tour dates here!