22May, 2012
NOFX

return to South America!
Get ready South America! NOFX is heading your way in July! You may recall the madcap riot that accompanied their last trip to Colombia… if you've lost too many brain cells over the last year to remember, watch Fat Mike talk about it here. To kick off their South American tour, NOFX will perform at the largest free festival in Colombia, Rock al Parque. Then they'll head to Chile, Argentina and Brazil. Oh, did we mention they're bringing their cameramen with them again? You heard it right – it's the same dudes who filmed NOFX: Backstage Passport. This trip will conclude filming of Backstage Passport 2 which will feature exciting locations such as: Mexico City, Monterrey, Panama City, Lima, Peru, Buenos Aires and more. While we're on a NOFX kick, check out all their tour dates which include Europe and Riot Fest in Chicago.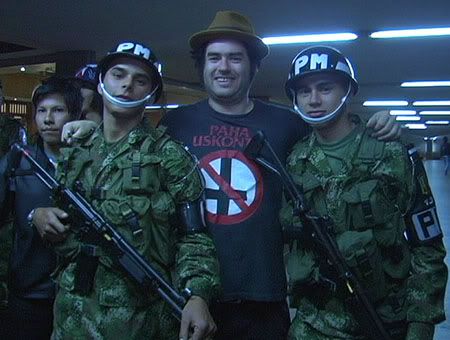 22May, 2012
Pre-order Teenage Bottlerocket Freak Out! now!
Teenage Bottlerocket's latest pop-punk masterpiece, Freak Out! comes out on July 3rd, but you can pre-order the album on LP, CD or digital format, straight from the source, right now! And with the new Fat Digital Store, when you order the record on a physical format, you will be e-mailed a link to download a digital copy of the album ONE WEEK before release date. If you order the digital album for only $8, same thing, you'll get your download a week early. With songs like Headbanger, Cruising for Chicks, Necrocomicon, and Radical, how can you possibly go wrong? This is TBR's best record yet. Get it now.
And we've got some killer combos for you too. Pick up a copy of Freak Out! on colored vinyl +digital along with a t-shirt & 12" bumper sticker for only $28. Or get it on CD +digital with the t-shirt & bumper sticker for only $22. Or streamline it all and get a shirt & digital album for just $20.

15May, 2012
Brand new

NOFX

single – preorder

NOW

!
NOFX just wrapped up the recording of their new album. While that won't be released until the fall, we've got a brand new single to tide you over til then: My Stepdad's a Cop and My Stepmom's a Domme out June 19th. Two brand new NOFX songs, recorded a couple months before they began work on the new album.
And since the Fat Digital Store officially launched last week, we're gonna put it to good use. When you pre-order your copy of the NOFX single on vinyl, you'll get an instant download of the 2 new songs! Or if you don't need more plastic in your life, you can get the 2-song digital single for $2, exclusively in the Fat Store.
Better yet, we have a sweet combo package for you that includes an instant download, a black 7", T-shirt and a NOFX 45 adapter (did we mention this is a big-hole 45?). Or if you prefer, just a T-shirt and download. Oh, one more thing, start looking for flights to San Francisco as we'll have 100 special color 7"s only available in our forthcoming record store!
10May, 2012
FAT
WRECK
CHORDS
DIGITAL
STORE
Buy direct! Save money! Support the punx!

As per usual at Fat Wreck Chords, we're staying ahead of the trends. Music not on plastic or vinyl discs? Interesting. We thought we should get in on the ground floor of this new technology. Oh wait, shit. Well, better late than never: it's official, the Fat Wreck Chords Digital Store is open for business.
Why?
- Quality: All of our mp3's are ripped at 320 kbps using a top quality encoder.
- Price: Our digital albums are only $8, and EP's at least a buck less than anyone else
- Physical+Digital: When you order a record or CD, you get an instant download with it
- Rarities: Lots old singles & EP's available digitally for the first time, not available elsewhere
- Exclusives: In the future, we'll have exclusive releases & bonuses!
Last but not least, no longer will a merciless child-labor employing corporate monolith be taking a bite out of the fruits of your labor; your money is going directly into Fat Mike's wallet… which he uses to put out new records from bands you love, pay those bands, pay the Fat staff and of course, buy beer.
So have a look around and pick up that Horace Pinker 7" you've been meaning to buy for years.
24Apr, 2012
126 Inches of

NOFX

– out now!
So today is the "official" release date for the brand new NOFX 7" box set, 126 Inches of NOFX (that's 320 centimeters for those with metricidal tendencies). Not that the release date matters, since most of you have probably already snagged your copy of the special edition (1,200 pressed) from our webstore or the standard edition (1,800 pressed) from your local record store or elsewhere online. If you've been hittin' snooze, you still have a chance to not lose. Record stores will have them stocked, and we still have the standard edition available from our webstore.