12Jul, 2012
New Morning Glory song and Preorder!
Morning Glory's debut Fat full length, Poets Were My Heroes, will be released on August 28th! A cathartic audio voyage from beginning to end. The album contains so many crescendos and opposing moments of reflection that when it came time to decide on which song best represented the album, we debated, hard…everyone had a favorite; but we settled on "Patiently" which does a nice job of representing the album as a whole. The verse is powered by strings (which is definitely different) and then the chorus brings a rollicking anthemic melody. It's almost like a microcosm of the entire album. So, download it here, order your copy and get stoked to see them live! Preorders will receive a digital download link via email a week before release date. Read what Ezra from Morning Glory had to say about the song below:
Patiently… This is a kick ass song with a beautiful string section and it was one of the last songs we tracked for the new record; in part because it took a bit to save up for the string quartet. The words, especially the second verse, were written about an ex-gf who liked to destroy things, especially us. I hope she reads them one day. I really like this song, it's got a beautiful staggered vocal section, a la "row, row, row your boat", at around the 3 minute mark, which thoroughly frustrated Caleb, our violinist during the recording. This must be a great song cuz Fat picked it as the free download. It has a great melody and a lyrical tone which begs hope for everyone who feels like they do everything right even when no one is looking. We'll definitely be playing it on our upcoming tour. In short, the whole record fucking sways and rocks and this is a good example of that cross section.
-Ezra Arrow Kire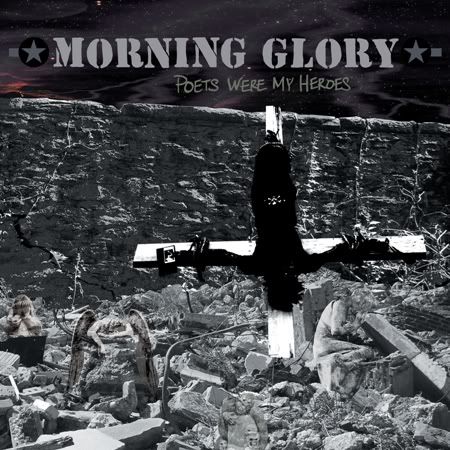 05Jul, 2012
NOFX

7" out August 14th!
On August 14, 1986, errr, 2012, we'll be releasing a brand new NOFX single called Ronnie & Mags. The 7" features two brand new songs, one from the upcoming full-length and one exclusive to this limited edition 7". And it's available for pre-order now! Check out the art of Ronnie grabbing Maggie's cheek below and you'll get an idea of the context of the a-side, Ronnie & Mags, a real throwback to 80's punk. The b-side features a demo version of a new song NOFX have been playing live, I Believe in Goddess. This 7" is limited to 5000 copies total, including a limited color pressing available while supplies last. And from the Fat webstore, you'll receive a digital download a week prior to release date with your 7" order. If you just want the music but don't care about the plastic, you can pre-order the digital version for only $2.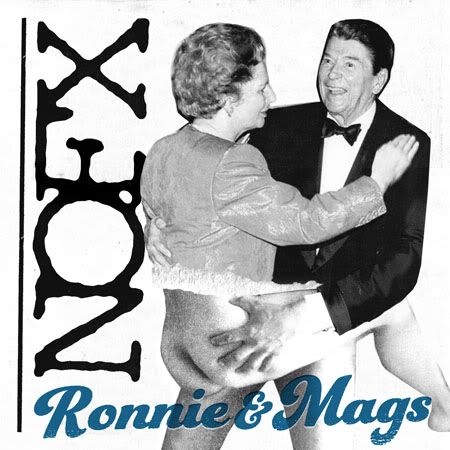 NOFX tour dates!
03Jul, 2012
Teenage Bottlerocket – Freak Out Today!
Teenage Bottlerocket's FREAK OUT! is available digitally, on vinyl and CD today! Listen to a full album stream, download Done With Love and read a new interview. The Freak Out! tour begins July 17th in Steamboat Springs, CO. Then, the next day's record release show in Fort Collins is free! So yeah, FREAK OUT! And check their tour dates here.
Read a new review and click here to enter a contest.
29Jun, 2012
Teenage Bottlerocket – "Done With Love" Song Premiere!
Rolling Stone is premiering a brand new track "Done With Love" off Teenage Bottlerocket's upcoming full length, Freak Out! TBR's fifth studio album will be released on July 3rd and you can order your copy here!
Check out Teenage Bottlerocket's tour dates here!
22Jun, 2012
New Teenage Bottlerocket song!
Get your FREAK on because Teenage Bottlerocket's Freak Out! comes out on July 3rd! Alternative Press is premiering a brand new track titled "Maverick" and you can listen to it here. If you were an 80's kid, your love for Top Gun was real, and TBR are no different. Read what Ray from Teenage Bottlerocket had to say about what inspired the song below! The Freak Out! tour begins July 18th in Fort Collins and you can view the rest of their tour dates here. Order your copy of Freak Out! now.
Time to buzz the tower… First off, Top Gun is a horrible movie. So why the heck did we write a song about it? Well, if you are anywhere from 10-100 years old, and you've lived in the US for at least a few months, you have involuntarily watched the crummy thing 55 times. Despite the film's flaws, we've always had a tendency to quote it here and there amongst the band. The first line from the song, "You say its not my flying, it's my attitude" is taken from Val Kilmer's character Ice man. While we are on the road together, we use that line quite a bit while giving each other a hard time. "it's not this traffic, it's your attitude" "It's not your social skills, it's your attitude" "It's not your crabs, it's your attitude" You get it.
Anyway, how did this "Maverick" song come about?
Brandon came up to me, and said "that movie 'Overboard' with Kurt Russell cracks me up, we should write a song about it!" I said, "you're right that show's hilarious, but we should write a song about Top Gun, we quote it enough." He liked the idea, so we started compiling what quotes in the movie we thought were funny. The result? Well, maybe we should have written a tune about a good movie… like Time Bandits.