05Nov, 2012
Cobra Skulls try stripping in Vegas!
Stripping down to their acoustic guitars, that is. What did you think we meant? Come on! Devin and Tony are handsome guys, but one look they can't pull off is clear six inch heels. Luckily for you we were referring to a punksinvegas.com acoustic performance they recently did of their latest release Eagle Eyes. Watch them belt out all three songs from the 7" below. And, if you want to picture Devin on a stripper pole while you watch, well… who are we to stop you?
24Oct, 2012
Snuff 5-4-3-2-1… Perhaps? Out today digitally!
You heard it folks, after a 10 year wait SNUFF returns with a brand new full length titled 5-4-3-2-1… Perhaps? Pre-order it now and you'll immediately receive a digital copy. Say what?!? That's right-though the release date isn't until early next year, we're jumping the gun and delivering the digital version of the full length immediately with the pre-order. We're so good to you. So what are you waiting for? Grab it now!
23Oct, 2012
NEW

COBRA

SKULLS

VIDEO

!
Cobra Skulls are tearing it up on tour in support of their latest release, Eagle Eyes. Grab it here if you haven't done so, and head over to their website to watch their brand new video! Read what singer, Devin had to say about the single, and below that, his take on making the video. Enjoy, and hopefully we'll see you at FEST!
"Luke and Tony and I are very proud of the new 7" single, Eagle Eyes. We worked on these songs for quite a while and the writing process was more collaborative than ever. Since Adam is not in the band anymore a lot of people, understandably, have been wondering what CS will now be like, so we wanted to record some new stuff and get it out there for a little taste. As the last remaining original member I honestly believe Cobra Skulls is better than ever. Now, if you know anything about CS, you know that we've always put out quite an eclectic mix of styles of music, so I wouldn't look at these three songs necessarily as an indicator of a new direction CS is headed in, but more of an indicator of the new dynamics of the band that will certainly carry through to whatever we do in the future."


"A lot of you have been asking for a new music video from Cobra Skulls and we finally got the time and resources to make a proper one for Eagle Eyes. We shot the whole thing over the course of a couple days around our home, San Francisco (including on location at one of our favorite hangouts). We're pretty stoked with how it turned out thanks to director Jesse Cudworth, the Knockout and the friends that came to play a part. Hope you enjoy!"
-Devin
16Oct, 2012
Greetings and Salutations out today!
It is Less Than Jake mayhem! Last week we re-released Borders & Boundaries, and today we release Greetings & Salutations digitally! It is a one-two punch cementing them back into the Fat family fold(s). Head over here to pre-order the CD or LP now and you'll immediately receive a digital copy. We'll be mailing out CD's and LP's as soon as we get them in early December ahead of the January street date. As we mentioned in our earlier post, the band assembled their two recent tour EP's, added two previously unreleased bonus tracks, and re-sequenced everything into one cohesive record, Greetings & Salutations. Don't miss them on tour, check their dates here!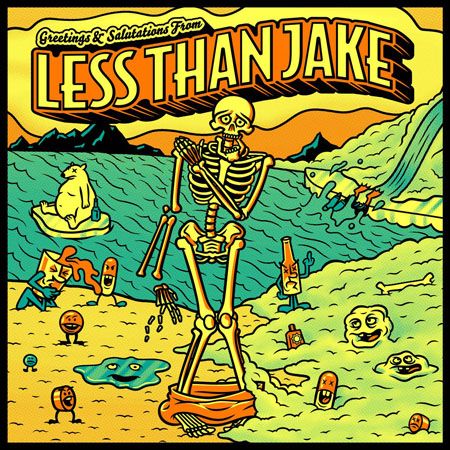 15Oct, 2012
Fat Music for Fest People II
The countdown is on for our annual trek to Gainesville, FL to attend The Fest! We've made some merch, and we'll be slinging it in-person at the Fest 11 Flea Market, 11 days from today! So, come hang out and grab our Fest-exclusive record containing 11 songs from Fat's 2012 releases (and one from 2013!). Be prepared for a variety of killer colored vinyl variations (with quantities in multiples of 11, of course!), and exclusive blue ribbon artwork from our Black Axe buddy Richard Minino. This 10" is a super limited pressing, and will only be sold on Friday from 12-6PM!