29Jan, 2013
OLD

MAN

MARKLEY

ANNOUNCE

TOUR

WITH

DROPKICK

MURPHYS

!
Rising "newgrass" band Old Man Markley will join Boston punk heroes Dropkick Murphys on a U.S. tour beginning February 21st in Cleveland, OH. The LA based septet will be touring in support of their recently announced, sophomore album, Down Side Up, which is scheduled for release on March 5th via Fat Wreck Chords. Head over here to download the new single, "Blood on My Hands," for FREE and in case you missed our news post yesterday, you can pre-order Down Side Up now!
Old Man Markley Tour Dates (w/ Dropkick Murphys):
Feb 21 – Cleveland, OH – House of Blues
Feb 22 – Chicago, IL – Aragon Ballroom
Feb 24 – St. Paul, MN – The Myth
Feb 26 – Dallas, TX – House of Blues
Feb 27 – Austin, TX – Stubb's Waller Creek Amphitheatre
Feb 28 – Houston, TX – House of Blues
Mar 2 – Lake Buena Vista, FL – House of Blues
Mar 3 – St. Petersburg, FL – Jannus Live
Mar 4 – Atlanta, GA – Tabernacle
Mar 5 – Charlotte, NC – The Fillmore
Mar 6 – Norfolk, VA – The NorVa
28Jan, 2013
SWINGIN'

UTTERS

&

OLD

MAN

MARKLEY

PRE

-

ORDER

!
Both of these brand new records are available for pre-order now! Order them together to save yourself a few bucks on shipping, but importantly to save us time packing them. Check out the killer new Swingin' Utters song and interview over at the San Franscisco Weekly. And check back later in the week for some big Old Man Markley news and a new song!
24Jan, 2013
NEW

SWINGIN'

UTTERS

SONG

!
San Francisco Weekly is premiering a brand new Swingin' Utters song: Stuck in a Circle. Culled from their new album Poorly Formed, out February 19th, the song is a perfectly formed exercise in dynamic songwriting, melding serene verses with gritty choruses and catchy melodies. This Darius Koski penned and sung tune is the flipside of the Swingin' Utters' coin, the perfect complement to Johnny Bonnel and Jack Dalrymple's The Librarians Are Hiding Something. View their upcoming tour dates below and stay tuned for the album pre-order sometime next week!
02/16/13 Santa Cruz, CA at Catalyst RECORD RELEASE!
02/23/13 Sacramento, CA at Blue Lamp
02/24/13 San Francisco, CA at Slim's
02/27/13 Eugene, OR at John Henry's
02/28/13 Portland, OR at Hawthorne Theatre
03/02/13 Seattle , WA at The Highline
03/03/13 Vancouver, BC Canada at Rickshaw Theatre
03/05/13 Edmonton, AB Canada at The Pawn Shop
03/06/13 Calgary, AB Canada at Dickens Pub
03/08/13 Boise , ID at The Venue
03/09/13 Salt Lake City, UT at Burt's Tiki Lounge
03/10/13 Denver, CO at Marquis Theatre
03/13/13 Scottsdale, AZ at Pub Rock
03/15/13 San Diego, CA at The Casbah
16Jan, 2013
OLD

MAN

MARKLEY'S

DOWN

SIDE

UP

OUT

MARCH

5th!
We're thrilled to announce that on March 5th we'll release Old Man Markley's sophomore album, Down Side Up! These hard working critters really do live on the road. With their extensive touring over the past few years, they've shared the stage with the likes of NOFX, Against Me!, Social Distortion and more. But that isn't even the most interesting part about these folks. Old Man Markley love to play live, anywhere, anytime and the proof is in the pudding. Check out this list: Stagecoach, Fun Fun Fun, Hootenanny, and our favorite: Capay Tomato Fest! Anyway, we love that because we enjoy a band that excels at doing what bands should: touring and making music. Fun! No primadonnas here. Have you seen their traveling tour bus? Crampy. But that shows you their love—basically they have zero privacy 360 days out of the year. What that delivers is a cohesive, foot tapping, stomping, 13 song album titled Down Side Up, produced by Fat Mike and singer, Johnny Carey. Read what Katie Weed had to say below.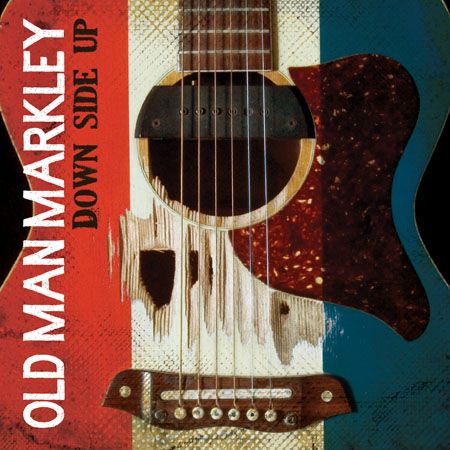 The songs on "Down Side Up" are the result of a wonderful confluence of things: of touring for years and waking up together in cities across the world, of discovering new worlds while still missing home, of stories that we've wanted to tell for ages, of melodies that permeated our minds and then soundchecks, and of songs that took shape and life truly as a collaboration between band members. Fat Mike and Johnny worked closely with the band to produce what we think is the best album we've ever been a part of. And it happened to be recorded in the same room where we used to burn stove-top popcorn and drink beer and dream about how amazing it would be if we could turn this passion into a life, or even career.We lived, breathed, ate, and slept these songs. Several members literally lived in the studio that we built. Recording in our own studio provided almost unbridled freedom: unlimited opportunity to tweak the songs, and the luxury of being able to take creative risks. Harmonies conceived and recorded at 3 AM or solos re-recorded during lunch became the norm, and allowed us myriad options and creative control. Where else but in the

OMM

home studio could we lay down a ripping distorted autoharp track and then pop outside to the backyard to record the crickets of Van Nuys? We're excited to get back on the road and play all these new songs. We've got our banjo and washboard in hand, ready to

FUCKING

ROCK

!
15Jan, 2013
NOFX

New (Year's) 7" out now!
So the new NOFX 7" comes out today. All we have to say is that if you haven't watched the new NOFX video featuring the title track, "Xmas Has Been X'ed", you can make it your New Year's Revolution to do so, because it is hilarious. And all you doubters out there, have a little faith for once, no one's lying when they say the bus scene was NOT planned! Only NOFX can experience this kind of kismet. Anyway, we're pretty stoked to release this double A-side 7" featuring the brand new track "New Year's Revolution" and the re-recorded rarity "Wore Out the Soles of My Party Boots", all of course with the whip-smart sense of humor NOFX are renowned for. This 7", also with double front cover artwork, is limited to a total pressing of 5,000, including all three color variations. That's right, we saved the New Year's Revolution color for the new year! Get it now, one per person! Oh, and see how thrilled Fatty is about the 7" below:
I was really excited about this 7" about two weeks ago when I first got my copy. Now I'm kinda over it. Fat Mike
NOFX tour dates!