26Nov, 2012
Fat apprehends Masked Intruder!
APB! We're happy (and somewhat afraid) to announce that Fat will be bringing you the self-titled debut full length from Masked Intruder. We'd love to tell you where they're from and all that other happy stuff, but intel on these hoods is very murky. The record was originally released a couple months ago by our friends at Red Scare, but they called us in for back up. And lemme tell, it's a real crime scene. What we do know is that these thugs have been on tour with our buds Teenage Bottlerocket and people describe their music as "Descendents meets Jersey Boys". That's all the leads we have for now, but the gumshoes down at Alternative Press have been on the case and have a story about the signing. So lock your doors, shutter the windows, and go pre-order the CD or LP. This is the first time this thing has been on vinyl, so pick it up if you know what's good for ya, bub.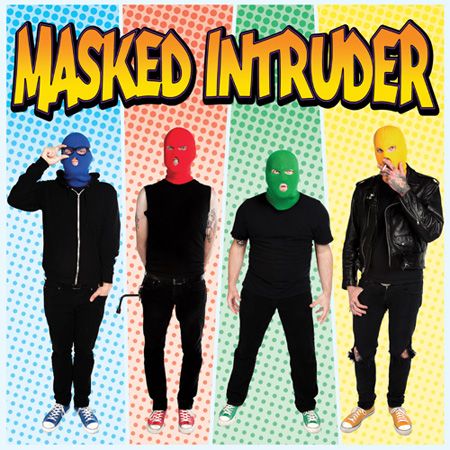 21Nov, 2012
NEW

NOFX

DOUBLE

A-

SIDE

SINGLE

!
Xmas may have been X'ed back in September when Self Entitled dropped, but given that this is the last Christmas, we thought we should spoil you with one last NOFX limited edition vinyl release. It's the third single of the year from NOFX, and a double A-side at that: Xmas Has Been X'ed / New Year's Revolution. The A-side is classic NOFX, a true punk rock Christmas anthem to be filed right next to Fear's Fuck Christmas. And in typical NOFX fashion, it's a Christmas story wherein the Jews come out on top. Shocker. Now flip the record over to the AA-side and you've got your "New Year's Revolution," an outtake from the Self Entitled sessions, followed by a new recording of the much-loved but overlooked gem "Wore out the Soles of My Party Boots." If you pre-order now, you'll get the digital copy delivered to you on December 25th, but you gotta wait til the new year to get your vinyl mailed to you. Check the killer original art for both sides below, and pre-order it today!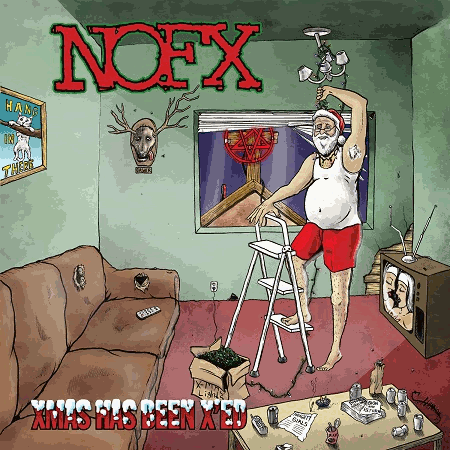 NOFX kicks off their tour in Minneapolis on December 4th, check their tour dates here!
19Nov, 2012
A

BENEFIT

FUNDRAISER

FOR

TONY

SLY
Come join us on December 15th with NOFX, Teenage Bottlerocket, Elway & G.F.P. at Vice Ultra Lounge in Walnut Creek, CA to celebrate the life of Tony Sly. All proceeds will be donated to the Tony Sly memorial fund. Details for the show can be found here.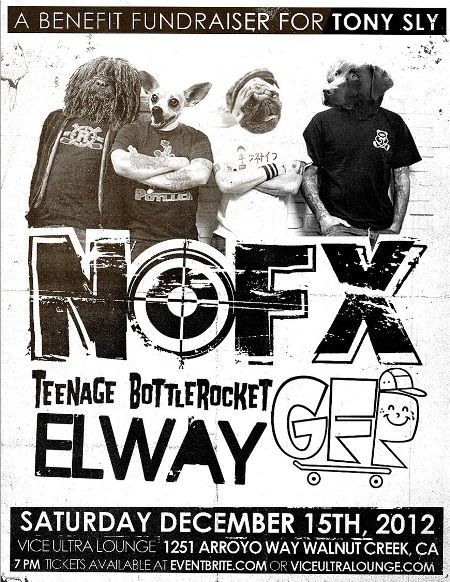 13Nov, 2012
The Flatliners – Destroy To Create out today!
It's release day for The Flatliners' debut full length, Destroy To Create, available on vinyl for the first time ever. Pretty cool way to bring the band full circle as they'll be kicking off their 10th anniversary tour in Canada this December. Check the dates here, then go buy their first record! If you missed what motivated The Flats to release this, read what Chris Cresswell had to say about it below:
"Ever unearthed an old drawing you did as a child at your parent's house? Ever gone back and read the weird shit people wrote in your High School year book? Feels odd doesn't it? You're proud of what you've accomplished, but for some reason, you can't help but laugh. Well this November, we will be releasing our first album Destroy to Create on vinyl for the very first time ever. The lovely folks at Fat Wreck Chords have reluctantly agreed to allow our die-hard fans to finally snatch up these songs on a piece of wax. And we think it's a pretty cool way to celebrate the band's 10th Anniversary."

Head over to our player to listen to "I Am Abandoned" off Destroy To Create now!
Read a new interview with The Flatliners here.
06Nov, 2012
Swingin' Utters & Old Man Markley 7"s out now!
Party people! It's release day for two brand new 7"'s from the Swingin' Utters and Old Man Markley! Head over to our Fat player as we've just posted a song from each release. Check em out, share on Spotify, tweet, and facebook that shit because the tunes are killer and a precursor to their full lengths due out early next year. Quick recap in case you missed our original post. The Swingin' Utters 7" is titled The Librarians Are Hiding Something and Old Man Markley deliver a new two song 7" called Blood on My Hands. Both bands are touring, check the dates here! And, if you're free on Friday, the Fat Wreck store will be open and the mighty Swingin' Utters are performing! Get here early, drink beer with the band, and high five Pat from FAT for kissing James from Against Me! at Fest.