17Jun, 2014
New Less Than Jake video!
All you Fantasia fans are gonna flip out over Less Than Jake's brand new video for "Do the Math". FUSE TV is premiering this animated adventure here! If live action is more your thing then you can check out Less Than Jake all summer headlining the Warped Tour. You can even rub elbows with the band at their booth, as they'll be hanging out there for a few hours every day of tour.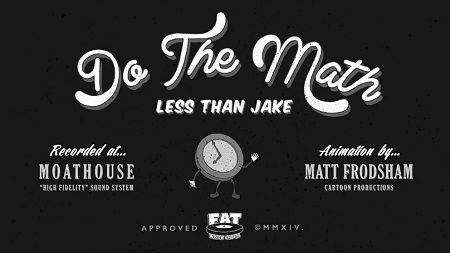 16Jun, 2014
Fat signs Night Birds!
What's up New Jersey! We love your fine state (Asbury Lanes, killer diners, no left turns, Snooki, scandalous bridge closures, disco fries!), but most of all we love how many killer bands you produce. Misfits, Bouncing Souls, Lifetime, Gaslight Anthem, Adrenalin OD… the list goes on. Well, today we're THRILLED to announce that we've signed New Jersey's newest favorite sons, NIGHT BIRDS! We've pined over them for years, releasing their killer 7" Maimed for the Masses last May, and today we officially welcome them to the Fat fold. That's right! We'll be releasing their next full-length album, which they're already knee deep in writing. Vocalist Brian Gorsegner chimes in about it below.

We are excited to announce we are in the early stages of a writing a new album for Fat Wreck Chords to be released some time in 2015. It was a soul crushing, stir crazy winter and we're really looking forward to getting that grossness out and onto a slab of wax for your listening pleasure. Prepare for what is bound to be next year's feel bad album of the year.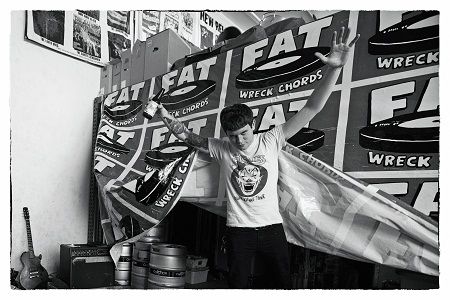 Catch their amazing live show on tour!
12Jun, 2014
Hangin' at the Studio with Lagwagon!
If you were unable to check out Lagwagon vocalist and songwriter Joey Cape's Reddit AMA today, you would have missed that he revealed the title of their upcoming full length: Hang! Due out this fall, the band has begun to lay the framework for an active year with tours being booked worldwide. For now, check out this clip of guitarist Chris Flippin laying down a rhythm track to a new Lagwagon song at Orange Whip in Santa Barbara. Check back soon as we'll be revealing more previews of their time in the studio all month!


11Jun, 2014
Joey Cape on reddit

AMA

!
Ever wonder what its like to be a Gimme, want to know what's going on in the studio with Lagwagon and Bill Stevenson at the Blasting Room, or why Joey Cape started One Week Records? Now is your chance. Tomorrow, at 10AM PST, he will be answering all your questions on Reddit's AMA!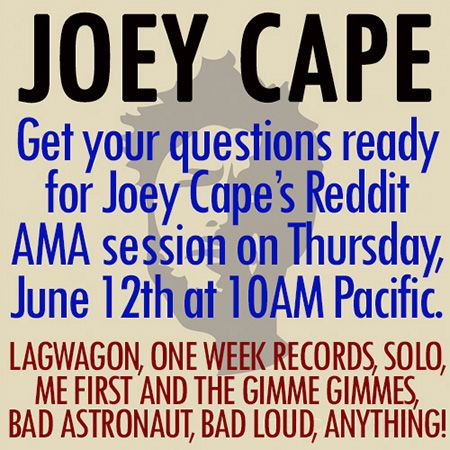 11Jun, 2014
Uke-Hunt, Sundowner and Less Than Jake out now!
Today, we are embracing the Latin phrase "omne trium pefectum," or, perfection in threes. So, on this June 10th release day for three new Fat records, perfection comes in the form of Uke-Hunt, Less Than Jake, and Sundowner!
UKE-HUNT! We've premiered two songs this week off of their debut album, Uke-Hunt, out today. Head over to Esquire to listen to 'Enjoy the Silence' and to Exclaim! to hear 'Because.' Then enter this contest!
LESS THAN JAKE! These guys have been jet setting across the globe supporting their latest full length, See the Light, and kick off the Warped Tour today in Alaska! Don't miss them. The a-side and title track of the new single Do the Math is from last year's exceptional See the Light album while the b-side is a previously unreleased original titled "Connect the Dots," an outtake from the album sessions and mixed by one Stephen Egerton! Be sure to visit their booth at Warped Tour as they'll be hanging out for a few hours a day and don't forget to check the schedule as they play a different time slot each day!
SUNDOWNER! We've been delivering live video performances of each song on the 7" recorded at Little Elephant and if you missed it, you can watch all four songs here! Then, head over and purchase your copy today. If you're curious what Chris from SUNDOWNER listens to while exercising, touring, or getting into the summer spirit, you can listen to his spotify playlist on our tumblr page. Enjoy!