31Jan, 2013
Night Birds 7" on Fat!
Fuck yes! We've been longtime fans of East Coast surf punks Night Birds and after heated contract negotiations and the promise of new leather jackets (for us, duh), they agreed to give us a 7-inch! Maimed for the Masses is a proper 4-song EP and will see the light of day on May 7th. The title track will be your first bloody taste of their upcoming full length, Born To Die In Suburbia, to be released by Grave Mistake Records this summer, while the B-side will contain 3 rippers exclusive to this EP. Additionally, Marissa Paternoster from the Screaming Females did the cover art. If you're new to the game, let us introduce you to Night Birds:
Night Birds is comprised of four thoroughly modern morons from the New Jersey shore and Brooklyn, NY. After one listen it will only seem right that these guys spawn from the same state that brought you such class acts as the Misfits and Adrenalin OD. This high-octane surf-inspired punk rock band formed in the spring of 2009 following the demise of bassist Joe Keller's band, The Ergs! While they take cues from the greats of 1980's hardcore/punk bands like the Circle Jerks, Zero Boys, Adolescents, and Dead Kennedys, they still manage to keep it new and fresh and consistently take it to that next level. To date, the band has released three 7" EPs as well as their 2011 debut album, The Other Side of Darkness on Grave Mistake Records, as well as playing nearly 200 shows all over the United States, Canada, and Europe. If you like Seinfeld, pizza, horror movies, or any combination of the three, Night Birds may be your new favorite band.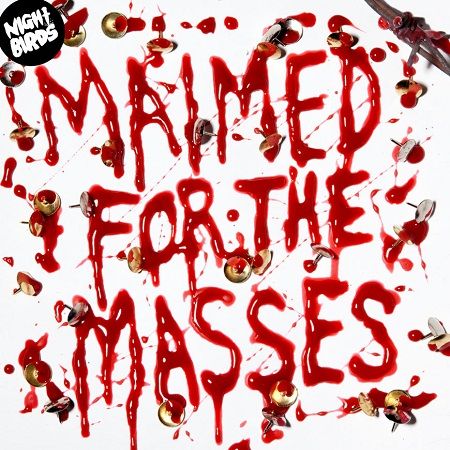 Night Birds tour dates!
Follow Night Birds on twitter or head over to their Facebook page.
30Jan, 2013
Rock Out With Your Chalk Out!
Go support the Miraloma Elementary School's aspiring musicians at this benefit show with Lagwagon, Dead To Me, Nothington, and Hungry Tiger. And featuring Eric Melvin aka The MELVINATOR DJing between sets!
29Jan, 2013
OLD

MAN

MARKLEY

ANNOUNCE

TOUR

WITH

DROPKICK

MURPHYS

!
Rising "newgrass" band Old Man Markley will join Boston punk heroes Dropkick Murphys on a U.S. tour beginning February 21st in Cleveland, OH. The LA based septet will be touring in support of their recently announced, sophomore album, Down Side Up, which is scheduled for release on March 5th via Fat Wreck Chords. Head over here to download the new single, "Blood on My Hands," for FREE and in case you missed our news post yesterday, you can pre-order Down Side Up now!
Old Man Markley Tour Dates (w/ Dropkick Murphys):
Feb 21 – Cleveland, OH – House of Blues
Feb 22 – Chicago, IL – Aragon Ballroom
Feb 24 – St. Paul, MN – The Myth
Feb 26 – Dallas, TX – House of Blues
Feb 27 – Austin, TX – Stubb's Waller Creek Amphitheatre
Feb 28 – Houston, TX – House of Blues
Mar 2 – Lake Buena Vista, FL – House of Blues
Mar 3 – St. Petersburg, FL – Jannus Live
Mar 4 – Atlanta, GA – Tabernacle
Mar 5 – Charlotte, NC – The Fillmore
Mar 6 – Norfolk, VA – The NorVa
28Jan, 2013
SWINGIN'

UTTERS

&

OLD

MAN

MARKLEY

PRE

-

ORDER

!
Both of these brand new records are available for pre-order now! Order them together to save yourself a few bucks on shipping, but importantly to save us time packing them. Check out the killer new Swingin' Utters song and interview over at the San Franscisco Weekly. And check back later in the week for some big Old Man Markley news and a new song!
24Jan, 2013
NEW

SWINGIN'

UTTERS

SONG

!
San Francisco Weekly is premiering a brand new Swingin' Utters song: Stuck in a Circle. Culled from their new album Poorly Formed, out February 19th, the song is a perfectly formed exercise in dynamic songwriting, melding serene verses with gritty choruses and catchy melodies. This Darius Koski penned and sung tune is the flipside of the Swingin' Utters' coin, the perfect complement to Johnny Bonnel and Jack Dalrymple's The Librarians Are Hiding Something. View their upcoming tour dates below and stay tuned for the album pre-order sometime next week!
02/16/13 Santa Cruz, CA at Catalyst RECORD RELEASE!
02/23/13 Sacramento, CA at Blue Lamp
02/24/13 San Francisco, CA at Slim's
02/27/13 Eugene, OR at John Henry's
02/28/13 Portland, OR at Hawthorne Theatre
03/02/13 Seattle , WA at The Highline
03/03/13 Vancouver, BC Canada at Rickshaw Theatre
03/05/13 Edmonton, AB Canada at The Pawn Shop
03/06/13 Calgary, AB Canada at Dickens Pub
03/08/13 Boise , ID at The Venue
03/09/13 Salt Lake City, UT at Burt's Tiki Lounge
03/10/13 Denver, CO at Marquis Theatre
03/13/13 Scottsdale, AZ at Pub Rock
03/15/13 San Diego, CA at The Casbah