29Mar, 2012
Tony Sly / Joey Cape – Acoustic Volume 2 out June 19th! Preorder now!
We're thrilled to announce that on June 19th, we'll release Tony Sly and Joey Cape's second split LP, Acoustic Volume 2! Joey's side features five acoustic Lagwagon songs and a new tune while Tony performs five stripped down NUFAN numbers and his own new song. Check out what Joey Cape had to say below!
Hi there, Joey here!
Last year Tony and I collaborated with Jon Snodgrass and Brian Wahlstrom and released an LP called Scorpios. It was great fun, but the original split we did in 2004 for Fat Wreck Chords, entitled Acoustic has often been in our conversation over the years. We perform so many No Use For A Name and Lagwagon songs in our acoustic sets. After extensive touring together and almost 8 years since Acoustic, it seemed like a good time for a sequel. The new split, simply called Acoustic Volume 2, came together naturally and effortlessly. I have always liked the idea of an acoustic version of a band's song. It's nice to hear it stripped down. My feeling is, the song often rings more true and its original inspiration is honored. But hey, I'm an old man. Hahaha. Just hope others share my feelings.
Preorder Acoustic Volume 2 and the first Acoustic Split (on color vinyl for the first time ever) now!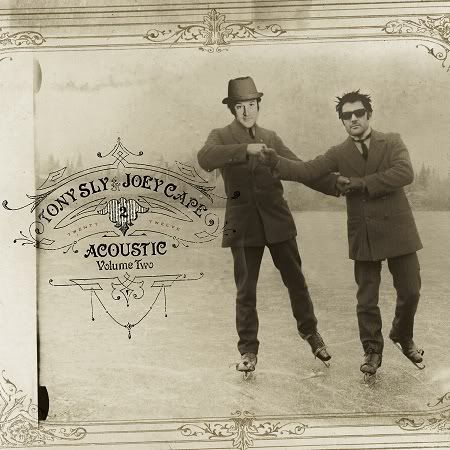 27Mar, 2012
The Real McKenzies-Westwinds out today!
The Real McKenzies' first new studio album in 4 years, Westwinds, is out today and available digitally, on vinyl and CD by clicking here. Listen to the brand new track "Fool's Road" and read an interview compliments of Big Cheese Magazine. Check out a new review, and click here to listen to Westwinds in its entirety! Recorded over several months at Crabapple Downs by Steve Loree, Westwinds is a sonic shot across the bow. The kilt wearing whisky drinking lads kick off the Westwinds Tour on April 27th in Canada as main support for The Reverend Horton Heat! Then in May they head south for their first U.S. tour in 7 years! Dates here.
Download "The Message" off Westwinds here!
23Mar, 2012
Stream Real McKenzies – Westwinds now!
Listen to a full album stream of The Real McKenzies new record, Westwinds out March 27th. And check their tour dates here!
15Mar, 2012
Pre-Order

THE

LAWRENCE

ARMS

An Evening of Extraordinary Circumstance

DVD

!
Chicago's beloved LAWRENCE ARMS celebrated their 10 year anniversary at the Metro on October 24th, 2009. Recorded live with multiple cameras and professional sound, Fat is thrilled to finally release the DVD documenting the show. Out June 5th and dubbed An Evening of Extraordinary Circumstance, the DVD consists of 33 songs, pre- and post-show footage, band commentary, and five music videos! Check out what Brendan Kelly had to say about the release and watch the trailer below.
That's right! After three years, a long silence, an audit by the ever-courteous

IRS

and a lot of speculation, we here at Lawrence Arms HQ are pleased to announce that the long awaited 10th anniversary

DVD

shot live at the Metro is finally coming out, courtesy of Fat Wreck Chords and Crankstrap Productions. To answer the question on everyone's mind: I don't know what the fuck took so long, but it had something to do with the fact that I guess there was something weird about Neil on the undoctored footage and so we had to get a group of specialists to go in and meticulously remove his gigantic robot dong from each frame. Whatever. Shit's here now. Buy it for your collection, buy it for your friends who were huge Lawrence Arms fans back when this was shot but have since moved on to listening to Skrillex or Mumford and Sons. Buy it for the chance to see yourself or someone you know upside down and flailing in the b-roll footage, or whatever applies to you. Consider this though: with this much anticipation, hype, prep and subsequent disappointment at the lateness of the arrival of the actual

DVD

, you can bet your ass you won't be disappointed like you would have if we'd just sped through and gotten it out right away. Wait…no. Wrong message. Erm…it's good. Just trust me.

Pre-order yours now! The first 150 preorders will receive a free Lawrence Arms beer coozie!
08Mar, 2012
The Real McKenzies – new song premiere & album pre-order
We're releasing The Real McKenzies' first studio album in 4 years, Westwinds, on March 27th and you can listen to a brand new song "The Message" by heading over to Alternative Press. The Real McKenzies draw on both acoustic and electric instruments to blend a potent concoction of classic punk, hard folk and traditional Celtic influence. Head over here to pre-order your copy of Westwinds on CD or vinyl, and don't miss these kilt wearing lads on tour! Dates here.