10May, 2012
FAT
WRECK
CHORDS
DIGITAL
STORE
Buy direct! Save money! Support the punx!

As per usual at Fat Wreck Chords, we're staying ahead of the trends. Music not on plastic or vinyl discs? Interesting. We thought we should get in on the ground floor of this new technology. Oh wait, shit. Well, better late than never: it's official, the Fat Wreck Chords Digital Store is open for business.
Why?
- Quality: All of our mp3's are ripped at 320 kbps using a top quality encoder.
- Price: Our digital albums are only $8, and EP's at least a buck less than anyone else
- Physical+Digital: When you order a record or CD, you get an instant download with it
- Rarities: Lots old singles & EP's available digitally for the first time, not available elsewhere
- Exclusives: In the future, we'll have exclusive releases & bonuses!
Last but not least, no longer will a merciless child-labor employing corporate monolith be taking a bite out of the fruits of your labor; your money is going directly into Fat Mike's wallet… which he uses to put out new records from bands you love, pay those bands, pay the Fat staff and of course, buy beer.
So have a look around and pick up that Horace Pinker 7" you've been meaning to buy for years.
24Apr, 2012
126 Inches of

NOFX

– out now!
So today is the "official" release date for the brand new NOFX 7" box set, 126 Inches of NOFX (that's 320 centimeters for those with metricidal tendencies). Not that the release date matters, since most of you have probably already snagged your copy of the special edition (1,200 pressed) from our webstore or the standard edition (1,800 pressed) from your local record store or elsewhere online. If you've been hittin' snooze, you still have a chance to not lose. Record stores will have them stocked, and we still have the standard edition available from our webstore.
17Apr, 2012
Punk Rock Bowling 2012
Besides our main objective of recapturing the bowling championship, we're stoked that a bunch of Fat bands will be gracing the various stages at Punk Rock Bowling 2012, including the reunited Good Riddance! Tickets for all shows, both festival and club, are now on sale! Fat band schedule below:
No Use for a Name, Good Riddance & Dead To Me @ Country Saloon, Saturday 5/26. NOFX & The Real McKenzies – Festival show on 6th Street, Saturday 5/26. Old Man Markley – Festival show on 6th Street, Sunday 5/27. Full show list here.
11Apr, 2012
TEENAGE

BOTTLEROCKET

Freak Out!!
Time to freak out! The new Teenage Bottlerocket album, Freak Out!, will be released on July 3rd! With songs like "Headbanger", "Cruisin' for Chicks", and "Radical", how could you not freak out?! Bassist Miguel Chen had a couple things to say about it too!
Friends! We are beyond excited to announce our new full length Freak Out! The record comes out in July on Fat Wreck Chords and we can't wait for everyone to hear it! These songs are some of our favorites we've ever done. We recorded it at the Blasting Room with our long time friend and engineer Andrew Berlin and we're stoked on how everything turned out. It's been over 10 years since Teenage Bottlerocket began and a lot of amazing things have happened since then. We are so grateful to everyone who has helped make our life so awesome and we hope you enjoy the record as much as we enjoyed making it!!
And it doesn't end there! The Freak Out! tour begins July 18th in Fort Collins and will continue throughout the Summer and Fall, hitting most of North America! Dates HERE!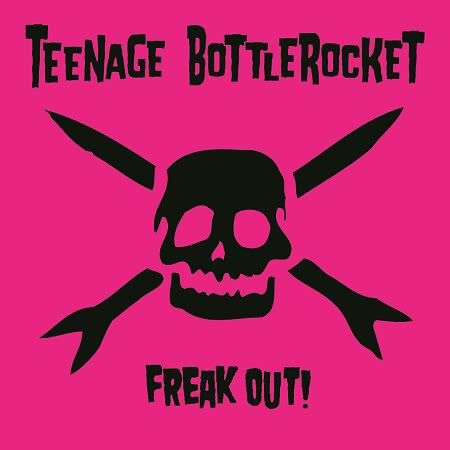 04Apr, 2012
TEENAGE

BOTTLEROCKET

– studio update!
Wyoming punks TEENAGE BOTTLEROCKET have finished recording their fourth studio full length at The Blasting Room in Ft. Collins, Colorado! Check out the video below to get a glimpse into the inner workings of the Blasting Room, the faces behind the names, and footage of the band laying down some killer new tracks! Check back as we'll be announcing album details and tour dates soon!