02Apr, 2013
Pre-order RPM10 now!
RPM10, the 10th Anniversary Edition of Rise Against's landmark album Revolutions Per Minute, comes out on May 28th but you can secure your copy right here, right now! We've already said our piece about this essential record, so let's let Rise Against give you a little insight, all the way from South Africa:
26Mar, 2013
Night Birds "Maimed for the Masses" listen now!
East Coast surf punks Night Birds have premiered their new song "Maimed for the Masses" today on Brooklyn Vegan! The song is the title track from their new EP, due out May 7th and available for pre-order now! The title track will be your first ferocious taste of their upcoming full length, Born to Die in Suburbia, to be released by Grave Mistake Records this summer, while the B-side contains 3 rippers exclusive to this 7". Brian Gorsegner, vocalist of Night Birds elaborates: "'Maimed for the Masses' is about giving something you love your all, even if it means bloodying and destroying yourself along the way, because it is all you know. Whether it is playing rock & roll, skateboarding or wrestling, it's that "play to destroy" mentality that is truly inspiring. This song is more specifically an ode to wrestler Mick Foley. These are some of my favorite lyrics Joe has ever written and I am glad to finally have it on wax." And if you know these dudes, you know they keep it old school with no colored vinyl. You collectors are gonna have to dork out on a limited run of heavyweight black wax instead. So get ready to tear your heart out and catch them live on their upcoming tour!

Night Birds tour dates here.
Follow Night Birds on Twitter or head over to their Facebook page.
22Mar, 2013
Morning Glory's First Video Ever!
Morning Glory have a new video, and their first attempt at the visual medium doesn't disappoint. Ambitious would be an understatement considering "Born To December" clocks in at over 6 minutes. That's a lot of footage to capture in the dead of a New York winter. Early Gates, drummer of Morning Glory, recounts, "We have never done a video before and decided to do this one just for fun. And except for the cold weather that's exactly what it was. The death shots in which we kill the hipster versions of ourselves were particularly enjoyable as we got to use fake blood, which took up the entirety of our budget. We hope everyone likes it." The track "Born To December" is the title track of their upcoming 7-inch and is culled from their latest full length, Poets Were My Heroes. Head over to Visions Magazine to watch the video, directed by Christopher J Ryan at Dedicated-Lane Productions and stay tuned for the 7" pre-order, coming very soon.
12Mar, 2013
Rise Against –

RPM

turns 10!
Chicago's Rise Against are celebrating the 10th anniversary of their breakthrough album, Revolutions Per Minute, with a reissue out May 28th. This edition of Revolutions Per Minute (dubbed RPM10) features 10 bonus tracks of demos along with the originally recorded album and expanded packaging. Recorded at the Blasting Room and produced by Jason Livermore and the renowned Bill Stevenson of the Descendents, this quintessential album shaped Rise Against's sound with elements of hardcore, punk, and ripples of emo that cascade into what we know of the band today.
Bass player Joe Principe, vocalist Tim McIlrath, guitarist Todd Mohney and drummer Brandon Barnes headed to the Blasting Room in 2002, armed with their new material. "We wrote these songs above an antique store in Chicago where the owner would rent roach-infested rooms to bands… In a post 9-11 fervor, the powers that be had just finished lying to the public and swindled their way into entering what would become the longest war in our country's history (which seeped into songs like "Blood Red, White & Blue")," says McIlrath.
Obviously, 10 years later, the results speak for themselves. Revolutions Per Minute still stands out as a hallmark release for Rise Against, Fat Wreck Chords, and the hardcore punk genre in general. RPM10 is the perfect tip of the cap to such an extraordinary album.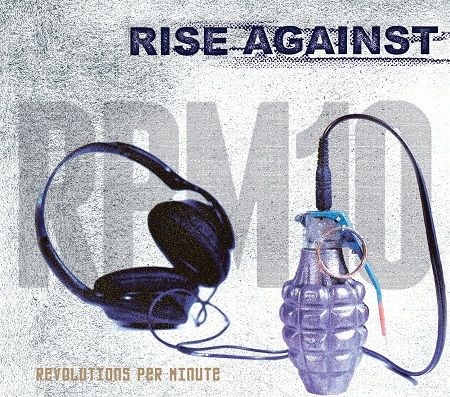 08Mar, 2013
Coming Soon:

STRUNG

OUT

–

VOLUME

ONE
Strung Out, LA's finest in speedy melodic punk mayhem, is one of the hardest working bands of the last 20 years. With a career which has so far produced 7 studio albums, numerous EP's, a live album and a mind-boggling number of shows, they continue to be a significant staple on the indie punk scene. In celebration of their longevity and with the positive feedback from fans for both 2012's Twisted in a Suburban Wasteland tour and the remixed songs on Top Contenders, Strung Out decided to finish the job and have Ryan Greene remix all three of their classic 90's albums in their entirety. This summer will see the release of deluxe reissues of Another Day In Paradise, Suburban Teenage Wasteland Blues and Twisted By Design! Three special records that certainly deserve some special treatment, and that's what will be on offer with these reissues and the all-encompassing Volume One box set, which will include the 3 albums plus a DVD that drummer Jordan Burns details below:
We are all pretty stoked on this box set. All 3 albums are sounding so fresh and revived. If we didn't think you would all love it like we do, we wouldn't be putting it out. Also the live

DVD

from our Twisted In A Suburban Wasteland tour last year is going to be sweet. Filmed in Montreal Canada, it will include both

STWB

and

TBD

live. I know, our first

DVD

ever and its looking great!
Strung Out "Firecracker" by Fat Wreck Chords
Check out Strung Out's upcoming tour dates, including Groezrock.