14Nov, 2014
toyGuitar – In This Mess – 1/27/15

Looks like 2015 will arrive with a bang as we'll be releasing toyGuitar's debut full-length, In This Mess, on January 27th! On this set of twelve songs, toyGuitar churns out an elevated level of driving, high-energy rock 'n' roll. Based on the raw fuzz of 70's proto-punk and complemented by intricate guitar leads, hook-laden melodies, and captivating lead and backing vocals, toyGuitar's ultra-stylized sound even incorporates elements of surf, '60s soul and power pop. Trust us, this is one infectious record. But if you can't wait for new music, head here to get a taste of what they're all about. Not only is toyGuitar releasing their first album but they'll be hitting the road too! First up is Europe in late Winter where toyGuitar will be joining label mates, Swingin' Utters, and you can check those dates, right here! Don't fret North America, a proper tour is in the works right now, so be sure to check back for those dates and a brand new song, very soon! What does the band think of their debut album?
"We're super excited about it! The whole process was amazing to be a part of. We got to work with our buddy again over at Jingletown – Chris "The Wizard" Dugan – who slays! We ate a lot of cheeseburgers, downed gallons of coffee, tuned very little, and came out with a record we're stoked on. Drink the kool-aid and check it out. CmmmmmOn!!"
11Nov, 2014
Swingin' Utters – Fistful of Hollow out today!
Swingin' Utters' brand new record, Fistful of Hollow, is the eighth full-length release from this Bay Area, CA five-piece and the follow up to 2013's Poorly Formed. If you haven't heard the album's two singles, head over to listen to ''Fistful of Hollow'' and ''I'm Not Coming Home'' right now. Then order your copy today as these two songs are just a taste of a truly eclectic mix of musical styles and writing, all fitting comfortably under the established Swingin' Utters banner, as this review details. Don't miss these rockers on tour who are currently tearing up North America with labelmates Lagwagon. Dates here!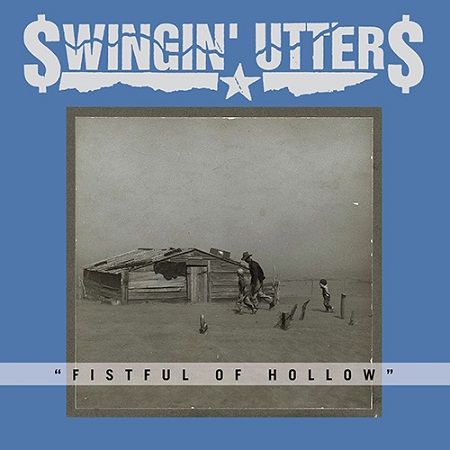 07Nov, 2014
New Western Addiction song!
Power through Friday with the stomping new Western Addiction song "I'm Not the Man That I Thought I'd Be" over at Revolver Magazine! This rocker was originally recorded with the Pines 7'' but the band hadn't found a female vocalist to sing (scream) the second verse—the woman's point of view—so they shelved the song. After a few months they connected with a fierce vocalist in Dara of San Francisco metal band Serpent Crown and finished off the song. Vocalist Jason Hall elaborates on the lyrics: "The song is about how life never really turns out how you imagined, for both men and women, and sometimes you just feel 'average' despite your best efforts. It's like saying you are going to do something tomorrow, but you just never do it and one day you are too old and your window has passed. Sorry, that's depressing, but the rock will make you feel good." The song originally appeared on our limited edition 10" at FEST this year, and rumor has it, about 100 are heading back to SF so be sure to check our site next week. Look for a new Western Addiction 7" in early 2015 and a full-length later in the year! For those in the Bay Area, don't miss them at Slim's this Sunday with Lagwagon and Swingin' Utters!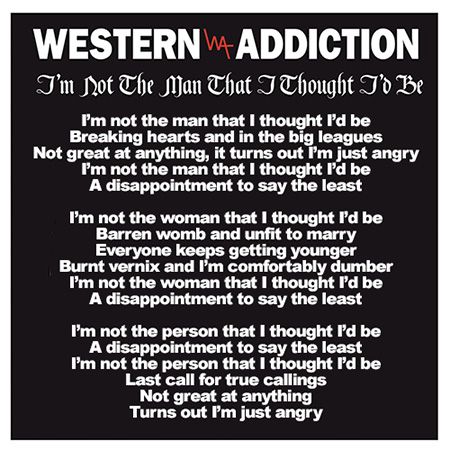 07Nov, 2014
GOOD

RIDDANCE

in the studio!
November 6, 2014 – For the first time in nine years… Good Riddance has entered the studio! These Santa Cruz, California punk rock/hardcore heroes have once again teamed up with Bill Stevenson and Jason Livermore (Descendents, The Blasting Room)—the production team for over half of Good Riddance's illustrious catalog — to record their first album of new material since reuniting in 2012. The past two years have been spent on the live circuit, proving to the fans and to themselves that they are still a musical force to be reckoned with, a group whose catalog of great songs is undeniable. With the fans' seal of approval and a well of creativity brimming over, the eighth Good Riddance album that once seemed impossible became a creative necessity for a band that has never rested on its laurels and never coasted on its past success. When they found themselves mentally and creatively exhausted in 2007, they opted to call it a day instead of giving the fans anything less than 100% in their writing and performing. Re-energized by a five-year hiatus and two years of carefully but steadily ramping up activity, Russ Rankin, Luke Pabich, Chuck Platt and Sean Sellers—the "classic" Good Riddance lineup—prepared themselves for today, the first day at Motor Studios in San Francisco, to record a grip of new songs that all of us cannot fucking wait to hear.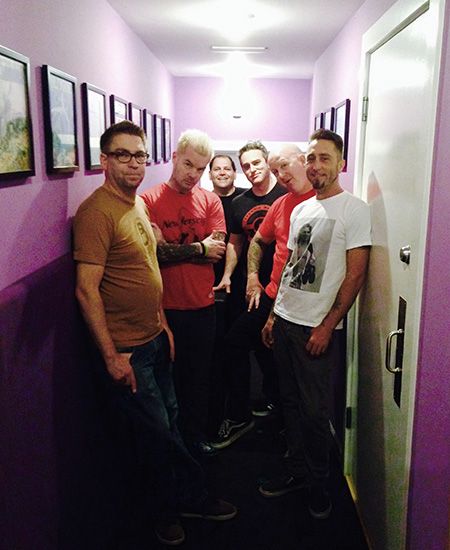 L-R: Luke Pabich, Russ Rankin, Bill Stevenson, Jason Livermore, Chuck Platt, Sean Sellers in the hall at Motor Studios on Day One of the new Good Riddance album.
04Nov, 2014
Less Than Jake announce tour with Reel Big Fish!
That's right, Less Than Jake are hitting all of America in January and February 2015, co-headlining a tour with none other than Reel Big Fish! So do the math, get your ticket, and have yourself a beer!