13May, 2015
toyGuitar – In This West- June 2015 tour!
Time to get ready for summer and join toyGuitar on their first headlining tour in support of In This Mess, their awesome new record. Check out the dates below which focus on the West Coast but rest assured, they'll be tackling the rest of the country and Canada this August on the Fat Wrecked for 25 years tour, so get ready!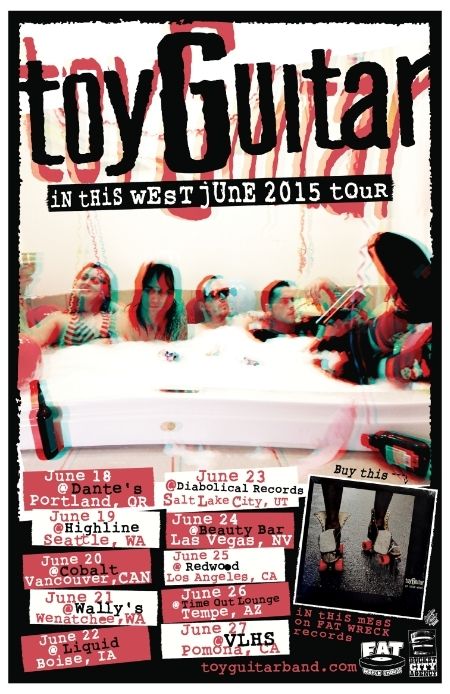 12May, 2015
New Bad Cop/Bad Cop song & pre-order!
Blast off to a brand new song from Bad Cop/Bad Cop: "Nightmare" is streaming at Alternative Press right now. This catchy number is the lead single from their upcoming full length, Not Sorry, out June 16th and available for pre-order right now! The band will be showcasing their new material next month with Good Riddance, then they'll be hitting the road on the hottest tour of the summer: Fat Wrecked for 25 Years! Don't miss it!
11May, 2015
CJ Ramone U.S. Tour!
CJ Ramone's first U.S. Tour in support of his debut Fat album Last Chance to Dance kicks off in a few weeks! Don't miss your chance to see him play his solo stuff along with a selection of Ramones gems all across the Eastern half of the U.S. this June.
30Apr, 2015
New Good Riddance Video!
Jump over to Alternative Press to watch a brand new lyric video from Good Riddance for their politically charged and ultra-catchy "Running on Fumes." A deep cut from the brand new Peace In Our Time album, its lyrics recall themes of classic GR tunes like "Last Believer" and "There's No 'I' in Team." For insight into these and the rest of the lyrics on Peace in Our Time, read vocalist Russ Rankin's track-by-track descriptions. Don't miss them on tour; they'll be performing this Saturday at Groezrock and then returning home for a stint of shows including San Francisco and their home town of Santa Cruz! The band will have a unique colored vinyl edition of the new record at Groezrock so be sure to hit their booth along with the Fat booth!
28Apr, 2015
Fat Tour 2015: Fat Wrecked for 25 Years!
Fat Wreck Chords is 25!!! A quarter of a century?? We can hardly believe it ourselves! Who would have thought that something that started all those years ago in Mike and Erin's kitchen would still be around today! We've been through weddings and divorces, births and deaths, rehabs and reintoxications, and we are still pumping out some of the most influential punk rock around. After 25 years, we think we've earned the right to throw a proper party and celebrate the fact that we are old! So, starting on August 6th a bunch of our bands will be playing together all across North America on the Fat Wrecked for 25 Years tour. To cap it off there will be a massive two-day blowout festival in our hometown of San Francisco, where we will shut down the streets and blast out the tunes. Here's our portly president, Fat Mike, with the official announcement:
Stay tuned, because the official Fat Wrecked For 25 Years tour will have additional bands added, plus surprise bands added to specific shows. Come out and celebrate with us!