25Aug, 2015
New Joey Cape Video! Pre-order Stitch Puppy Now!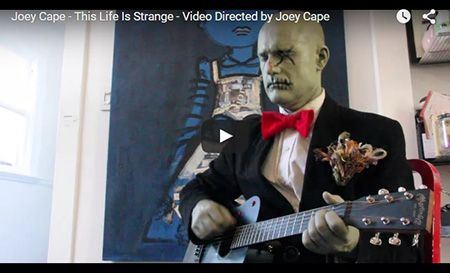 Joey Cape's brand new album Stitch Puppy, his first solo record in five years, comes out next week! Today, head to Noisey to watch an incredibly creative video for "This Life Is Strange." Produced, directed and edited by Joey himself and containing amazing stop-motion sequences by his daughter Violet, this video is a surreal glimpse into Stitch Puppy's world. German fans watch here.
Pre-order the album right now, also available in a limited edition t-shirt bundle.
24Aug, 2015
Swingin' Utters – West Coast Tour
Swingin' Utters will be hitting a bunch of great towns (plus Fresno) across the West Coast this November in support of their latest album, Fistful of Hollow. Supporting the Utters will be The Bombpops and Success.
Tue. Nov. 3, Seattle, WA – Funhouse at El Corazon
Wed. Nov. 4, Tacoma, WA – Jazzbones
Thu. Nov. 5, Portland, OR – Hawthorne Theatre
Fri. Nov. 6, San Francisco, CA – DNA Lounge
Sat. Nov. 7, Sparks, NV – PB & J's
Sun. Nov. 8, Sacramento, CA – Blue Lamp
Tue. Nov. 10, Fresno, CA – Strummer's
Wed. Nov. 11, Los Angeles, CA – The Roxy Theatre
Thu. Nov. 12, Ventura, CA – The Garage
Fri. Nov. 13, San Diego, CA – The Hideout
Sun. Nov. 15, Tempe, AZ – Yucca Tap Room
Tue. Nov. 17, Las Vegas, NV – Beauty Bar
Wed. Nov. 18, San Luis Obispo, CA – SLO Brew
Thu. Nov. 19, Santa Cruz, CA – The Catalyst

Photo by Joe Leonard
21Aug, 2015
NOFX

– Backstage Passport 2 out today!
Finally, our kick ass weekend celebration has arrived! Tonight, we'll be getting cozy over at Thee Parkside with NOFX to celebrate the release of their new movie, Backstage Passport 2, with a premiere and a Q&A with the band. You lucky three-day pass holders will get to see all this and an incredible secret band! Tomorrow, our weekend anniversary properly kicks off with a SLEW of Fat bands past and present performing out on the streets of San Francisco. Check out the full line-up with set times HERE! Order your copy of Backstage Passport 2 today, as a double DVD set, a high quality digital copy, and with a killer NOFX travel package!

20Aug, 2015
New Joey Cape Song!
Today we're proud to present the first new song from Joey Cape's fantastic new solo record, Stitch Puppy. The song is called "Moral Compass" and you can take a listen over at Substream. While you're there, enter a contest to win tickets to his Fall tour with a bunch of One Week Records artists!


19Aug, 2015
JOEY

CAPE

talks Stitch Puppy + upcoming tour!
Joey Cape's new solo album, Stitch Puppy comes out on September 4th! Joey created a video (below) to give you a small taste of what's to come with the new album. Joey also gave us the rundown on his upcoming tour.
"I am really happy that my new album "Stitch Puppy" will be released by Fat on September 4th. This post is just a little teaser for the record but, there are a lot of other cool things happening as well. Thursday, September 20th Substream Magazine will be premiering a full song from the album and offering pairs of tickets to each show on my upcoming U.S./Canada tour. Beginning on September 15th, the tour will be myself and feature a few artist I produced for my label One Week Records. Tickets are available for those shows now. On September 24th Fat Wreck Chords will be releasing a full video directed by yours truly for a song called "This Life Is Strange". I also have a few contest planned for the next few weeks. I'm looking forward to all of it. It should be fun."
Joey Cape Stitch Puppy Tour featuring One Week Records artist, Laura Mardon, Walt Hamburger, Jo Bergeron, Betty And The Boy and Brian Wahlstrom. Dates here!