09Oct, 2013
Brand new Swingin' Utters single!
It's called Stuck in a Circle and comes out November 26th. The a-side is from this year's extraordinary Poorly Formed album while the b-sides include a previously unreleased original alongside the band's take on the No Use For a Name classic "Not Your Savior". Pre-order soon, or pick the record up early from the band on their November tour.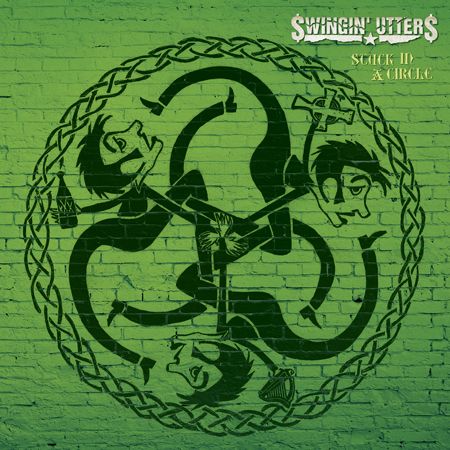 08Oct, 2013
New York, New York!
New York! Our 2013 CMJ showcase is coming next week! October 18th in Brooklyn at the Music Hall of Williamsburg. GOOD RIDDANCE returns to New York for the first time in over 6 years! You get The Flatliners playing for the first time since their new album came out, Western Addiction playing for the first time in over 7 years, hometown heroes Morning Glory ready to showcase some new songs, and the absolutely shredding Night Birds as our special guests. It does NOT get much better than this! But, if you'd rather tour the New York harbor while watching some old school punk, we'll be stripping our showcase down and heading for the Hudson on the infamous Rocks Off Boat Cruise show, where you'll be treated to (literally) rockin' sets from GOOD RIDDANCE, Night Birds and Western Addiction! Because we're all vinyl nerds, we'll be pressing a special limited edition Fat CMJ 7" which can ONLY be purchased at these two shows! The 7" will have exclusive songs from Good Riddance & Night Birds, plus brand new songs from The Flatliners and Western Addiction. The 7" will be pressed on four different colors and can be procured at the Western Addiction merch booth. Say hi to the fellas and pick up their new 7" Pines too. Don't fucking miss these shows!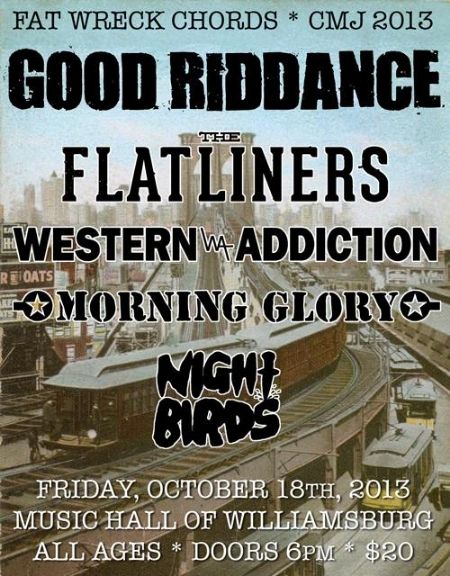 07Oct, 2013
WESTERN

ADDICTION

song premiere:

BLACK

SALT
After an eight year wait, WESTERN ADDICTION unleash "BLACK SALT" over at Noisey/Vice. It's the first song from Pines, a menacing three song 7" with savage vocals and ripping guitars and will be released on November 5th! You can pre-order it today. Don't miss them live this month as they'll be supporting Good Riddance and performing at our CMJ showcase on October 18th and 19th in NYC.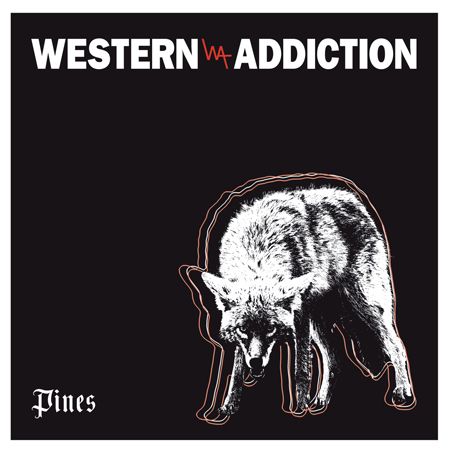 04Oct, 2013
NOFX

– Too Stoked to Quit
Relentless touring, recording, filming, wrapping production of Backstage Passport 2 (due out next year), an ale being brewed (you heard us right, they'll have their own beer!) and a December tour booked with the mighty Dillinger Four. You'd think these dudes would take a break but you'd be wrong . We can't even begin to leak what NOFX has planned next year but trust us when we say that even we were surprised. What we can reveal is that 2013 will close with a new 7" and EP called Stoke Extinguisher! The title track is a brand new song; the b-side of the single is NOFX's cover of Tony Sly's "The Shortest Pier," from The Songs of Tony Sly: A Tribute (out October 29th)! Digitally, we've beefed it up to be a proper EP, rounding up all of last year's b-sides like "My Stepdad's a Cop and My Stepmom's a Domme" and a rawer, edgier demo version of "I Believe in Goddess." The cover was hand painted by the multi-talented Jason Cruz of Strung Out, which you can view below.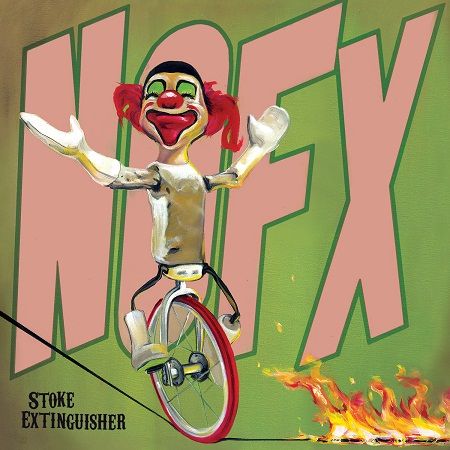 Track list:
1. Stoke Extinguisher
2: The Shortest Pier
3: I Believe In Goddess (Demo Version)
4: My Stepdad's a Cop and My Stepmom's a Domme
5: Wore Out the Soles of My Party Boots (2012 Version)
6: New Year's Revolution
02Oct, 2013
New

TEENAGE

BOTTLEROCKET

7" out November 26th!
TEENAGE BOTTLEROCKET are heading to Europe this November to support VOLBEAT and ICED EARTH! While on a day off from their co-headlining tour with The Queers, they stopped by The Blasting Room and recorded two songs for a brand new 7"! We don't want to steal TBR's thunder so read what Ray Bottlerocket had to say below:
On Teenage Bottlerocket's last tour in Europe we made friends with a dude in a Lethal Weapon 2 hat. We referred to him as a Deutsch bag. He was a good sport and found the insult endearing. I've always loved Germany. I took German in high school and we sang alot of songs. One of the songs was entitled "Ich bin Auslander und Spreche Nicht Gut Deutsch". This is roughly translated "I'm not from here and my German sucks". We decided to make it a pop punk song. If I screw up any of the pronunciation it's because my German sucks, it's a pretty good excuse to fuck up the words. We also included a new song about smoking reefer and a song by our dear friend Tony Sly called "Via Munich". We recorded the 7" at the Blasting Room with Andrew Berlin. Everything seemed to fall into place. The title is my favorite part of it all; ladies and gentleman, I present to you, the

AMERICAN

DEUTSCH

BAG

7" BY

TEENAGE

BOTTLEROCKET

! The 7" will be available on our upcoming European tour with

VOLBEAT

and

ICED

EARTH

. Guten tag.