05Jun, 2013
Masked Intruder Fleece America
Masked Intruder, our newest pop-punk crimelords, are being put to work. Yep, 6 weeks of hard labor. Masked Intruder headline the Red Scare Across America tour, hitting both coasts! Along with support from Elway and Sam Russo, you might catch special guests like Sundowner, Nothington, or The Copyrights. A very nifty tour, and it'll be the first time Masked Intruder is hitting many of these towns, so be on alert! View the tour dates below.
7/8- Chicago, IL @ Gman Tavern (acoustic tour kickoff party!)
7/10- Minneapolis, MN @ Triple Rock Social Club (w/ The Manix!)
7/11- Moline, IL @ Bier Stube
7/12- Madison, WI @ The Frequency
7/13- Chicago, IL @ Beat Kitchen (w/ Brendan Kelly!)
7/14- Detroit, MI @ Small's
7/15- Cleveland, OH @ Grog Shop
7/16- Harrisburg (Lemoyne), PA @The Champ
7/17- Baltimore, MD @ Sidebar
7/18- Boston, MA @ Middle East
7/19- New York, NY @ Santo's House Party
7/20- Brooklyn, NY @ Suburbia
7/21- Philadelphia, PA @ The Fire (w/ Timeshares!)
7/22- Durham, NC @ Motorco
7/23- Richmond, VA @ Strange Matter
7/24- Pittsburgh, PA @ 222 Ormsby
7/25- Cincinnati, OH @ Southgate House
7/26- St Louis, MO @ Firebird (w/ The Copyrights!)
7/27- Omaha, NE @ Sokol Underground
7/28- Denver, CO @ The Marquis
7/29- Ft. Collins, CO @ Surfside 7
7/30- Salt Lake City, UT @ Shred Shed
7/31- Boise, ID @ Sammy's
8/1- Seattle, WA @ El Corazon
8/2- Longview, WA @ Chinese Gardens (early matinee show!)
8/2- Portland, OR @ Backspace (w/ Sundowner!)
8/3- Berkeley, CA @ 924 Gilman Street (w/ Druglords of the Avenues!)
8/4- Sacramento, CA @ Luigi's
8/5- Modesto, CA @ Hero's
8/6- Santa Cruz, CA @ Blue Lagoon
8/7- San Francisco, CA @ Bottom of the Hill (w/ Nothington!)
8/8- Ventura, CA @ Zoey's Cafe
8/9- Los Angeles, CA @ Five Star Bar (w/ Vultures United!)
8/10- Pomona, CA @ VLHS (w/ The Bombpops!)
8/11- San Diego, CA @ The Void (w/ The Bombpops!)
8/12- Tempe, AZ @ Yucca Tap Room
8/13- Albuquerque, NM @ Gasworks
8/14- Oklahoma City, OK @ The Conservatory
8/15- Kansas City, MO @ Record Bar
8/16- Normal, IL @ Firehouse Pizza
8/17- Milwaukee, WI @ Cactus Club
03Jun, 2013
Propagandhi – 20 Years Clean!
We released Propagandhi's classic first album How to Clean Everything back in 1993 and are celebrating the 20th anniversary with a new edition on August 20th! Guitarist Chris Hannah explains his reasoning for it, "Maybe it's the bath-salts talking, but I have come believe that there is value in having something that haunts you until you are dead. I give you… How To Clean Everything, the 20th anniversary edition." The reissue includes the full album (duh), the 3 outtakes that Fat Mike cut from the record, and a super rare 4-song HTCE demo. Of course the album was re-mastered from the original analog reels AND, this is the neat part, we are offering an exclusive Tab Book for the entire album! With both guitar and bass transcribed by Chris himself, the book will be available bundled with the reissue. 20 years on and these gents are still hard at work. You can catch them on tour in Europe and once a month you can listen to Chris and Derek Hogue's (from G7) Escape Velocity Radio, a monthly podcast that dips into such subject matter as science, philosophy, history and origins of consciousness. The podcast has nothing to do with this release of course but it reminds us of the journey these guys have taken and continue to be as relevant today, as they were 20 years ago when they released their breakout record How To Clean Everything.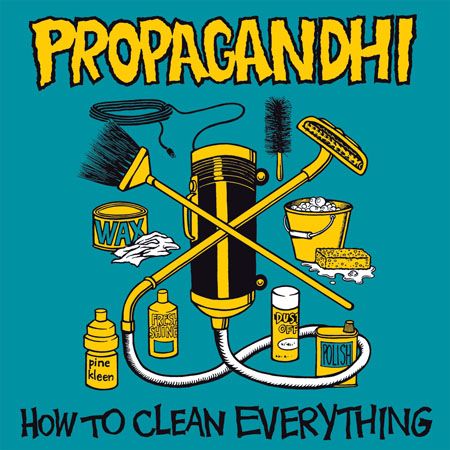 29May, 2013
OMM

Tour video + Summer Tour Dates!
L.A. bluegrass punks Old Man Markley just embarked on a summer tour with the Dropkick Murphys in support of their latest offering, Down Side Up. Just to get you pumped up for the upcoming dates the band put together a ton of footage from their winter tour with DKM. Live shots, backstage antics, snowball fights, ping pong, tour van tomfoolery… it's all in there. And it's set to 6 songs from their latest album! Not that there was any question, but these kids know how to have a good time, on and off stage. Enjoy!
28May, 2013
RISE

AGAINST

RPM

10 out today!
Holy, where does time go? It's hard to believe it's been 10 years since the release of RISE AGAINST's landmark album Revolutions Per Minute. We're stoked to celebrate the 10th anniversary with the release of RPM10, out today! This enhanced edition of Revolutions Per Minute features 10 bonus tracks of demos along with the originally recorded album and expanded packaging, including personal accounts from the band members about the creation of the album. RPM10 is the perfect nod to an album that defined a genre and hasn't lost a bit of steam over the past 10 years. Head over to Alternative Press and read a track by track by singer Tim McIIrath. Then go to SPIN where they're premiering the demo version of Heaven Knows!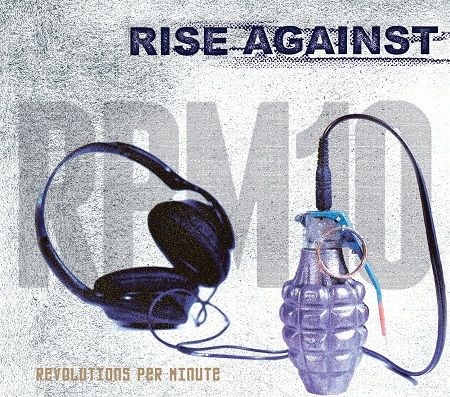 21May, 2013
Rise Against – Listen to the "Like the Angel" Demo now!
RPM10, the 10th Anniversary Edition of RISE AGAINST'S landmark album Revolutions Per Minute, comes out on May 28th but you can hear a song premiere of the demo version of "Like the Angel" over at Rolling Stone right now! Then, head over here to order your copy today.