23Aug, 2013
The Flatliners-Dead Language sneak peek!
With bated breath, we wait to unleash the new Flatliners album Dead Language. We've already given you a taste of blood; now you can sneak a peek at how these young professionals conduct themselves after nightfall. Don't miss The Flatliners on tour with dates including Riot Fest, CMJ and the FEST!
20Aug, 2013
Propagandhi – How To Clean Everything Reissue out now!
Ladies and gentleman, it is release day for Propagandhi's classic first album How to Clean Everything! The album has been remastered from the original analog reels and includes the 3 outtakes that Fat Mike cut from the record, plus a super rare 4-song demo. Chris Hannah also created a guitar and bass tab book for the entire album. In case you missed it, Revolver Magazine premiered "Stick the Fucking Flag Up Your Goddam Ass, You Sonofabitch" and today, we're offering "Anti-Manifesto" to celebrate the 20th anniversary of this punk classic. Listen and download below! Read a killer review and head to Peta2 for a chance to win a limited edition color vinyl copy now!
14Aug, 2013
New Sundowner song!
Spin is premiering the first new song from Sundowner's Neon Fiction. Listen to "Life in the Embers" here and read just what percolates in the mind of singer/songwriter Chris McCaughan. Neon Fiction is the third Sundowner album and first for Fat Wreck Chords, which you can pre-order today!
12Aug, 2013
Fat Tour 2013!
Announcing the FAT TOUR 2013! LESS THAN JAKE, ANTI-FLAG, MASKED INTRUDER and GET DEAD will be touring together under the Fat banner this November throughout the United States. Tickets go on sale this Friday and you can view the dates here!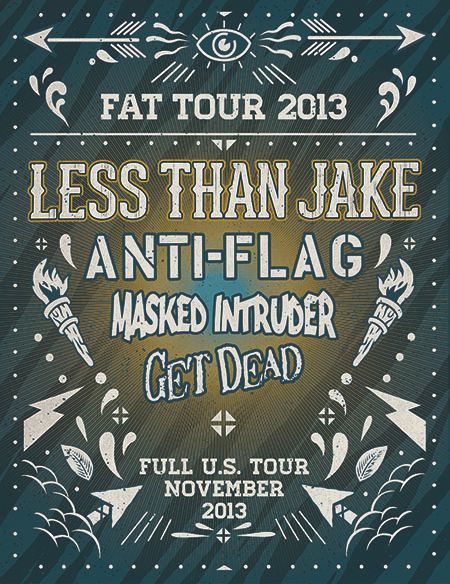 09Aug, 2013
The Flatliners – Dead Language: Pre-order now!
Pre-order The Flatliners' new album Dead Language now! We've got some killer combo packs that include the album, t-shirt, poster, and digital download!
While you decide which option you're going to choose, watch this killer lyric video for "Drown In Blood":