05Jun, 2012
The Lawrence Arms-An Evening Of Extraordinary Circumstance

DVD

out today!
THE LAWRENCE ARMS, An Evening of Extraordinary Circumstance DVD is out today! Filmed in Chicago at The Metro during THE LAWRENCE ARMS 10 year anniversary show, Crankstrap Productions captured a remarkable evening. Take a look at this trailer and order your copy now! We're thrilled to find out that THE LAWRENCE ARMS will be recording a new album (we're even more thrilled to not find out via twitter!) but hey, check out what Brendan wrote below and get stoked for a new record, and tour plans (sorry Texas).

Since the dawn of time, man has dreamt of the day when the Lawrence Arms Live

DVD

would be unleashed onto the world. Now, at long last, that day is upon us. I know that some of the industrious among you have already preordered "An Evening Of Extraordinary Circumstance" and received the awesome, Sean Nader designed beer (or seltzer or whatever you drink from a can) koozie, so nice work on being ahead of the curve. For the rest of you, sit back and marvel at the Lawrence Arms' semi-competent musicianship, passable good looks and willingness to play songs.

Fer real though, this is an awesome video of a really fun night and we'd like to thank everyone who was involved, from the crowd to the Metro staff, to our own crew, and of course the incomparable Travis Brooks, his gang of pervy henchmen and Matt Allison for making the whole thing look and sound great.

So get stoked. Also, it bears mentioning that we've got a lot of exciting shit going on at team Lawrence Arms, all of which will become public shortly, but let me promise you, we're working on a new album and we plan on playing shows in your town to promote it (unless you live somewhere like Texas).

That's all. Get back to your internet pornography.
29May, 2012
STRUNG

OUT

ANNOUNCE

TOUR

!
Legendary punk rock pioneers STRUNG OUT are preparing to tour throughout the US and Canada this summer. They'll be performing both of their most notable albums – 1996's Suburban Teenage Wasteland Blues and 1998's Twisted By Design – in their entirety during each set. "It feels right to do one last retrospective before we head into the making of another album. I think people will really enjoy these older songs played back to back," says lead vocalist Jason Cruz. Check out the dates below!
07/17/12 Portland, OR Hawthorne Theatre
07/18/12 Seattle, WA El Corazon
07/19/12 Vancouver, BC Canada The Biltmore
07/21/12 Edmonton, AB Canada Starlite Room
07/22/12 Calgary, AB Canada The Republik
07/23/12 Saskatoon, SK Canada Louis' Pub
07/25/12 Winnipeg, MB Canada Pyramid Cabaret
07/27/12 Toronto, ON Canada Opera House
07/28/12 Quebec City, QC, Canada Le Cercle
07/29/12 Montreal, QC, Canada Le National
07/31/12 Ottawa, ON Canada Ritual
08/01/12 London, ON Canada Call The Office
08/05/12 Philadelphia, PA Union Transfer
08/07/12 Pittsburgh, PA Altar Bar
08/12/12 Minneapolis, MN Triple Rock Social Club
08/14/12 Omaha, NE The Waiting Room
Follow @StrungOutMusic for updates!
22May, 2012
NOFX

return to South America!
Get ready South America! NOFX is heading your way in July! You may recall the madcap riot that accompanied their last trip to Colombia… if you've lost too many brain cells over the last year to remember, watch Fat Mike talk about it here. To kick off their South American tour, NOFX will perform at the largest free festival in Colombia, Rock al Parque. Then they'll head to Chile, Argentina and Brazil. Oh, did we mention they're bringing their cameramen with them again? You heard it right – it's the same dudes who filmed NOFX: Backstage Passport. This trip will conclude filming of Backstage Passport 2 which will feature exciting locations such as: Mexico City, Monterrey, Panama City, Lima, Peru, Buenos Aires and more. While we're on a NOFX kick, check out all their tour dates which include Europe and Riot Fest in Chicago.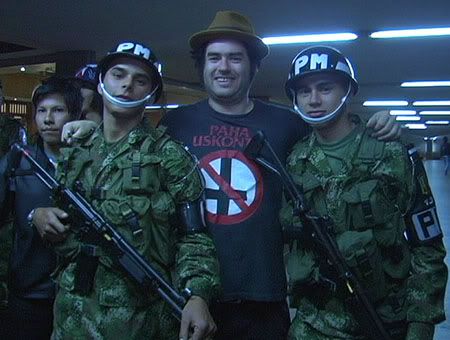 22May, 2012
Pre-order Teenage Bottlerocket Freak Out! now!
Teenage Bottlerocket's latest pop-punk masterpiece, Freak Out! comes out on July 3rd, but you can pre-order the album on LP, CD or digital format, straight from the source, right now! And with the new Fat Digital Store, when you order the record on a physical format, you will be e-mailed a link to download a digital copy of the album ONE WEEK before release date. If you order the digital album for only $8, same thing, you'll get your download a week early. With songs like Headbanger, Cruising for Chicks, Necrocomicon, and Radical, how can you possibly go wrong? This is TBR's best record yet. Get it now.
And we've got some killer combos for you too. Pick up a copy of Freak Out! on colored vinyl +digital along with a t-shirt & 12" bumper sticker for only $28. Or get it on CD +digital with the t-shirt & bumper sticker for only $22. Or streamline it all and get a shirt & digital album for just $20.

15May, 2012
Brand new

NOFX

single – preorder

NOW

!
NOFX just wrapped up the recording of their new album. While that won't be released until the fall, we've got a brand new single to tide you over til then: My Stepdad's a Cop and My Stepmom's a Domme out June 19th. Two brand new NOFX songs, recorded a couple months before they began work on the new album.
And since the Fat Digital Store officially launched last week, we're gonna put it to good use. When you pre-order your copy of the NOFX single on vinyl, you'll get an instant download of the 2 new songs! Or if you don't need more plastic in your life, you can get the 2-song digital single for $2, exclusively in the Fat Store.
Better yet, we have a sweet combo package for you that includes an instant download, a black 7", T-shirt and a NOFX 45 adapter (did we mention this is a big-hole 45?). Or if you prefer, just a T-shirt and download. Oh, one more thing, start looking for flights to San Francisco as we'll have 100 special color 7"s only available in our forthcoming record store!