18Jun, 2014
Masked Intruder – M.I. tour starts tomorrow! New dates!
Summer is here! As promised, The M.I. Tour kicks off tomorrow in Normal, IL with Direct Hit! in support, and weaves around the East Coast, even dipping into Canada. Don't miss it! West Coasters are in for quite a bill with Masked Intruder joining The Dwarves (self-professed "best band in the world") AND pop-punk stalwarts The Queers (!!!), after which they'll be ransacking Europe! If you haven't done so already, grab a copy of their new album, M.I., today.
06/19/14 Normal, IL at Firehouse
06/20/14 Cleveland, OH at Now That's Class
06/21/14 Pittsburgh, PA at Smiling Moose
06/22/14 Philadelphia, PA at The Fire
06/23/14 Baltimore, MD at Sidebar
06/24/14 Asbury Park, NJ at Asbury Lanes
06/25/14 New York, NY UK at Studio at Webster Hall
06/26/14 Boston, MA at TT the Beat's
06/27/14 Montreal, QC Canada at Underworld
06/28/14 Toronto, ON Canada at The Cave at Lee's Palace
06/29/14 Detroit, MI at Small's
06/30/14 Covington, KY UK at CODA
07/01/14 Columbus, OH at Woodland's Tavern
07/02/14 St Louis, MO at Demo
07/03/14 Chicago, IL at Beat Kitchen
07/04/14 Minneapolis, MN at Triple Rock D4th of July
07/05/14 Green Bay, WI at Lyric Room
7/7/2014 – Des Moines, IA @ Gas Lamp
7/10/2014 – Boise, ID @ The Shredder
7/11/2014 – Portland, OR @ Dante's
7/12/2014 – Vancouver, BC @ Rickshaw
7/13/2014 – Seattle, WA @ El Corazon
7/15/2014 – San Francisco, CA @ Bottom of the Hill
7/16/2014 – Long Beach, CA @ Alex's Bar
7/17/2014 – Phoenix, AZ @ Yucca Tap
7/18/2014 – San Diego, CA@ Soda Bar
7/19/2014 – San Diego, CA @ Soda Bar
7/20/2014 – Los Angeles, CA @ The Roxy
7/22/2014 – Albuquerque, NM @ Gasworks
7/23/2014 – Denver, CO @ Moe's
7/24/2014 – Fort Collins, CO @ Surfside 7
7/25/2014 – Kansas City, KS @ Vandals
7/26/2014 – Lombard, IL @ Brauerhouse
8/9/2014 – Madison, WI @ The Frequency
17Jun, 2014
New Less Than Jake video!
All you Fantasia fans are gonna flip out over Less Than Jake's brand new video for "Do the Math". FUSE TV is premiering this animated adventure here! If live action is more your thing then you can check out Less Than Jake all summer headlining the Warped Tour. You can even rub elbows with the band at their booth, as they'll be hanging out there for a few hours every day of tour.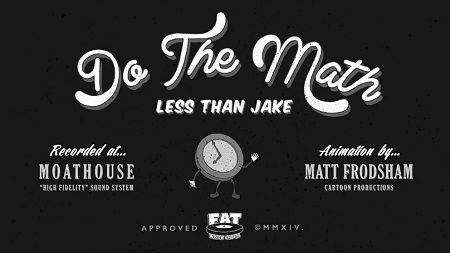 16Jun, 2014
Fat signs Night Birds!
What's up New Jersey! We love your fine state (Asbury Lanes, killer diners, no left turns, Snooki, scandalous bridge closures, disco fries!), but most of all we love how many killer bands you produce. Misfits, Bouncing Souls, Lifetime, Gaslight Anthem, Adrenalin OD… the list goes on. Well, today we're THRILLED to announce that we've signed New Jersey's newest favorite sons, NIGHT BIRDS! We've pined over them for years, releasing their killer 7" Maimed for the Masses last May, and today we officially welcome them to the Fat fold. That's right! We'll be releasing their next full-length album, which they're already knee deep in writing. Vocalist Brian Gorsegner chimes in about it below.

We are excited to announce we are in the early stages of a writing a new album for Fat Wreck Chords to be released some time in 2015. It was a soul crushing, stir crazy winter and we're really looking forward to getting that grossness out and onto a slab of wax for your listening pleasure. Prepare for what is bound to be next year's feel bad album of the year.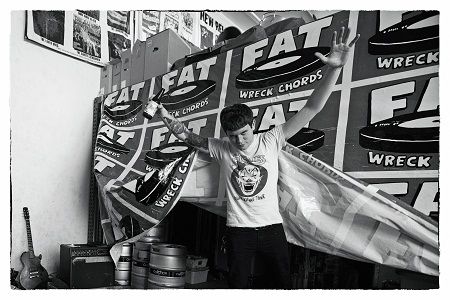 Catch their amazing live show on tour!
12Jun, 2014
Hangin' at the Studio with Lagwagon!
If you were unable to check out Lagwagon vocalist and songwriter Joey Cape's Reddit AMA today, you would have missed that he revealed the title of their upcoming full length: Hang! Due out this fall, the band has begun to lay the framework for an active year with tours being booked worldwide. For now, check out this clip of guitarist Chris Flippin laying down a rhythm track to a new Lagwagon song at Orange Whip in Santa Barbara. Check back soon as we'll be revealing more previews of their time in the studio all month!


11Jun, 2014
Joey Cape on reddit

AMA

!
Ever wonder what its like to be a Gimme, want to know what's going on in the studio with Lagwagon and Bill Stevenson at the Blasting Room, or why Joey Cape started One Week Records? Now is your chance. Tomorrow, at 10AM PST, he will be answering all your questions on Reddit's AMA!