01Jun, 2016
New Direct Hit video + Preorder
Looks like our parents weren't kidding when they told us not to take candy from a stranger. Case in point, Direct Hit's new video. "Paid in Brains" is premiering over at Bloody Disgusting right now! It features all the warning signs that should joggle your brain to walk away. Creepy guy wearing a lab coat who never stops smiling? Check. Psychedelic lights that are bound to give you a seizure? Check. All your friends tossing their cookies? Check. Best to experience the mayhem of Direct Hit live, so be sure to catch them later this month and throughout July. Dates and info here! If you want to grab a copy of Wasted Mind, out June 24th, pre-order it now! In a couple weeks we'll have a super deluxe vinyl package for all of you who require a larger dose.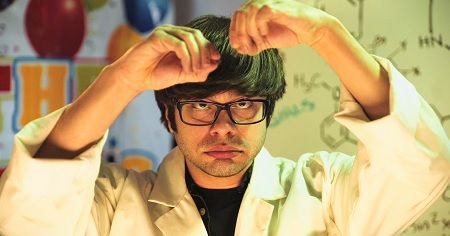 26May, 2016
Get Dead – Honesty Lives Elsewhere – out July 29th!
Contrary to the title, Get Dead's latest full-length, Honesty Lives Elsewhere, is one of the most honest albums you'll ever find. No shtick. No posturing. Just straight up, from the heart, punk rock. With multiple releases under their collective belt, Get Dead have really honed their trademark blend of raw punk and acoustic folk into a seamless style that feels completely natural. The lyrics and temper of Honesty Lives Elsewhere are instantly relatable, drawing on the experiences and tribulations of scraping through the day to day. Though their full-length isn't out until July 29th, you can listen to abrand new song—"Silence"—over on our YouTube channel today! Then, check out what vocalist Sam King had to say below:
We are extremely proud of this new record. We got to work with a bunch of our friends again as well as some new ones. Josh Garcia once again gave up his sleep and sanity to orchestrate the chaos. Fat Mike returned to help produce it and contribute to some late night psychotic behavior. We had Miles from toyGuitar play some instruments that we can't pronounce and Joey from

OMM

come through and bless us with some world class piano playing. It's a fast, fun record and we can't wait to unleash it.

We will be kicking things off in Japan at the beginning of August. Then a greater West Coast tour in mid-August before we head out to the East Coast. From there it'll be Spain, UK and a grip of European shows, ending back in Florida for The Fest! We will have a few naps, then it's off to Australia!
25May, 2016
New face to face video!
face to face dropped their stellar full-length, Protection, in March. Today, Alternative Press is premiering their brand new video for "Double Crossed" featuring the magician, Christopher Wonder. What better way to prepare yourself for the cross-eyed lunacy that is Punk Rock Bowling in Las Vegas, where face to face will perform on the main stage on Monday evening.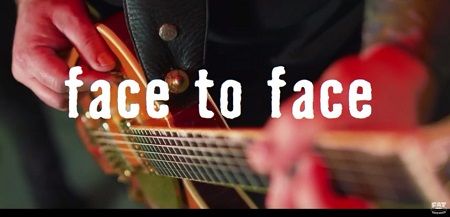 24May, 2016
Leftöver Crack debut new video for "Bedbugs & Beyond"
Noisey is premiering a brand new Leftöver Crack video for the song "Bedbugs & Beyond," off their latest full-length, Constructs of the State. Directed by Jak Kerley of Shabby Pictures, this video revisits one of the most terrifying TV finales ever (True Detective). Check them out this Saturday at Punk Rock Bowling or on their upcoming tour that kicks off next month. Dates and info here! Now, read what vocalist Sturgeon had to say about filming the video below:
"Bedbugs & Beyond" was one of the best video-making experiences for us. We had the kick-off show for our southern to southwestern tour of the U.S. on New Years Eve, 2016, in New Orleans with Days n Daze & All Torn Up!. I had seen Jak Kerley & Shibby pictures work because of the amazing videos that he had shot for Days N Daze ("Misanthropic Drunken Loner", "Post Party Depression" amongst others). I knew that if we could access the Fort Macomb ruins (I really loved their use in the first season of True Detective), then Jak would have a field day with his cinematography style. So, we took a stab at being "True Detectives" ourselves & shot all day with an emphasis on the abandoned structures. The weather was perfectly spooky & overcast, but soon as it got dark, there was a torrential downpour & getting everybody, the video gear, lights, instruments & the many dogs of Days n Daze out through a pitch dark labyrinth of brick hallways, scalable fences & walls replete with slick muddy foot holds & rusty barbed wire eventually to swing out of the trespassing zone was no small feat in it'self. After all was said & done with the bands regrouping over at Siberia, where our show was, the only person left behind was Jak, the director. Luckily, we got back in time to rescue him & more importantly, the footage for the video.

The live footage was filmed a few "Daze" later in Houston, TX & happily, the crowd was going the fuck off (not always the case). The end result is one of my favorite videos for any song that I've been involved with. The song features our newest band member Kate Coysh who is prominently featured in the video as well. The song is about embracing a liberated albeit often dangerous lifestyle so much that many negative pitfalls seem to be cherished & often romanticized. Especially the depressing trend of death that permeates our culture & existence as squatters, marginalized homeless travelers & drug users.
18May, 2016
The Sainte Catherines – Dancing for Decadence 10-Year Anniversary
A decade ago, we released The Sainte Catherines' Dancing for Decadence album, the only record on FAT from a French-Canadian band. If you missed out on this unique, killer record the first time around, get with it by watching the videos below, or listen to the album on Spotify. And now, with the band reuniting to play Dancing for Decadence in its entirety this year, this is your chance to make amends. We've done a one-time re-pressing on red vinyl, strictly limited to 548 copies. The band will be selling it at their merch table at Pouzza Fest this coming weekend and at their other upcoming shows this Summer. Or you can order it from us, right now. As a special bonus, this pressing of the LP comes with a download card for the complete album demos, along with a clutch of live tracks. Now, read what Hugo Mudie, The Sainte Catherines' vocalist, has to say about this decade-old masterpiece:
This is

THE

album that we are proud of and that we are remembered for. We wanted to do a pissed off record about what we discovered through the years about the punk rock scene. It was really a "fuck you" album and then it became our most popular one, which is kind of funny. Here in Québec, Fat Wreck is very respected and Fat Mike is like God. People couldn't understand that a band from Québec were now part of that. It was funny to us, cuz we come from a very different place, more of a

DIY

, old school, squat scene. For us it was new and weird to see the sea of Lagwagon t-shirts at our shows right after the release was announced. But believe me, we loved every second of it. We had fun with it and we are very grateful to have been part of it for a little while. Playing those songs again live will be amazing! It's gonna bring me back to a time where nothing else in the world existed. It was me and the boys against the world and this was the soundtrack. We were hungry and angry and better looking. We were high on drugs and low on cash, but damn it was fun. I would do it all over again. That's pretty much what we'll do this summer playing the album front to back. High on love and not as low on cash… with our kids waiting at home…